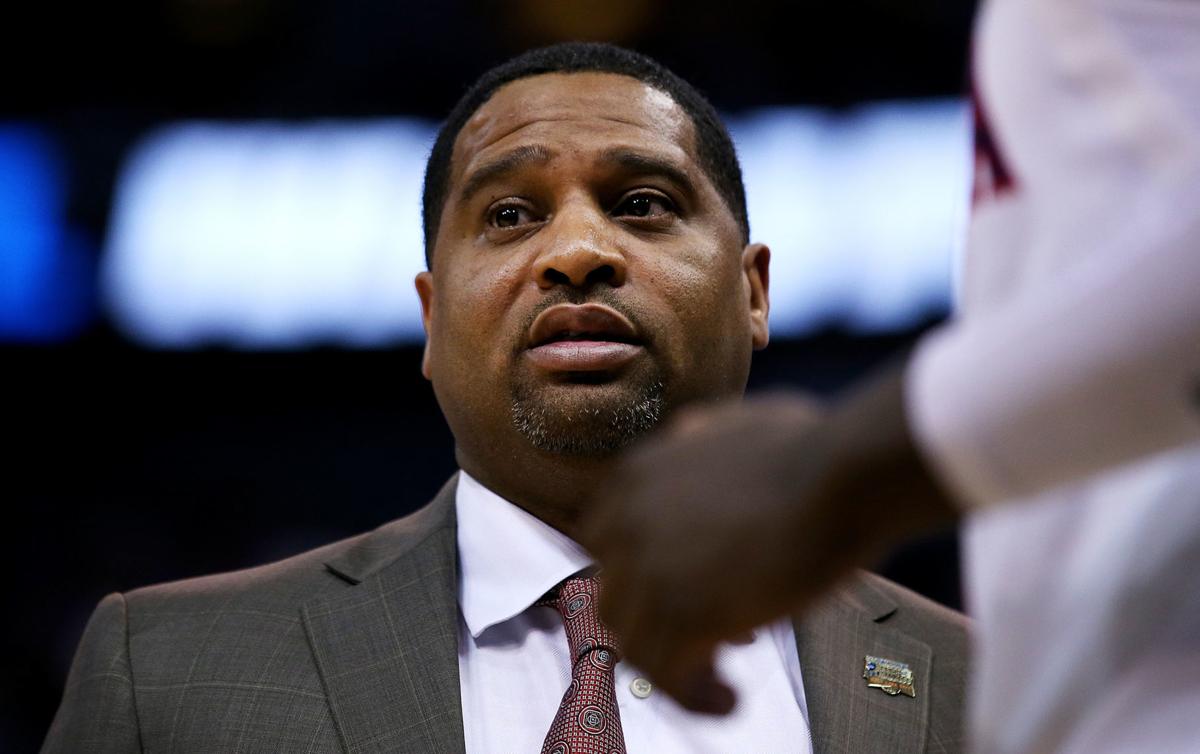 NEW YORK — While one college basketball trial concluded Tuesday with the three defendants being sentenced to less than a year in prison, a second trial slated for April and potentially featuring Arizona coach Sean Miller as a star witness promises to be a "street fight," according to one defense attorney.
Judge Lewis A. Kaplan sentenced former Adidas executive Jim Gatto to nine months in a minimum security prison, while former Adidas consultant Merl Code and would-be sports agent Christian Dawkins were given sentences of six months apiece during sentencing in the Daniel Patrick Moynihan U.S. Courthouse. The three men were convicted in October of seven combined counts of wire fraud and conspiracy to commit wire fraud by paying families of coveted basketball prospects to get them to commit to programs sponsored by Adidas. Dawkins and Code each must pay $28,261 in restitution to Louisville, while Gatto's restitution payment is to be determined in April.
All three men will appeal their convictions. They won't serve any jail time during the appeal, which could take a year or more.
"They're not going to jail anytime soon," Steve Haney, Dawkins' defense attorney, said outside the courtroom, where family members of all three men gathered.
During his comments to Kaplan, Gatto, 48, broke out in tears and said he was "very scared about the prospect of going to prison." His wife, Rachel, son Jack, 17, and daughter Grace, 14, sat in the front row with pained looks on their faces.
Speaking later, Dawkins, 26, said, "I realize now more than ever that none of this was worth it. In my quest to get ahead I broke rules and made some really bad decisions. No one forced me to do either."
The judge said the sentencing recommendations were meant to send a "great big warning light to the basketball world" and argued that there was a "need for deterrence here."
Three of the four college basketball coaches implicated in the federal investigation, including Arizona's Emanuel "Book" Richardson, have taken plea agreements rather than face trial. The fourth, Auburn assistant Chuck Person, is scheduled for a June trial.
Gatto and Dawkins worked to funnel $100,000 in Adidas money to Brian Bowen Sr. in exchange for his son, a 6-foot-7-inch, five-star prospect known as "Tugs," to commit to Louisville.
The ensuing scandal, combined with past issues, led Louisville officials to fire athletic director Tom Jurich and basketball coach Rick Pitino. Pitino is now coaching in Greece, while "Tugs" Bowen is playing professionally in Australia.
Prosecutors described a scheme in which the three men worked together to pay Brian Bowen Sr., something that violated both federal law and NCAA rules, in exchange for "Tugs" Bowen's commitment to the Adidas-sponsored school. The money was funneled through an amateur team affiliated with Code and a corporation controlled by Dawkins, prosecutors said. Gatto produced phony invoices to Adidas, which reimbursed him with money used to fund the scheme.
Kaplan said Gatto, Code and Dawkins "knew what they did was wrong."
"They were covering their tracks and they were covering Rick Pitino's tracks," the judge added. "They knew he was out if they got caught."
Kaplan said the "most seriously injured victim of the Louisville scheme was 'Tugs' Bowen. ... He never got an opportunity to play basketball in the NBA. I'm sure Australia is a great country, but it's not the life he wanted. These three defendants participated in wrecking 'Tugs' Bowen's life."
Dawkins and Code are due to go back to trial on April 22 on bribery charges. Arizona's Miller and LSU coach Will Wade have been notified that they will be subpoenaed for that trial. Miller has repeatedly declined to comment about the case.
Haney, Dawkins' attorney, promised both a "street fight" and a "fact-heavy trial." The coaches are being subpoenaed by Dawkins and Haney as defense witnesses.
Asked how many coaches might take the stand in April, Haney said, "As many as I can get in the courtroom. In the second trial, we're going to pull back the curtain."
No players or coaches testified in the first trial.
Asked if he might accept a plea deal for Dawkins, Haney said, "We're going to go all the way with (a trial)."
Richardson, the former UA assistant, will be sentenced next month after pleading guilty to one count of federal funds bribery. The charge against him typically carries a sentence of between 18 to 24 months in prison. Richardson agreed in January not to appeal any prison sentence of two years or less, according to the plea agreement, and will pay back $20,000. He will not have to cooperate with federal authorities under the terms of the deal, said Craig Mordock, Richardson's New Orleans-based attorney.
Asked if Tuesday's sentencing would have any impact on Richardson's sentence, Mordock said no.
"Different judge, different charge," he texted.
Haney said the defense's argument throughout October's trial was that his clients were simply doing what Adidas — and coaches at Louisville, Kansas and N.C. State — wanted them to do: Make certain that players ended up at Adidas-sponsored schools by any means necessary.
"When we look back in 20 years, we're going to ask, 'Why weren't college basketball players paid?'" Haney said. "This could transform college basketball and put the players in a situation where they're paid enough money that their families can go watch them play."
He said the second trial could trigger a "transformative process ... and that's why we're going to continue to fight."