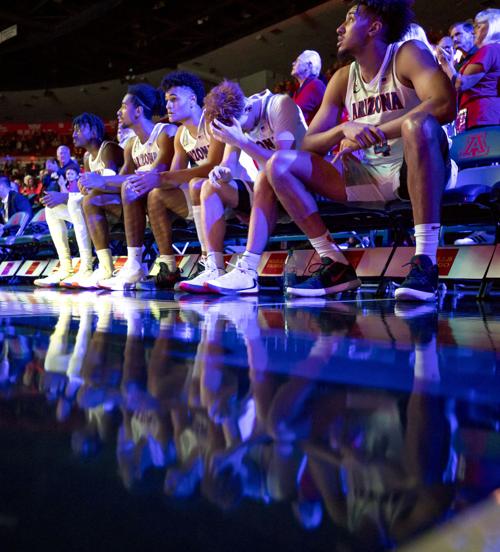 Sometime in early June, NCAA basketball chief Dan Gavitt threw out the idea of starting the upcoming season earlier in order to gain more flexibility amid the coronavirus pandemic.
That idea fell off the table in less than a month. Coronavirus cases spiked all over the country, especially in states that support college sports the most. Despite encouraging reports from the UA, initial on-campus testing of athletes who started returning on June 15 was a mixed bag. The Pac-12 and Big Ten decided they'll play only conference football games, while the Ivy League said it won't do a thing with sports in the fall.
So even if college football or basketball happens, seasons won't be early and won't be normal. At Arizona, basketball and volleyball players will know this right away: Just when they are normally invading McKale Center for regular workouts in late August, the place will be repurposed: General students wishing to live on campus will be required to stop at McKale first … to take a coronavirus antigen test.
"It'll look very different," UA president Robert Robbins said.
Robbins was speaking last week about the reentry process for everyone but the word "different" will almost certainly apply to basketball and other winter sports, too. Even as most talk this summer has surrounded the fate of football, college sports' coronavirus guinea pig, basketball is generating plenty of discussion behind the scenes.
After all, its season typically begins just about 10 weeks after football's does. And the games are played indoors, where the virus is believed to spread much more easily.
"The season is still scheduled to start on Nov. 10 but there will be ongoing conversations about contingencies should the virus take us in a different direction," Gavitt, the NCAA's vice president of men's basketball, said in an NCAA.com interview. "I think one of the things we've all learned in four months is that we don't control the virus. The virus controls us, and we need to be very patient to see how things evolve, and then be very flexible and nimble when the time warrants it."
The contingency plans are already all over the map.
Jamie Zaninovich, who oversees men's basketball as the Pac-12's deputy commissioner, said the league has planning committees for football, men's basketball and another for all other sports, groups of 24 people that include athletic directors, coaches, medical professionals and other campus experts around the league's 12 schools.
The planners are just one of the many committees discussing basketball these days: There are also frequent virtual meetings of Pac-12 ADs, Pac-12 basketball coaches, "Autonomy Five" school representatives, those on a medical advisory group, Western conference commissioners and even a working group of external marketing officers that have started to look into the potential fan experience.
There could be a regular season, or a conference-only basketball season. Maybe a truncated nonconference season with only big multi-team events — or one with only regional games that would cut back on travel. The postseason tournaments could even be held in single-site bubbles, too.
And, of course, any form of the season could be pushed back on the calendar.
"I think it's fair to say everything's on the table," Zaninovich said. "We're really trying to contemplate how we would manage it as a conference depending on when we are able to start. We want to get as many games as possible with the first principle being health and safety, and then everybody still obviously wants the NCAA Tournament to happen in whatever form that takes. That's a broader national discussion."
That's the one being handled by Gavitt and the men's basketball committee, now chaired by Northwestern athletic director Jim Phillips.
Gavitt said the committee had three "really good days" of discussion earlier this month, adding that he believes there will be some sort of season ahead.
"We have great confidence that while things may be different with this season and with the tournament, that we're going to be able to do in a very safe and responsible manner," Gavitt said.
The NCAA issued guidelines Thursday for all sports, mandating that testing and results should be obtained within 72 hours of competition and that masks and distancing should be practiced whenever possible, among many other protocols.
Zaninovich said the national guidelines should make it easier for Pac-12 schools to move forward because they eliminated potential differences in virus-related protocols between conferences.
"The requirements are testing within 72 hours of a game, and if you test positive, how you isolate, how you contact trace — they're very specific guidelines," Zaninovich said. "We can talk to nonconference opponents and if they can meet the guidelines, we can still go for it as of now. We needed to cut through some of the uncertainty about what the requirements are."
But at the same time, the NCAA also signaled that it won't be easy. It listed basketball as a "high risk" sport, along with football, field hockey, ice hockey, lacrosse, rowing, rugby, soccer, squash, volleyball, water polo and wrestling.
The reason is pretty clear.
"There's just no way to play the game without being in close contact," Zaninovich said.
Playing indoors adds additional complications for players and fans alike, Zaninovich said.
While cavernous football stadiums might be able to fill between 20-50% of their seats depending on local gathering standards, basketball will likely be subject to local regulations and the nature of a school's arena.
"Every facility is obviously a little different," Zaninovich said. "Some are smaller, some are larger, some have different ingress-egress but they'll be able to be able to come up with their own protocols of what they need to do while likely downsizing capacity.
"Even in the football context, you see different schools announced different sort of numbers recently — 'If we're back, we can do 20% or we can do 30%.' It's going to have to be really customized and be somewhere below full everywhere."
Already, basketball activities are being localized within the Pac-12. Some schools have already invited players back for voluntary workouts, while others have not. The same goes for supervised workouts that can begin starting this week.
Cal will begin holding instructed basketball workouts on Monday, while Stanford is allowing voluntary workouts only for locally based players and Washington State has been holding limited strength and conditioning workouts for players who have been medically cleared. But USC, UCLA, Utah and Arizona are among those not doing anything at the moment.
UA, in fact, still doesn't know when it expects basketball players to arrive due to the state of Arizona's recent virus surges. Ryan Reynolds, Arizona's director of basketball operations, said the team is hoping to have everyone on campus when the fall semester starts.
"I'm sure it has to continue to slow down and get better before anything changes here locally," Reynolds said.
In part because a second wave of coronavirus has been feared during the winter, many schools including Arizona are stopping on-campus instruction before Thanksgiving, keeping students off campus until January.
Gavitt's idea of an earlier conference start might have allowed basketball teams to make a similar move, taking a longer than usual break over the holidays in order to lessen travel and contact risk.
"We floated through the membership a little bit, with conference commissioners, to see if there was utility in providing more flexibility with the start of the season, in light of the fact that academic calendars have changed," Gavitt said. "But in the last month, an awful lot has changed in our country unfortunately for the worse with COVID-19. So that idea I think doesn't have nearly the usefulness that we thought it might have a month ago. I don't see that happening at all."
So it's November, maybe December or maybe January for basketball season to begin. Maybe even later.
The one thing Gavitt knows is that at the end, whenever that is, the NCAA will do everything in its power to pull off a tournament this time.
The cancellation of the 2020 NCAA Tournament cost schools a collective $375 million, with them receiving only $225 million instead of an expected $600 million. That's not exactly the sort of revenue dropoff that's easily sustainable.
"If there's safe basketball being played anywhere in 2021, there will be an NCAA basketball tournament," Gavitt said. "I'm confident that is going to be the case."
Be the first to know
Get local news delivered to your inbox!