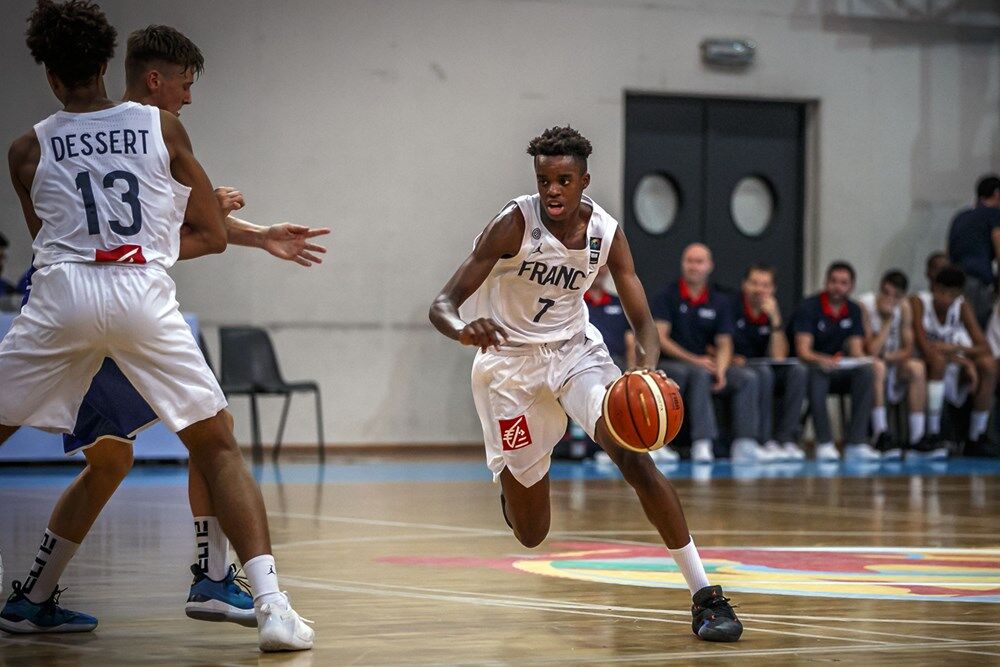 If the Arizona Wildcats ever need to express a little frustration on the court next season without triggering a technical foul, they now have an easy solution.
They can just do it in French — or some other foreign language.
With the commitment of Paris guard Adama Bal on Tuesday, the Wildcats not only received a versatile 6-foot-6-inch wing with point guard skills but also added their fourth French-speaking player on their tentative 2021-22 roster.
UA now has double the amount of francophones as native English speakers, and eight international players overall on a roster of 10 players as of now. And that's without Parisian forward Daniel Batcho, who announced he will transfer from the program last month.
It's all a byproduct of Arizona's reach into international recruiting late in the Sean Miller era and the long-established overseas ties of new coach Tommy Lloyd.
Although Lloyd said in the long run he plans to "fish in all waters" while recruiting — and the Wildcats are still hoping for a commitment from Phoenix guard TyTy Washington on Saturday — three of Lloyd's first four commitments since he took over at UA have been international players.
The Wildcats' 2021-22 roster now includes three other French speakers — Gonzaga transfer Oumar Ballo (Mali), rising junior Christian Koloko (Cameroon) and rising sophomore Bennedict Mathurin (Quebec) — while guard Pelle Larsson (Sweden), guard Kerr Kriisa (Estonia) and forwards Azuolas and Tautvilas Tubelis (Lithuania) will bring their countries' own languages to the McKale melting pot next season.
"Having three other French speakers and seven internationals will most definitely help. I think it's going to be a transition early on," Bal told ESPN's Jonathan Givony, when speaking of his commitment. "I've already talked to Bennedict and Oumar a few times on the phone."
Not surprisingly, Bal said Lloyd and the UA staff were the key in his decision. He chose the Wildcats over Colorado, Cincinnati, Georgia, Marquette and St. Mary's, and had the option of remaining in France to develop through club programs.
Lloyd built strong international recruiting ties over 20 years as an assistant at Gonzaga, with France's Ronny Turiaf being his first international star recruit to play for the Bulldogs. Among others, Lloyd also helped pull in French guard Joel Ayayi, who has declared for the 2021 NBA draft.
Lloyd "recruited me at Gonzaga and offered me the first day on the job at Arizona," Bal told ESPN. "He showed me how much he wanted me every step of the way. He has a tremendous track record of developing international prospects into NBA players. I was able to talk to Joel Ayayi and Ronny Turiaf, among others, who told me all the best about him."
With a 6-11 wingspan, Bal could help the Wildcats at wing or point guard even though he will not turn 18 until mid-December.
It's unclear if Bal will join France for the U18 European Championships this summer, if the event is played. He averaged 6.0 points and 1.0 rebounds per game at the 2019 U16 European Championships for a France team that earned the silver medal.
Like Batcho, Bal also played for the Centre Fédéral de Basket-Ball (CFBB) in Paris. Last season, he averaged 9.8 points, 2.4 rebounds and 2.1 assists in 27 minutes per game.
Andrew Mastin, an analyst for the international scouting service ID Ballers, wrote in September 2020 that Bal was a skilled wing with good size.
"Bal can handle it but isn't ready to be a decision-maker with the ball (although I believe this is coming soon)," Mastin wrote. "He has a good looking shot with a leg kick that needs to be addressed to improve his balance. Really good, under control pull up shot. Skilled in the floater range where his length allows him to get a lot of shots off. A lot of untapped defensive potential due to his length and foot speed."
While the Wildcats are still pursuing Washington, they now are well-stocked with combo guards and big wings. Kriisa, Larsson, Bal and rising sophomore Dalen Terry all have ballhandling skills, while the Wildcats have bigger wings in Mathurin, Terry, Bal and incoming freshman Shane Nowell — if he decides to stick with the Wildcats. Nowell's high school coach said Tuesday he wasn't sure yet.
The Wildcats now have 10 players on their 2021-22 roster, with up to three scholarship spots still to fill. Arizona formally announced Monday via Twitter the additions of Larsson and Ballo, while Bal likely will not be announced until his letter-of-intent is received.
Contact sports reporter Bruce Pascoe at 573-4146 or bpascoe@tucson.com. On Twitter @brucepascoe