Knee issues have sidelined Arizona guard Brandon Williams again, this time for the entire 2019-20 season.
Arizona announced Wednesday that the rising sophomore will miss the season after undergoing knee surgery. The school declined to specify further details, but Williams has struggled with a congenital issue above his right knee for over three years and missed six games with it late last season.
"The news of Brandon's season-ending surgery is beyond disheartening," UA coach Sean Miller said in a statement. "All of us that comprise Brandon's Arizona basketball family, as well as our own loyal and passionate fan base, will rally around him and support him as he begins his journey to recovery."
After becoming a five-star prospect early in his high school career, Williams has dealt with an issue known as osteochondritis dissecans, which sometimes results in bone and cartilage breaking free and causing pain or restricted motion above his right knee.
Williams had swelling on the knee regularly while playing on the EYBL club circuit in 2016, and then had surgery on the knee as a junior at Crespi High School in Southern California. He stayed out of the game for 10 months, missing the 2017 club season. Williams' ranking dropped, and he played restricted minutes early during his senior season of high school before finishing strongly.
As a freshman at Arizona last season, Williams finished second on the team in scoring (11.4 points per game) and minutes played (28.2 per game) but missed a month of the Pac-12 season when his knee flared up again.
On Dec. 14, Williams bruised the knee in practice and was limited against Baylor the next day, Miller said last season, and the guard experienced pain and swelling after the UA's Jan. 26 game at UCLA.
During a news conference the following week, Miller confirmed the injury Williams suffered was not a new one.
"I think what I'm being told it's just part of the path that he's traveling, with the surgery that he had and the problem that maybe he had before he got here to Arizona," Miller said then.
"As we've shut him down, that pain has had a hard time going away and now it's in his best interests just to make sure that we know everything that's going on. We shut him down, (to) kind of allow that pain to diminish and the hope is every day, every week it diminishes and at some point this season he potentially could return.
"I've got my fingers crossed for him that he'll be OK because he's obviously a terrific player playing the best basketball of his career at Arizona, and as somebody who's already kind of paid the price with that knee in that he's gotten through a hard part before he got here."
Williams missed the next six games. Without him, Arizona lost its next five games to extend its losing streak to seven, its worst stretch in 36 seasons. The Wildcats ended their streak with a win against Cal and Williams returned for the next game, against Stanford on Feb. 24.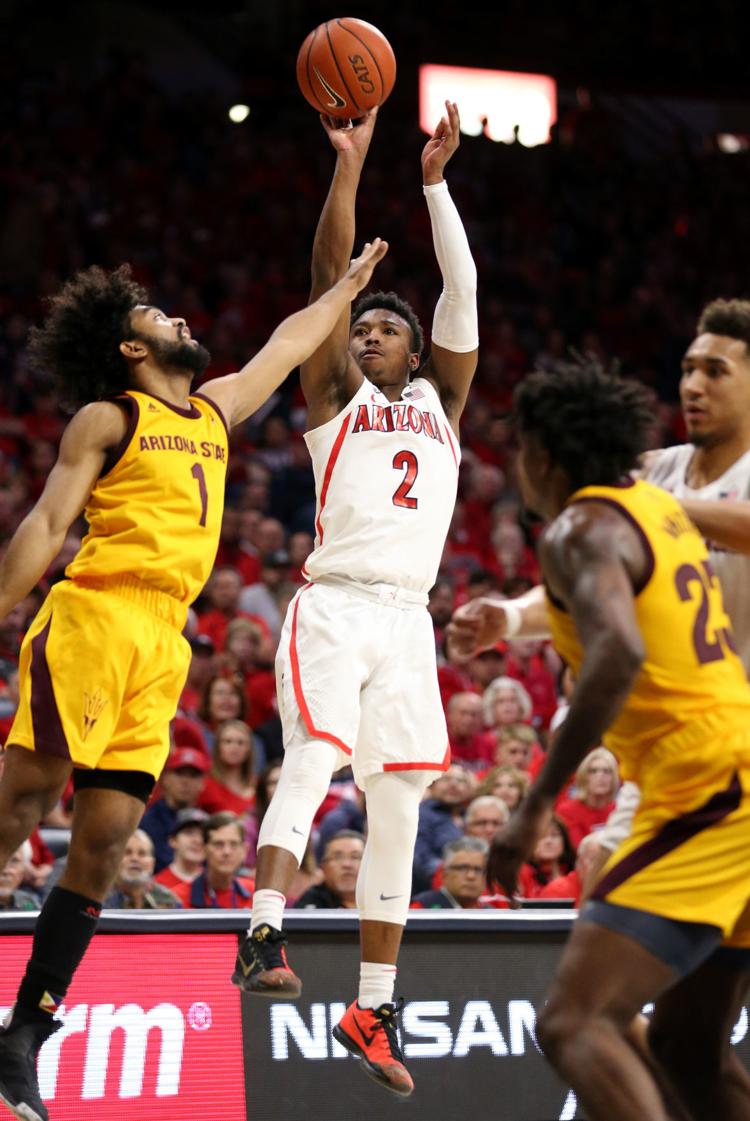 He never quite regained top form upon returning.
In five final games after he came back, Williams averaged just 8.6 points while shooting 33.3% from 3-point territory and committing nine turnovers to eight assists.
After the season, Williams underwent more surgery and rehabilitation, generating considerable speculation that he might leave the Wildcats either for one season or permanently. However, his stepfather, Chris Wright, said Williams plans to return to the court in 2020-21. Williams expressed optimism in a statement UA released Wednesday.
"I want to thank my family, fans and the Arizona Basketball program for their continued support," Williams said.
"I've overcome obstacles before in my life and will work with our strength and medical staffs to overcome this one. I'm dedicated to continuing my work in the classroom as a student, and I look forward to supporting my teammates and coaches as I spend this season focusing on my health."
While the Wildcats have five-star guards Nico Mannion and Josh Green coming in next season, plus graduate transfer shooting guard Max Hazzard, Williams' loss will hurt their depth at point guard.
Last season, Williams started at off guard and played the point when senior Justin Coleman wasn't in the game. Without Williams and since-transferred guard Alex Barcello, the Wildcats now may turn to Hazzard or possibly sophomore Devonaire Doutrive to play behind Mannion.
Jemarl Baker, a 6-foot-4-inch combo guard, is also on the Wildcats' roster but is expected to sit out this season after transferring from Kentucky.