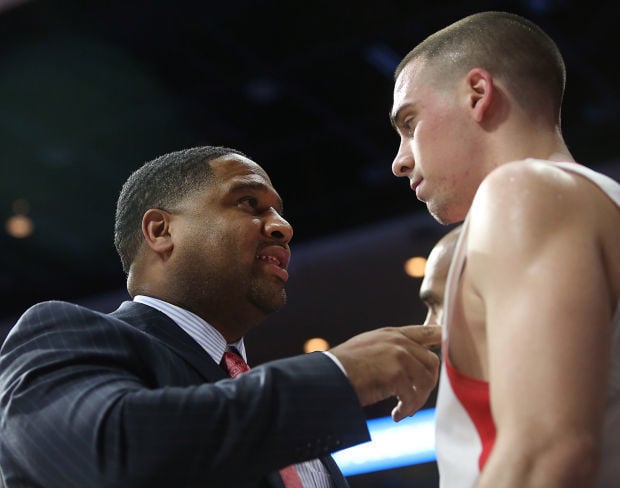 SCOTTSDALE — Emanuel "Book" Richardson returned to a familiar place — the basketball gym — Friday night, watching as Scottsdale Bella Vista Prep guard Terry Armstrong, an Arizona commit, took on LaMelo Ball and Ohio's Spire Institute at the Hoophall West Showcase. Richardson sat alone in the stands, five rows behind Lavar Ball. At one point, he exchanged a quick hello with former NBA standout Metta World Peace.
"Just wanted to come up and watch some good high school basketball," the former UA assistant coach said. "They do a great job at the Hoophall West, and if I had the opportunity as a high school coach, I'd always want to come out here."
Richardson has stayed out of the public eye since Sept. 26, 2017, when he was arrested on felony bribery and fraud charges. A federal claim says Richardson accepted $20,000 in bribes from would-be sports agent Christian Dawkins. In exchange, the claim states, Richardson promised to influence Wildcats players to sign with Dawkins when they turned pro. The UA suspended Richardson in the wake of his arrest, and fired him in January.
Richardson is scheduled to go on trial in April. Lawyers for Richardson and other defendants have filed a motion requesting that all charges be dropped, arguing that the government "singled out certain alleged NCAA rules violations as 'corrupt' and decided to prosecute them as federal crimes." If their motion fails, Richardson could still pursue a plea deal.
Richardson says he wants to return to basketball. In May, he traveled to Chicago for the NBA Draft combine with hopes of networking with pro teams. Richardson and his son visited Las Vegas a few months later to watch NBA Summer League games, according to a report from WatchStadium.com's Jeff Goodman.
A federal judge's gag order, issued in February, prevents Richardson from talking about specifics of his case. The Star talked to Richardson about the success of his former UA players, and what he thinks about the current Wildcats team:
How have you been recently?
A: "Been blessed. God has been great giving me the opportunity to deal with some things personally and just being the best father, husband. I've been blessed to have coached so many great players who have reached out to just check on me, and in that situation, it's been really awesome."
One of those former players is Allonzo Trier. What does it mean to you watching him blossom with the New York Knicks?
A: "It's surreal, because every (Arizona) guy that has played in New York — Derrick Williams, Kadeem Allen, Rondae Hollis-Jefferson — your eyes light up and your heart goes out to them because that's where I'm from and I always want them to be well, but especially there."
How has Trier been able to perform so well?
A: "A lot of space on the floor, a lot of isolation stuff and that's the one thing I've always said: Allonzo has an NBA talent. He can score the basketball."
Have you watched Arizona this year?
What do you think about this year's UA team?
A: "They're grinding things out and they're gritty. I love that edge they play with, that chip on their shoulder. It's fun to watch."
How has it been still living in Tucson?
A: "It's 70 degrees every day; you can't beat it. It's freezing cold in New York, so Tucson has been awesome, the people have been awesome. The fans have been awesome and it's one of the destination spots in the country. I'll go on record: They're one of the top two or three fanbases in the world."
When you go out in public in Tucson, how have people treated you?
A: "(They say) 'We're praying for you, Coach.' That's mostly it. They help me in Walmart to make sure I know where I'm going, so I'm OK."
How many of your former players have reached out to you over the last year?
A: "A lot of them. I'm fortunate enough to coach some guys as high school players and college players that have reached out to me. Solomon (Hill), Derrick, Kemba (Walker) in a big way, Allonzo, Rondae, Nick Johnson, Aaron Gordon, T.J. McConnell. … I feel terrible if I forgot anyone, but so many of those guys check in on you to see how you're doing and it's been great for me."