Brandon Randolph 'a bright spot' for Arizona; it's why he wears the Wildcats' gold jersey
The Star's Bruce Pascoe brings the latest around the Arizona Wildcats program following a season-opening win.
Randolph already making strides in sophomore campaign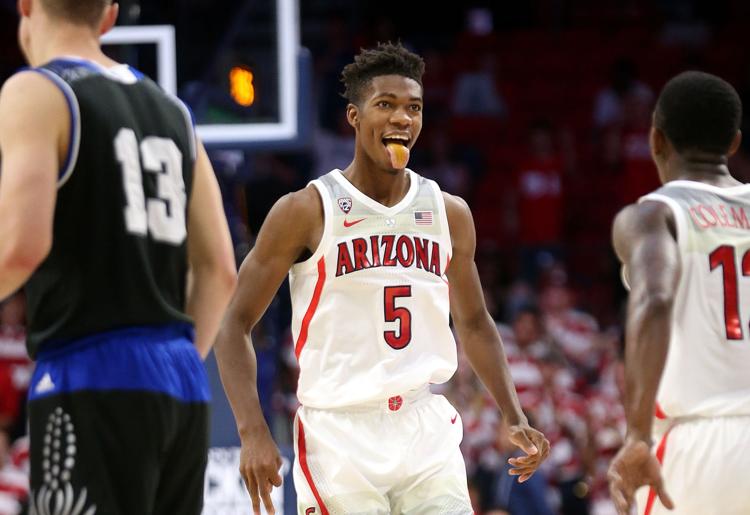 Arizona swapped its gold-and-white alternate home jerseys for pure white and red this season. It might be the only way to rip the gold off Brandon Randolph's chest these days.
The UA sophomore wing is already wearing the team's gold jersey in practice because he leads in total practice points as calculated by staffers — and he's also been pretty productive in games.
Over UA's two exhibition games and its opener Wednesday against Houston Baptist, Randolph is averaging 21.3 points on 62.5 percent shooting while hitting 73 percent of his 15 3-pointers.
Randolph is also averaging 3.7 rebounds, 1.7 steals and 0.7 blocks per game.
Arizona doesn't typically disclose its practice stats, but you can assume Randolph's are  pretty good. UA coach Sean Miller said Wednesday that Randolph is currently wearing the gold jersey.
"That's always a good first step in that he's doing it every day, now not in an exhibition game, and he's growing," Miller said. "Sometimes that jump from a freshman to a sophomore is significant and Brandon's always been able to shoot the ball. I think he's learning the game and he's more of a complete player.
"He still is going to keep getting better because it's the very beginning of his sophomore year, but definitely right now he's been a bright spot on our team with the way he's scored."
As he did in the preseason, Randolph gave a lot of credit for his growth to the players he played against in practice every day last season — Allonzo Trier, Rawle Alkins and Deandre Ayton among them. Randolph has said he most often faced Trier but he also had to wind around bulkier guys such as Alkins and Ayton to get to the basket.
"I needed to get stronger and I needed to take smart shots," Randolph said of what he learned last season. "Extra strength helps me get to the basket, and I can definitely tell the difference this year."
Doutrive, a 'young colt,' on bubble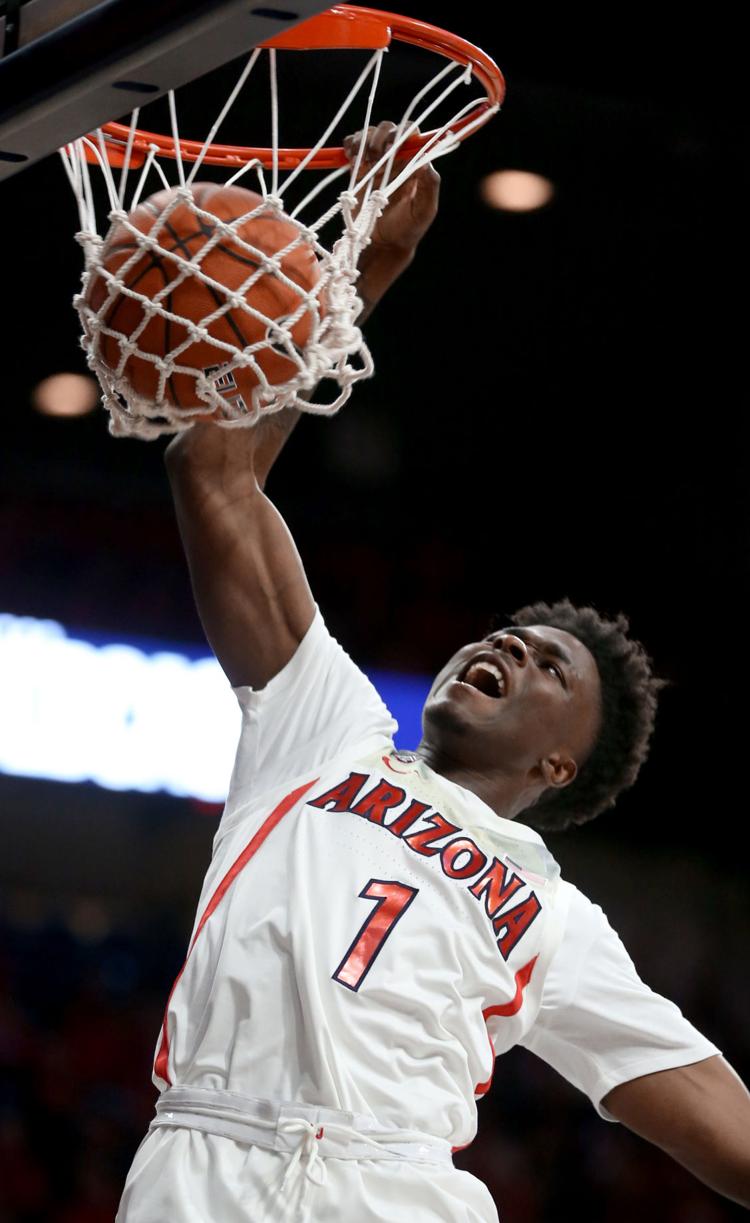 Miller rarely goes more than nine players deep in his regular rotation, so it was not a big surprise that he didn't play freshman Devonaire Doutrive in a close exhibition game with Chaminade on Sunday.
But when the Wildcats held a 61-39 lead with 7:23 left against Houston Baptist on Wednesday, Miller inserted Doutrive for the rest of the game.
The bouncy freshman then made the most of his audition time, nailing a 3-pointer, assisting Randolph and a hitting layup with two minutes to go that gave UA a 32-point lead.
Miller complimented Doutrive's attitude and has made it clear he has plenty of long-term upside — then suggested he just might have a shot at contributing right away this season if he can hold his own defensively.
"Physically, he's like a young colt," Miller said. 'He's so young. His body, how much he weighs, how strong he is — the best is yet to come for him and you can almost see that. What we're trying to do right now is get him better on defense and really try to get him to think about what role he can have.
"It's too early to say, 'This player is going to play and another guy's not.' He's one of those guys we're closely watching. I could certainly see him cracking the rotation and helping us because he can do a lot of different things."
Fitting right in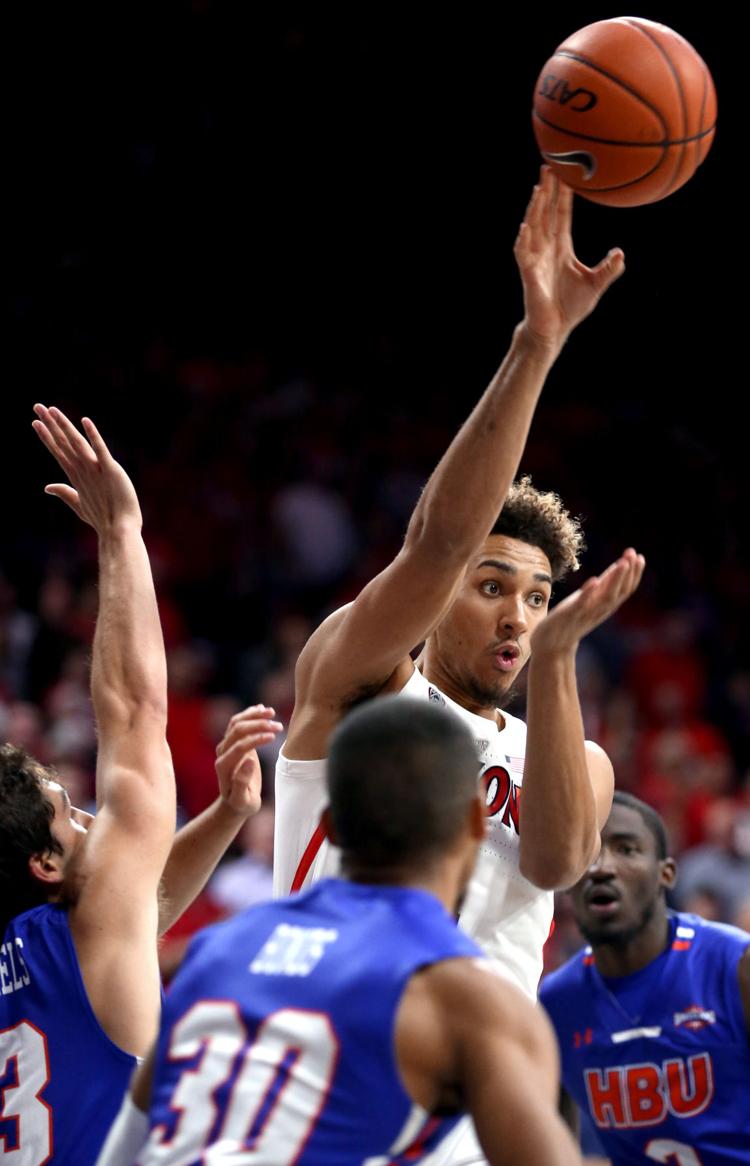 When he decided to transfer from Duke in 2017, Chase Jeter said he was looking for an opportunity to play.
After just one regular-season game in an Arizona uniform, it's already clear Jeter found it. In less than 20 minutes Wednesday, Jeter — a junior center — posted his first career double-double with 11 points and 10 rebounds.
The closest he came to a double-double at Duke was the 11 points and eight rebounds he had against Marist in the Blue Devils' 2016-17 season opener. He missed half of that season with a back injury.
With some good health this season, and maybe some help from teammates, Jeter should collect many more double-doubles.
"We have to develop (what he can do) and some of it is our team," Miller said. "It's just get him the ball in scoring position, get a couple more jump hooks, get a couple more two-point shots, because I think he'll get fouled or I think he'll make them."
Smith mitigating shooting slump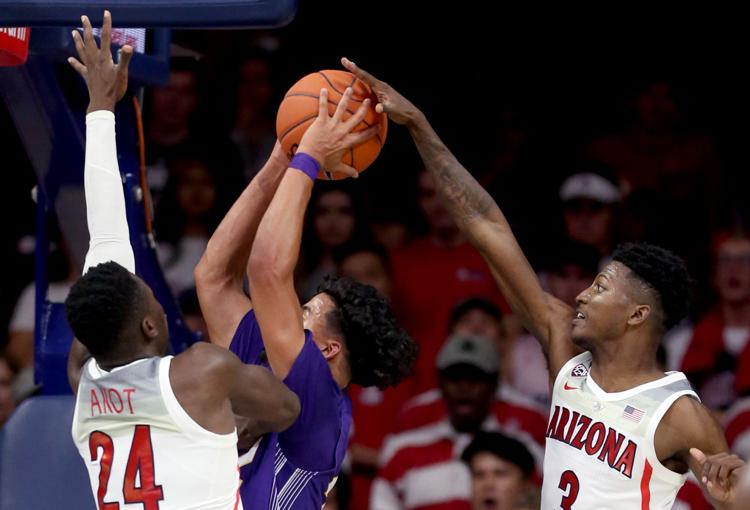 Counting his 1-for-8 performance in the Red-Blue Game, junior guard Dylan Smith is shooting a combined 20 percent from the field in four public appearances this fall.
But he's also averaging seven rebounds, one steal and 1.3 blocks per game over UA's two exhibition games and the Houston Baptist opener, when he was 1 for 5 from the field.
"Dylan's really struggling right now and he's lost his confidence," Miller said. "I go more on what I see every day and he's a much better shooter than he's shown.
"But I'll tell you this about him — he rebounds the ball and he gives his heart and soul on defense. He's finding ways to help our team and I think he'll settle in eventually here."