NEW YORK — In an explosive and emotional testimony in federal court Thursday, the father of top basketball prospect Brian Bowen said he was told "multiple schools" — including the University of Arizona — offered cash and other perks in exchange for a commitment from his son to attend those colleges.
Wearing a dark blue suit, a light blue patterned tie and a crisp white shirt, Brian Bowen Sr. said he was told Arizona assistant coach Joe Pasternack offered "50 grand" so his son, a 6-foot-7-inch wing considered a five-star prospect, would choose the Wildcats.
Bowen Sr. said Arizona was his son's favorite school from among a group of suitors that also included Oregon, Creighton, Texas, North Carolina State and Oklahoma State.
Bowen Sr. said his son did not ultimately choose Arizona because both Allonzo Trier and Rawle Alkins opted to return for the 2017-18 season, and "there would've been a logjam and it would've been tough for him to get minutes there."
"Essentially," he said, "that would be the spots that he would play so that wouldn't have been a spot for him."
Bowen Sr. told judge Lewis A. Kaplan and the jury that the financial offers were relayed to him via his longtime friend Christian Dawkins, a would-be sports agent who, like Bowen, is from Saginaw, Michigan.
Dawkins, one of three men being tried on charges of wire fraud and conspiracy to commit wire fraud, hoped to represent the younger Bowen when he turned pro.
Bowen Sr. accepted a plea deal from prosecutors in return for his testimony and is immune from punishment.
Pasternack coached at Arizona from 2013 to 2017 and played a key role in recruiting many of the nation's top prospects. Yahoo Sports reported last spring that Pasternack, now the head coach at UC Santa Barbara, discussed with Dawkins what it would take for Bowen to choose Arizona. Dawkins wrote to his boss that Pasternack "told me verbatim he will help us get all the Arizona players" for representation, the story said, "so put his feet to the fire."
Arizona coach Sean Miller was also mentioned in texts shown to the jury Thursday afternoon.
"Trier is returning," Dawkins told Bowen in one text shown from the spring of 2017.
"U call Shawn back?" Bowen Sr. responded, misspelling the coach's first name.
Neither a spokesman for the UA basketball program nor athletic director Dave Heeke responded to the Star's requests for comment.
UCSB issued a statement to CBS Sports on behalf of Pasternack. It read, in part: "UC Santa Barbara has not been contacted by any of the federal investigators involved in the college basketball trial in New York City."
Relaying his messages from Dawkins, Bowen Sr., 50, went on to tell the jury that Oklahoma State assistant Lamont Evans offered "$150,000 cash, $5,000 for a car and an undisclosed amount to buy a house, too." He said former Texas assistant Mike Morrell said "they would help me with a house." Creighton's Preston Murphy said "they would pay like $100,000 and a lucrative job," Bowen Sr. said.
Bowen Sr. said his son seriously considered Oregon. When asked what their offer was, he said, "I don't recall that."
Asked if he accepted any of the financial offers from the schools, Bowen Sr. said, "No, my main concern has always been what's the best basketball situation for my son."
Soon after Bowen Sr. first took the stand, he was asked if his son was currently playing in college.
"No, he's not," Bowen Sr. said, before breaking down in tears. He turned away from the jury and began to sob audibly before the judge ordered a 15-minute break.
Brian Bowen Jr. was deemed ineligible by the NCAA to play at both Louisville and South Carolina, and is playing in Australia.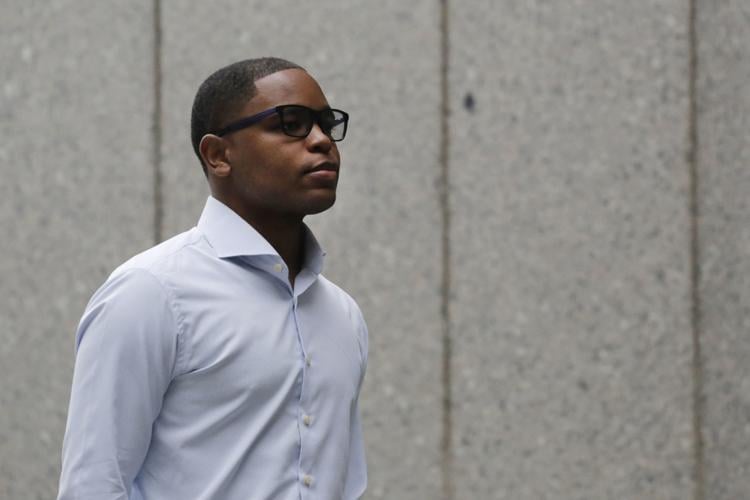 When court resumed Thursday, the elder Bowen said he had received money over the years in exchange for his son's involvement with various teams. Bowen Sr. said he was paid $25,000 for his son to play AAU ball one summer with the Michigan Mustangs. He said the money came from Dawkins and Adidas' Chris Rivers. He said the Nike MeanStreets program gave him "like $5,000 to $8,000 for (my son) playing with them. It was cash."
He added that Dawkins had told him the Nike Spiece summer team offered him "like 18 grand." But he chose the MeanStreets because "I felt it would be a better fit."
While the trial and the larger scandal have focused solely on Adidas, Bowen Sr.'s testimony marked the first mention of reported payments made by Nike-sponsored teams. Arizona wears Nike.
The prosecution provided Western Union receipts which showed that Dawkins in May 2015 sent Bowen Sr. $1,500 on one occasion and $2,500 on another. There was also a receipt for a $2,000 payment from Rivers, the Adidas executive. Bowen Sr. told the court that Rivers gave him $4,000 in cash on one occasion at an Adidas event.
Bowen Sr. told the court he and Dawkins ultimately decided Louisville was the best option. Louisville standout Donovan Mitchell declared for the NBA draft and Alkins and Trier returned to Arizona, all in the spring of 2017.
At that point, the Bowen family — along with Dawkins — visited Louisville, where they met with coach Rick Pitino and others.
Bowen Sr. said Dawkins told him they would get paid through former Adidas executive Jim Gatto if the younger Bowen committed to Louisville. Gatto is one of the other two men on trial.
"I think it was like $60,000 to $80,000," Bowen Sr. said when asked what amount was discussed. Bowen Sr. said Dawkins told him he and Pitino "were friends. He knew him, they were cool."
When he met with Pitino, however, Bowen Sr. said they never discussed money.
The younger Bowen committed to Louisville on June 1, 2017, though he didn't announce his choice until June 3. Dawkins had told him to hold off on announcing because the money was still being worked out, Brian Bowen Sr. said. The younger Bowen's value went up to $100,000, his father said, because recruit "Billy Preston had gotten $100,000" from Adidas for going to Kansas.
"A player similar to my son," Bowen Sr. said, "he had went to an Adidas school and he had gotten $100,000."
Bowen Sr. was paid $19,400 in cash by Dawkins' partner, Munish Sood, on July 13, 2017. Adidas was supposed to pay the remainder of the $100,000 to Bowen Sr., but never did, he said. Federal agents arrested the Adidas executives in September 2017.
Bowen Sr. said he initially was not honest with FBI investigators. When asked why, he said: "I didn't want my son to lose his college eligibility."
Now the son has, and the father is telling the world everything that led to it.