Immediately after posting his commitment to Arizona on social media Friday afternoon, Phoenix Pinnacle High School point guard Nico Mannion scrolled through the reactions.
Certainly, his news would warrant some likes. Maybe a few comments from fans or friends. And a lot of retweets.
"There was a lot of stuff on Twitter and a lot of stuff on Instagram," Mannion told the Star on Tuesday. "I tried to keep up with it the first 10 minutes and it turned out to be too much."
Mannion turned the phone off. Later, he showed it to Pinnacle coach Charlie Wilde.
The coach sympathized immediately.
"There were 1,476 direct tweets at him," Wilde said. "He started to look at them but when you get to 1,000 ..."
The good news for Mannion was that, eventually, it ended. His commitment means the hype, the buzz and the distractions around his college choice are now over. Now, he can get back to business.
There's always plenty of that waiting for him.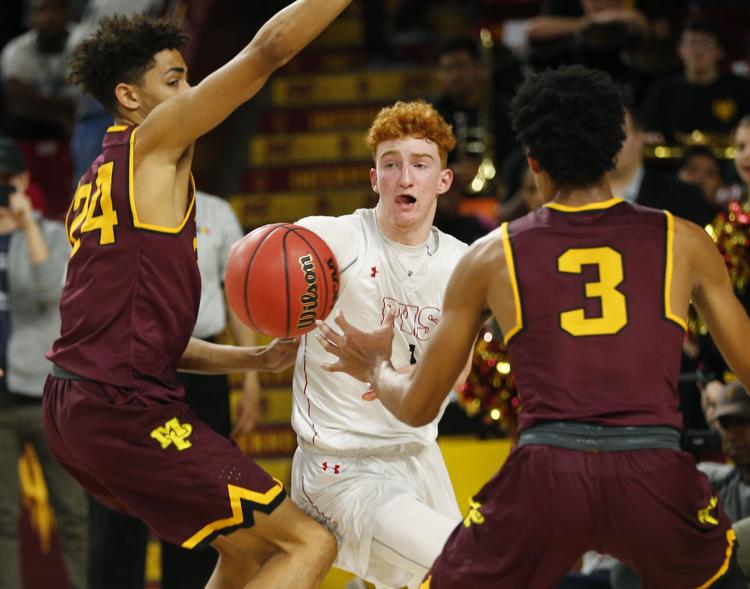 Mannion is taking six classes at Pinnacle plus another two online courses in order to graduate next May, having decided to move up from the 2020 class over the summer. He's also working on basketball skills and trying to add about 10 pounds of strength to his 6-foot-3-inch, 175-pound frame.
"We have a PE class and he's been lifting three days a week and shooting for two. He goes to his private trainer, too," Wilde says. "We have some open workouts where college coaches come in, too. He's doing great. He's always been a grinder. Loves being in the gym."
Especially now. Mannion says he's been in a good mood since announcing his decision, and his father has noticed.
"He's definitely more relaxed," Pace Mannion said. "You can see it in his face. He feels really good about this decision and the coaching staff, and the things they told him."
A former Utah standout who went on to play in the NBA and Europe, Pace Mannion said he and his wife, a former Italian pro volleyball player, were also happy with their son's decision.
Not just because they can easily drive to McKale Center from their North Scottsdale home, either.
"We tried to stay out of the decision-making process but we were hearing what everybody had to offer him," Pace Mannion said, adding that he "felt very comfortable" with UA coach Sean Miller and assistant Mark Phelps.
Nico Mannion said he also spoke about the program with several current UA players, including junior Chase Jeter, freshman Brandon Williams and sophomores Ira Lee and Brandon Randolph. He already knew Lee well because the two played in the same West Coast Elite travel club — Mannion played 16U while Lee was playing 17U in 2016. Mannion and Williams are also close.
"They're good guys and they told me everything," Mannion said. "They told me how they felt about the coaches."
Mannion said he and his family also spoke to UA coaches and compliance officials at length about the federal investigation into college basketball, and that he left satisfied with the answers.
Mannion said he's probably going to wait to sign a binding letter-of-intent, though that might change. Pace Mannion said his son might sign in November.
Whatever happens on paper, Mannion made it clear Tuesday he is fully committed to the Wildcats. He said he knew it shortly after Miller and Phelps showed up in his home on Sept. 9, renewing what was already a strong relationship.
"That was a big part of it," Mannion said.
"They've been on me for a while, kind of showing me what I could do there. I wanted to feel wanted. I didn't want to go to a place where I'd just be another guy."
Mannion had already cut his list to just Arizona and Marquette a week earlier. He was scheduled to travel to Milwaukee during the first weekend of October, then catch UA's Red-Blue Game on Oct. 14 and maybe take an official visit to Tucson the following weekend.
Suddenly, Mannion no longer saw a need for Milwaukee.
"It happened so quick," Mannion said.
"I cut my list to two and had my visit scheduled to Marquette for Oct. 5, so I thought I'd wait until November. But after the home visit, it just felt right. It felt like my heart was there and I was fully engaged in that decision.
"It's definitely been good for me. I can focus on myself and just getting ready for Arizona."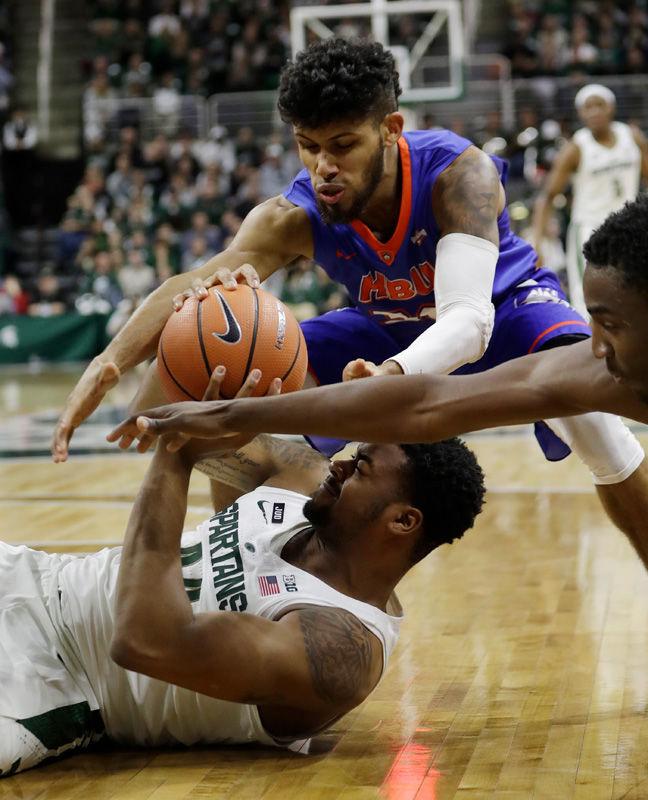 Houston Baptist hits hoops jackpot
The least competitive team on UA's nonconference home schedule might end up making the most money.
Most of Arizona's one-time nonconference opponents will be paid $90,000-$95,000 for appearing at McKale Center this season, according to contracts obtained by the Star under a public-records request. Houston Baptist is guaranteed $100,000 thanks to a simple case of supply and demand.
The way UA operations director Ryan Reynolds described it, there just wasn't much supply left after the Maui Invitational and Battle 4 Atlantis released teams to go find their own add-on games.
In the past, those two events had supplied opponents for a fourth game to be played at a home site on top of their three-game fixed bracket. The wrinkle was a way to maximize NCAA scheduling rules that allow four games in a multiple-team event to count for just three.
"All of a sudden you had six teams from the Maui Invitational and two from the Battle 4 Atlantis fighting for the same dates," Reynolds said. "All of us were fighting over the same people."
The Maui situation also indirectly led to UA paying an unusually high $50,000 to play Chaminade in a Nov. 4 exhibition. Chaminade hosts the Maui Invitational but no longer plays in the three-game bracket at Lahaina.
Tournament organizers suggested Chaminade-UA as the add-on game at McKale Center. Reynolds told them that the Pac-12 won't allow its teams to schedule Division II opponents, so UA "got creative" and offered the Silverswords more than usual for an exhibition game instead.
Chaminade will also play another Maui team, San Diego State, in an exhibition on the same swing.
Houston Baptist was 6-25 last season and finished No. 333 of 351 Division I teams in Kenpom.com ratings.
Rim shots
Four-star wing Terry Armstrong of Scottsdale's Bella Vista Prep announced on Twitter he has cut his list to four schools: New Mexico, Arizona, Oregon and Oklahoma. According to Stockrisers.com, Armstrong has scheduled an official visit to Arizona the weekend of Oct. 5. He is scheduled to visit New Mexico the following weekend. Armstrong, a native of Michigan, dropped Michigan State, Arizona State and others.
Miller made in-home recruiting visits to 2019 targets Drew Timme and Zeke Nnaji. According to Stockrisers.com, Miller visited Timme on Sunday. PrepHoops' Ryan James said Nnaji was scheduled Monday.
The Wildcats can start full practices as early as Sept. 25 but won't begin until Oct. 1, Reynolds said. UA has only 27 full practices allowed until its Nov. 7 opener with Houston Baptist and has already been practicing in limited form this month under more relaxed NCAA rules that allow teams to practice together for four hours a week before full practices begin.