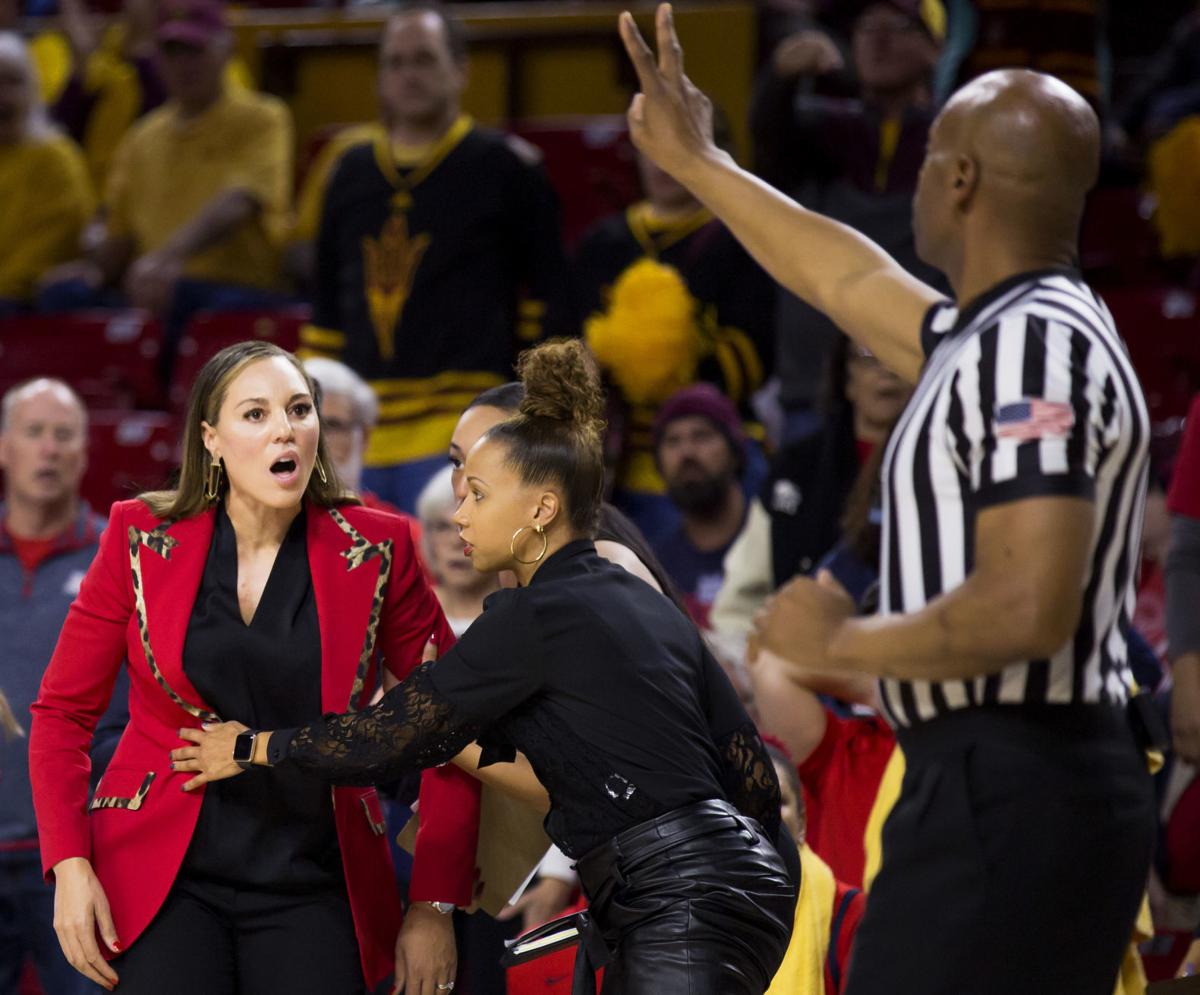 Adia Barnes could have earned $50,000 in performance bonuses by leading the UA to a pair of NCAA Tournament victories this weekend in McKale Center.
Instead, Barnes' bonuses — and those of men's basketball coach Sean Miller and other coaches — are unknown after the NCAA tournaments and all spring sports were canceled because of the coronavirus. A UA spokesman said athletic director Dave Heeke is still working through what the school will do to address the bonus situation.
Miller does not receive a bonus for making the NCAA Tournament but receives escalating bonuses for each round, starting with $25,000 for winning the first game.
Barnes, meanwhile, had the potential to trigger multiple bonuses this weekend — especially since Arizona, ranked No. 12 nationally, was likely to host the first and second rounds of the NCAA Tournament.
The Wildcats (24-7) were viewed as a certainty to make the tournament, which would have triggered a $10,000 bonus for Barnes. Barnes could have earned another $50,000 if the Wildcats won their first two tournament games — $20,000 for one win, $25,000 for a second win and $5,000 extra for reaching 25 wins on the season.
Two or three wins in the NCAA Tournament might have also pushed the Wildcats into a final Top 10 ranking, which would have given Barnes a total ranking bonus of $10,000 instead of $5,000. Barnes' contract calls for a $5,000 bonus for finishing between No. 11 and No. 15 in either of the major polls, and $10,000 for finishing in the Top 10.
NCAA Tournament games are the biggest factor in Barnes' performance bonus structure. Barnes is also scheduled to receive $30,000 for a Sweet 16 win and $40,000 for making the Final Four, plus another $50,000 for winning the national championship. Barnes makes a base of $400,000 annually as part of a contract that was reworked last summer.
Barnes has already triggered a $5,000 bonus for winning between 20-24 games.
Miller's postseason bonuses are a much smaller percentage of his $2.8 million total guaranteed compensation, which includes $1.7 million in base pay, $700,000 for peripheral duties such as his weekly radio show and $200,000 each from Nike and IMG.
Miller's contact calls for a $25,000 bonus if the Wildcats win their first NCAA Tournament game and an extra $50,000 if they win the second one to reach the Sweet 16. Miller receives another $50,000 for reaching the Elite Eight and $175,000 if they reach the Final Four. A national championship is worth an extra $500,000.
The only performance bonus Miller has already triggered is $20,000 for winning between 20-24 games. The Wildcats finished 21-11. At the time the season was canceled, the UA was unranked.
Both Miller and Barnes can receive academic bonuses based have grade-point averages and Academic Progress Rating results, but GPAs are not released and APRs are not announced until May.
Coaches of Arizona's spring sports could also lose out on performance bonuses because of cancellations. Softball coach Mike Candrea has received bonuses of $5,000 for winning the Pac-12 title and $7,500 for reaching the NCAA Super Regional in the past. Baseball coach Jay Johnson's contract calls for $10,000 for winning the Pac-12, $5,000 for making the NCAA Tournament, $10,000 for advancing to the Super Regional and $35,000 for a College World Series appearance — with another $50,000 if the Wildcats win it all.
Be the first to know
Get local news delivered to your inbox!