One perk of having coached for his home country means Arizona assistant coach Riccardo Fois has a collection of designer suits courtesy of Armani, the world-renowned sponsor of the Italian basketball federation.
He may never wear them again.
"They're great to have," Fois said, laughing. "But I can't wear them anymore, because now we're casual."
It's a new world for college basketball coaches this season, with many staffs adopting of the casual look they turned to last season, when empty stands and canned music changed the atmosphere inside arenas at the height of the pandemic.
In other words, it's a perfect time for Tommy Lloyd to have taken over the Arizona basketball program. A native of small-town Washington who said he dressed up before only because he didn't want to stand out by not doing so, Lloyd has jumped all over the trend by putting his staff in polo shirts and pullovers in every game so far.
"I just prefer wearing shorts and T-shirts," Lloyd said. "If I have to dress up, I'll put on pants and maybe a pullover. That's good for me. But some of these other coaches look great in suits."
So far, many of Lloyd's peers have been following, um, suit. Within the Pac-12, 10 coaches have been seen wearing pullovers or short sleeves for games. The exceptions: Colorado's Tad Boyle wore a suit and tie for a home game with New Mexico and UCLA's Mick Cronin wore a suit for the Bruins' home win over Villanova.
Perhaps surprisingly, Villanova coach Jay Wright — who built a reputation as one of the best-dressed coaches in the game — strolled the other end of the sideline in a pullover.
And of UA's first four home opponents including an exhibition game, the staffs of Eastern New Mexico and NAU wore suits and ties, while UTRGV coaches wore sport coats without ties and North Dakota State wore pullovers.
The look is still all over the map, but trending casual.
Even Fois is happy with that. While Italy required its coaches to wear the Armanis for games, Fois said he loved wearing a pullover in the NBA last season while working as the Suns' director of player development.
"We might be the only sport where you're dressed up, like it is a tradition thing," Fois said. "But also, there is not really a reason for it."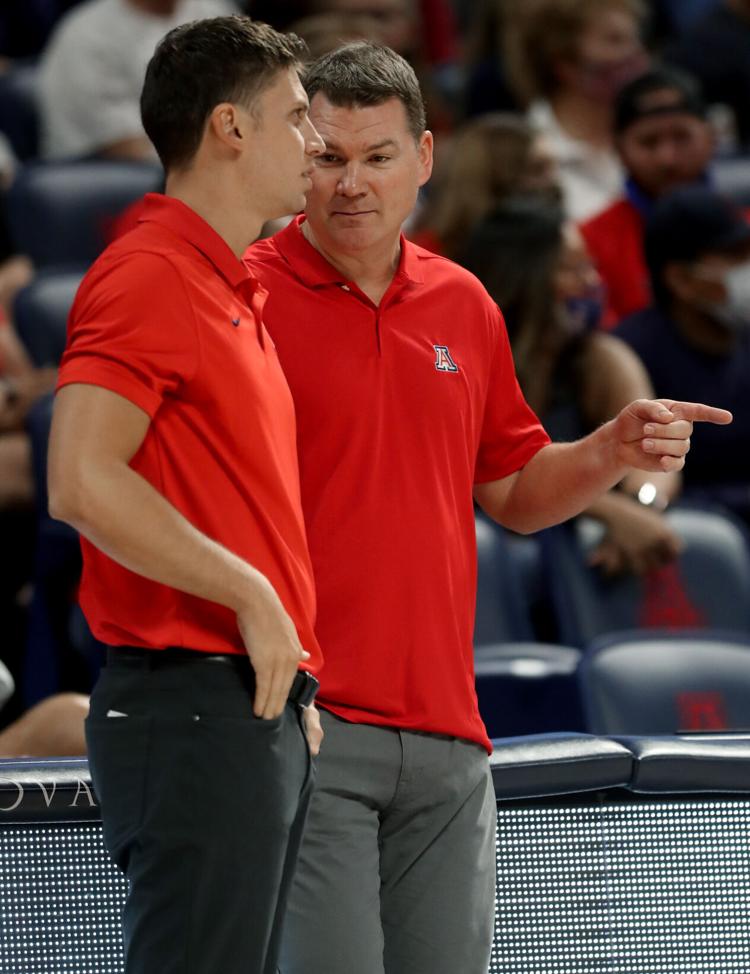 Fellow assistants Jack Murphy and Steve Robinson firmly agree. The two subtly fought against the old-guard wardrobe as head coaches themselves.
In particular, they said they both dislike ties that can feel tight around the neck of a head coach who is leaning, yelling, crouching, moving and doing so many other gymnastics up and down the sidelines during a game.
"I've never really understood why we had gotten stuck in the, 'OK, let's get out the three-piece suit and tie,'" Robinson said. "I'm not advocating that we should put on uniforms like they do in baseball but I do like the slacks and the polo shirts. The effort is still there — the sweat, intensity, all that, just like it always has been — but you can do it without feeling like you're all tied around your neck, with a coat and a dress shirt.
"It was just, 'Ugh.' This game is intense enough already."
So as the head coach at Florida State, Robinson said he sometimes wore a mock turtleneck. Murphy tried to quietly ditch the tie on occasion as the head coach at NAU, but wasn't always successful in doing so.
"I think there were a few times I didn't wear a tie and my wife got on me," Murphy said. "It was always on the road and she was watching the (internet) feed. I tried to act like she saw the wrong feed.
"But, yeah, we always wore a suit and tie unless it was an MTE (multi-team event) or we played in Hawaii."
Murphy and Lloyd said another problem they have with a suit mandate is the financial imposition it puts on both the assistant coaches at lower-level colleges — most of whom do not make six-figure incomes — and graduate assistants and other lower-paid staffers at high-major programs such as Arizona.
With a casual look, schools such as UA simply have to phone their apparel sponsor and receive a load of polos, pullovers or golf shirts, typically stamped with logos for both the school and the sponsor.
In that sense, everybody wins.
"I just think it makes so much sense," Murphy said. "You look at all these other sports, and not many of them dress up in suit and ties — baseball, soccer, you just don't see it. So I think that if it if it is a widespread change that occurs, I think it's all for the better.
"I also appreciate how staffs are united — you have everybody looking clean and in the same kind of uniform on the bench, almost like a football staff on the sideline. We're lucky we have that Nike contract to where we have access to some great stuff. It just looks nice."
At UA, so far, that's meant white or blue pullovers, though Lloyd has jokingly issued some minor complaints that the polos haven't been warm enough and the sweatshirt-like pullovers are too warm. Ultimately, Lloyd is pushing for a long sleeve polo shirt that isn't too thick.
But whether college basketball universally adopts quarter-zip pullovers and polo shirts as the norm, as the NBA has, remains unknown.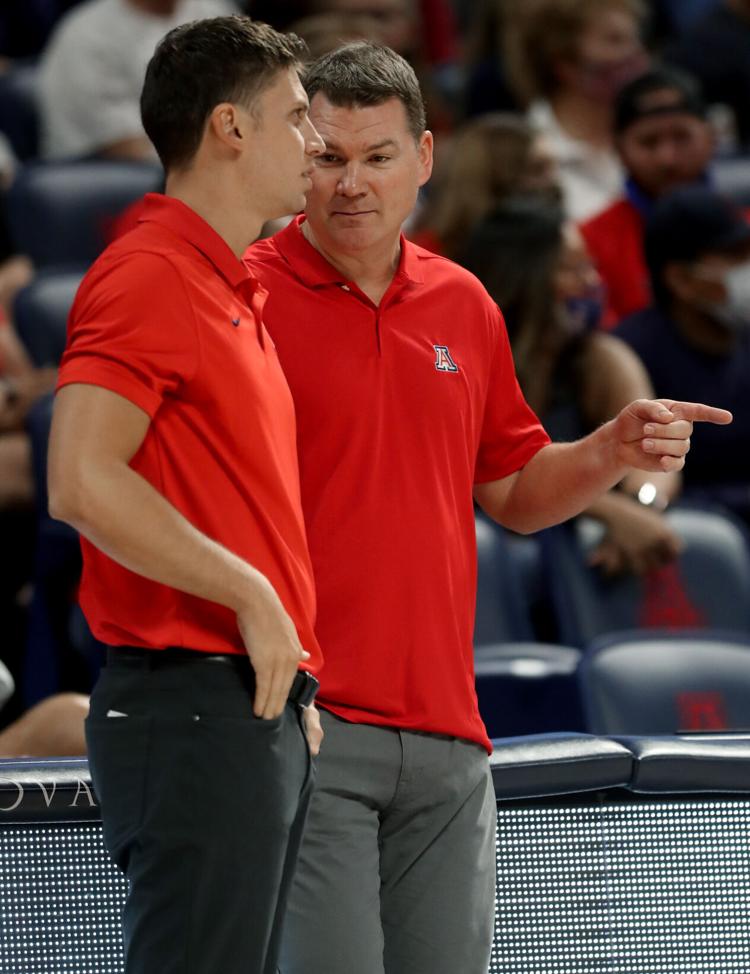 Lloyd said he doesn't see a reason to go that far.
"There's been discussions; I don't know why there has to be a common standard," Lloyd said. "I mean, if you want to dress up, dress up. I've got no problem with it."
Besides, Murphy says, there are better things to worry about in the world these days.
That's why coaches started wearing casual clothes last season in the first place
"It's just to each their own," Murphy said. "After going through a global pandemic, I don't think people care as much what basketball coaches are wearing."
Contact sports reporter Bruce Pascoe at 573-4146 or bpascoe@tucson.com. On Twitter @brucepascoe