Cate Reese stood under the basket on the north side of the Lute & Bobbi Olson Court inside McKale Center before Tuesday's game. She smiled as she stretched.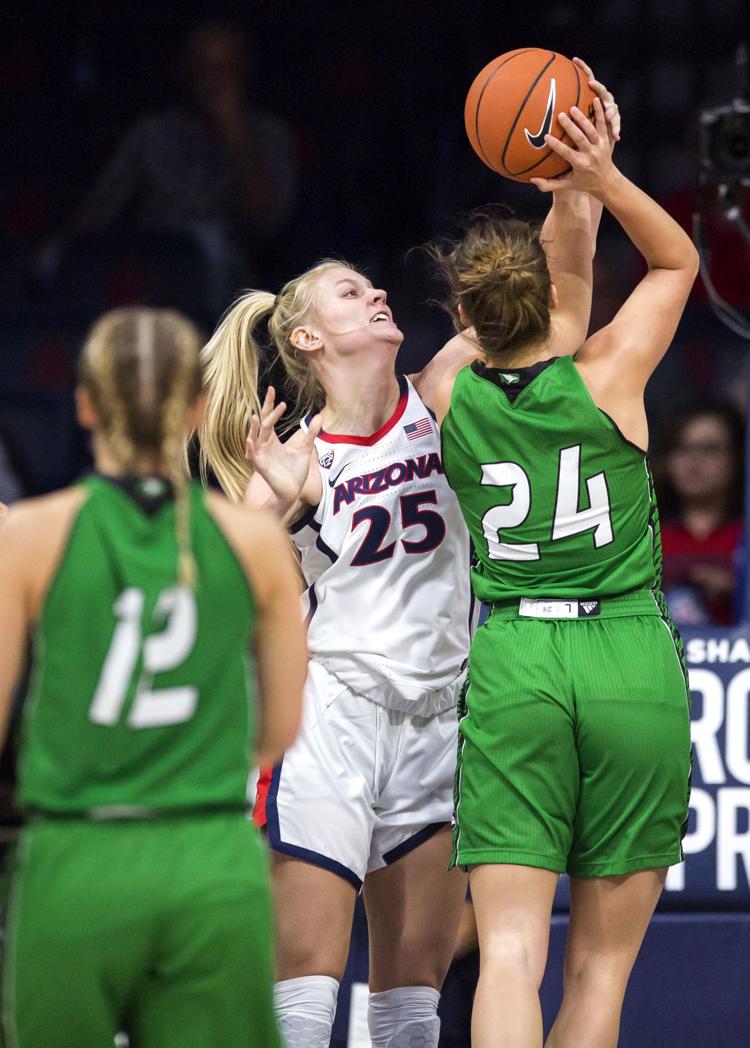 Maybe Reese knew that by the time the fourth quarter rolled around, her teammates would be feeding her the ball inside.
The sophomore forward scored 14 of her career-high 22 points in the second half, leading Arizona to a 74-42 season-opening victory over North Dakota.
The big performance was a perfect gift for Reese on her birthday.
Arizona played in front of 3,450 fans, the largest home opening-night crowd in UA history. Fans lined up in front of McKale 90-plus minutes before tip-off.
"I'd like to have (that) every performance, I mean not just because my birthday," Reese said. She added that her teammates were looking for her underneath.
Reese added six rebounds and five steals.
"In the first half we got an isolation and it's one-on-one against a bigger player and she was just getting shot blocked and wasn't scoring," UA coach Adia Barnes said. "But getting her on the move where it's a strength of hers—she was better. …I think she was just a lot more effective. And she was determined second half. I think she just played a little harder.
"I think I always expect that from Cate. I think she can get 20 points, 10 rebounds every night. I thought tonight she was just fierce and hungry and probably a little bit more motivation because she didn't play in the exhibition. …I think she played a good game. It's a career high, so that's really good. I mean, 22 points in 27 minutes, I'm proud of her."
Star guard Aari McDonald finished with 13 points, five assists and two rebounds. Sam Thomas was the only other Wildcat in double figures with 11 points.
The fourth quarter opened with Reese drawing a foul and making both free throws. She stole a pass on defense and Thomas scored on a deep two-pointer at the top of the key. Thomas would follow with a 3, and McDonald would add a layup. Then Reese was fed inside, again and again.
Arizona came out strong in the third quarter—going on a 6-0 run in the first few minutes. Something that was a new look starting this season.
"…last year we kind of struggled with energy, especially in the third quarter. So, I think that's definitely something we are trying to work on," Reese said.
Arizona took a 35-17 lead into halftime, holding North Dakota to only seven points in the second quarter. The Fighting Hawks were held scoreless for four minutes. They shot just 26.1% in the first half.
The Wildcats' swarming defense created two shot clock violations in the first half, altered shots and intercepting passes. Arizona forced 16 turnovers, turning them into 15 points.
With less than seven minutes left in the half, Helena Pueyo did what is sure to become her signature move — a left-handed bounce pass inside to Cate Reese for an easy basket. Giving UA a 25-13 lead. She scored eight points, had two assists and one steal.
"I think Helena does what she does and we're only seeing a glimpse of how good she is. I mean, her three-point shots are like layups. So, I'll never tell her to not shoot the 3. …she's two for four in 14 minutes. So she's very efficient. And she's deceptive. She has a lot of length from the guard position so she gets a lot of steals. When she doesn't look like she's that fast, but she's long."
Rim shots
• Aari McDonald was named to yet another preseason watch list Tuesday afternoon. This time, it was for the John R. Wooden Award — given annually to the nation's top player. This comes on the heels of Monday's ESPNW's preseason Top 25 players, where McDonald was listed at No. 12.
•  Tee Tee Starks is still day to day, rehabbing a shoulder injury. She did not play Tuesday night.
• Before tip, Shaina Pellington took photos with fans on the court wearing t-shirts with Canada on the front and Pellington and her number—1—on the back.