As the crowd of 3,265 filed into McKale Center on Thursday night, it probably wondered why Dominique McBryde was not in her uniform warming up to face Idaho State. It might have been a little worried, too.
After all, McBryde is one of the Wildcats' most experienced post players, and they depend on her inside presence.
However, on this night, there was no need for concern as UA's freshmen —Cate Reese, Bryce Nixon and Semaj Smith — stepped it up to help lead the Wildcats to a 66-56 first-round WNIT win against Idaho State.
Arizona (19-13) will host Pacific at 3 p.m. Sunday in the second round.
This was UA's first win in the postseason since 2005 — an NCAA Tournament win — and the first in the WNIT since 2001. Thursday night marked the first time since 2011 that the Wildcats have won 19 games. It's been a long time coming.
"It means a lot, to not to play in the postseason for eight years and to come here with a great crowd," said Arizona coach Adia Barnes. "We didn't have our 'A' game for sure. It was ugly. I think besides the first five minutes of the game, we did not play a good game. The thing is we looked like we hadn't played in two weeks. We looked a little rusty, we were forcing some shots. We looked exhausted after the first few minutes, but I never met a win I didn't like."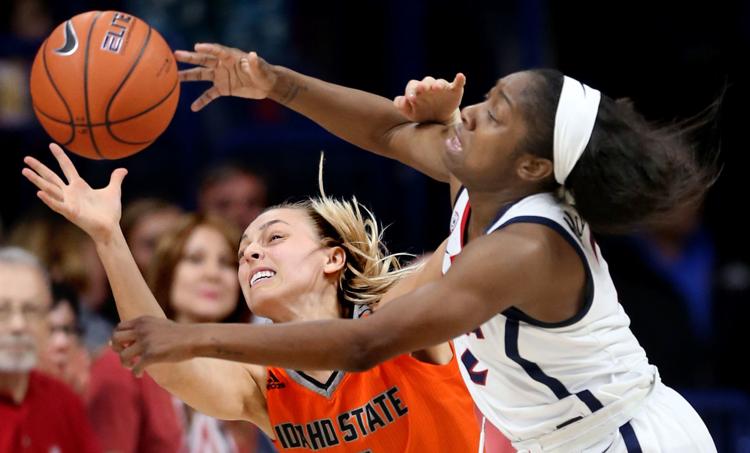 McBryde was out with an illness, Reese just got over strep throat, and yet the Wildcats still came out aggressive.
"I felt like I had to step up a little more," Reese said. "Dominique brings something; she's really aggressive on defense so as a whole we all had to step up on defense, not just me. I think we all did."
Reese started strong with 10 of UA's 18 points in the first quarter while she dominated the glass. Reese led all scorers with 14 points at halftime (5 of 6 from the field and 4 of 4 from the free-throw line). Reese used her muscle on both ends of the court to grab seven rebounds, at times with two Idaho State players hanging on.
Reese finished with her seventh double-double of the season: 20 points, 10 rebounds. She was credited with five assists.
"Cate is just going to play like Cate," said Destiny Graham, who finished with 10 points — all free throws. "She can be 0 for 20 and keep going and going, and that's what I love about her so much. She never gives up. She is so aggressive."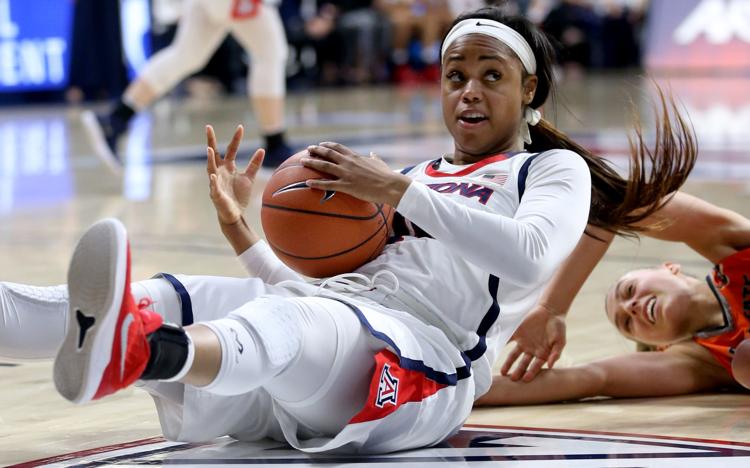 Nixon came off the bench prepared, and nailed a 3 in the corner with 8:36 left in the half to give UA a 26-10 lead.
"I thought Bryce gave really good minutes. I thought Semaj gave really good minutes," said Barnes. "I wish I could have played Semaj more, but when they are so guard-heavy, asking a 6-6 kid to guard a really versatile guard in No. 11 (Sai Tapasa), but I wanted to find minutes for her. I thought rebounding, she ran the floor; she did well on defense. She kept the ball high and finished. She's applying the things we work on every day. So I was really proud of her.
"Bryce didn't look like a freshman, either. I think our freshman are growing and getting more experience. Remember, we lost some close games to some really good teams, but I think all of that is paying off. That's why I am proud of the fight.
"Cate had an awesome game tonight. She was a point away from a career high and she really kept us going when Aari (McDonald) wasn't playing her game."
McDonald, who Barnes said had an off night, finished with 15 points, five assists, and three steals. She has scored 789 points this season, more than any sophomore in Pac-12 history. She scored on a layup with 3:22 left in the fourth quarter to push Arizona's lead to 12 points at 57-45.
Arizona led 38-20 at halftime after shooting 44 percent from the field and holding the Bengals to 28.7 percent.
That wouldn't last long as Idaho State made a few adjustments and outscored UA 21-13 in the third quarter, going on a 13-2 run to close the gap to seven points at 40-33. The Bengals hung around, but wouldn't get closer all night.
"They punched us in the face big time in the second half, they had us on our heels. They did a really good job," said Barnes.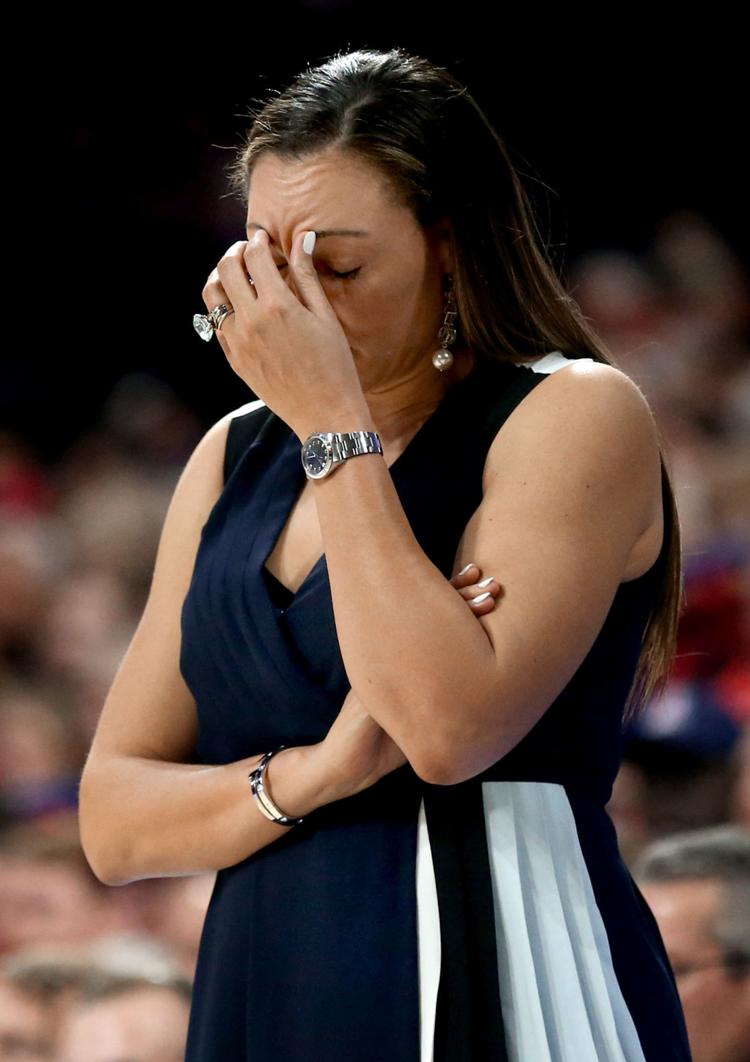 The Wildcats would use their relentless defense to get stops, alter shots and force Idaho State to turn the ball over. It was just too much for the Bengals to overcome.
Barnes addressed the crowd after the game, challenging what she called the "best fans in America" to bring more people Sunday to meet that goal of 5,000.
"It feels good, I just wish we would have played a little bit better. But I am proud of our fight, said Barnes.
Rim shots
McDonald collected another national honor Thursday afternoon — WBCA All-America Region Finalist. She is one of 52 total candidates with 10 coming from the Pac-12. The final team will be announced on April 4.
The Wildcats went 26 for 32 from the free-throw line.
Graham, who was 82 percent from the line last season, has only hit 55 percent in 2018-19. She went 10 for 10 — a career best — in Thursday's win. "Coach Morgan (Valley) tells me to bend my knees so I was more focused on bending my knees so I think that helped."