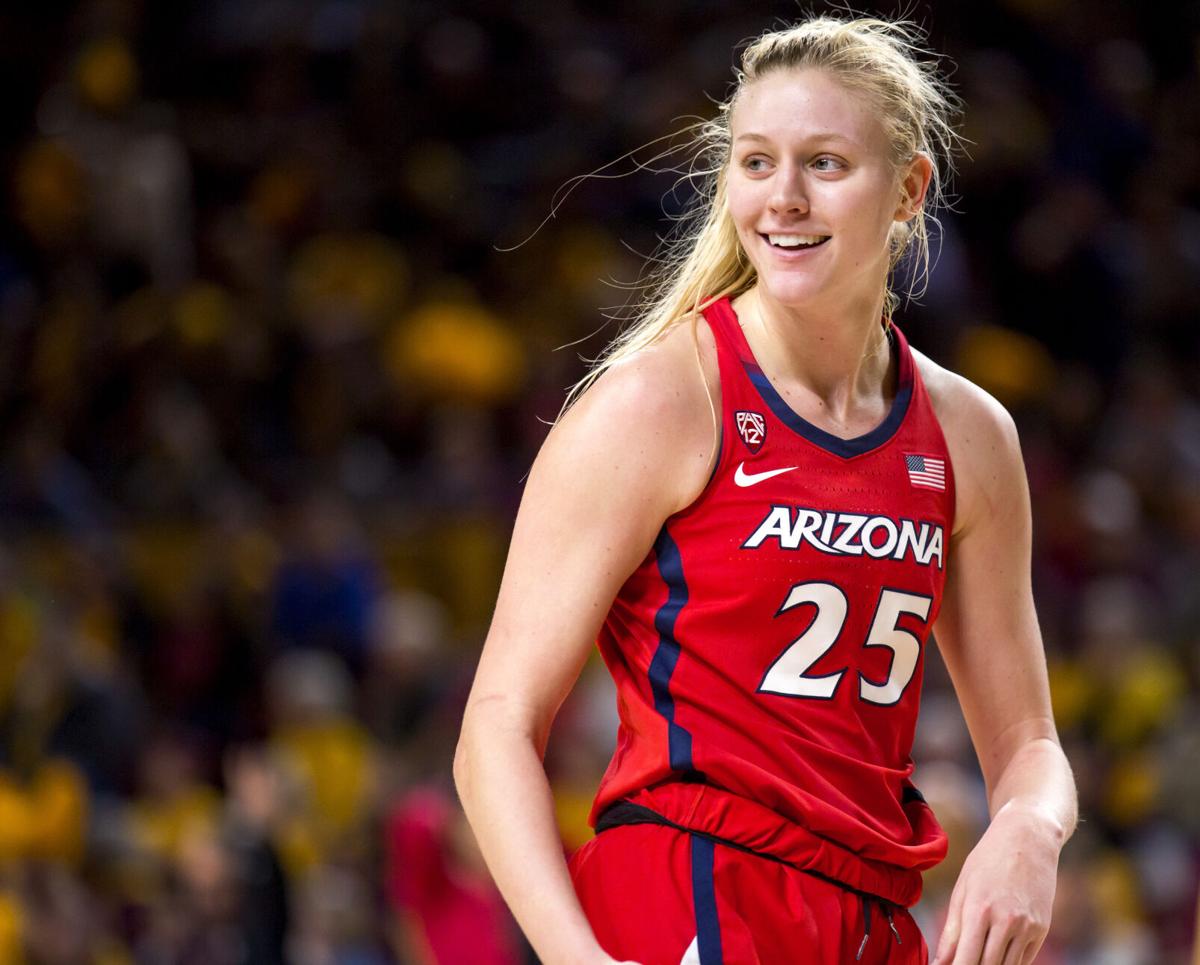 Cate Reese has always taken her craft seriously.
She's never shied away from putting in extra work. As a senior in high school she spent extra hours in the gym, and in her first two years freshman at Arizona, she was one of the last players off the court after practice.
Now, as an upperclassman, the junior has become even more laser-focused on growing all aspects of her game.
Earlier this year, Arizona coach Adia Barnes said that Reese "is determined to be great. That's why I think she's going to be great."
Reese has always been aware of the areas she needs to improve on, and this offseason was no different. She used the extended time at home in Cypress, Texas, to her advantage — working four times a week with her longtime trainer to zero in on her footwork, three-point shot, defense, reading and reacting and just "getting better at being an all-around player."
"I'm going to be playing more four (position) this year than I have in the past few years," Reese said. "I think that's important that I develop my 3-point shot more so I'm more of a threat — inside and out. I definitely have been working on that.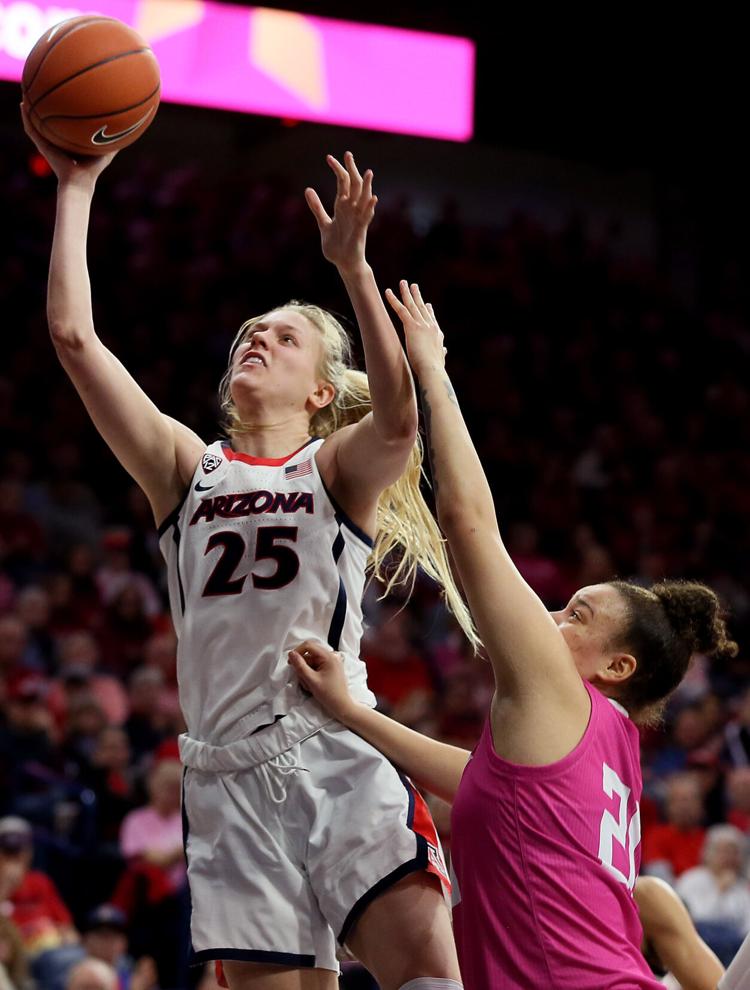 "I think that is just always raising the bar for myself — not only myself but for my team and expecting more out of ourselves to be a top-10 team."
It's not like the 6-foot-2 forward hasn't been a threat in her first two seasons. Reese made the Pac-12 All-Freshman team, taking three freshmen of the week honors, was the Pac-12's leading freshman scorer and rebounder and was an integral part of the Wildcats WNIT Championship.
She topped that the following year by winning two Pac-12 Player of the Week honors in Dec. 2019, being a finalist for the Katrina McClain award for best power forward in the country — one of only two underclassmen — and being a member of the All-Pac-12 team. She collected eight double-doubles, led the team in rebounds (7.5 per game) and free-throw percentage (80.2%), was second in points per game (13.6) and had 35 steals.
And more than that, when her teammates needed a boost, they turned to Reese, such as when Dominique McBryde was out with an injury or in the quarterfinals of the Pac-12 Tournament and Reese responded by scoring 30 points on 13-of-15 shooting.
For Reese much of her training was about muscle memory.
"Practicing is really just repetitive so you can remember it and use it without even thinking about it in a game," she said.
She's also changed up her weight training. Reese's plan is to stay lean but get stronger. To do this she has been increasing the weight each week and lifting at a slower pace. Barnes has already noticed the difference.
Reese did take a break at the beginning of the pandemic. For the first time in years, she rested her body and spent time with her family – not just before or after a home game when she is thinking about her performance. Reese said it was "really important just to be able to breathe and to be able to do other things that I wanted to do."
She played video games, watched movies and read. She is an avid reader of action, adventure, mystery and dystopian books.
Since the Wildcats arrived back on campus in August, they have been slowly getting back to it. First, they did functional work, then moved to the weight room and have been back on the court working on spacing, shooting and other fundamentals. They are not working on the system or on plays yet, but that is coming soon as the season starts Nov. 25.
While Reese is itching to get competitive and start playing, she sees how this time will pay dividends for the Wildcats deep into the season.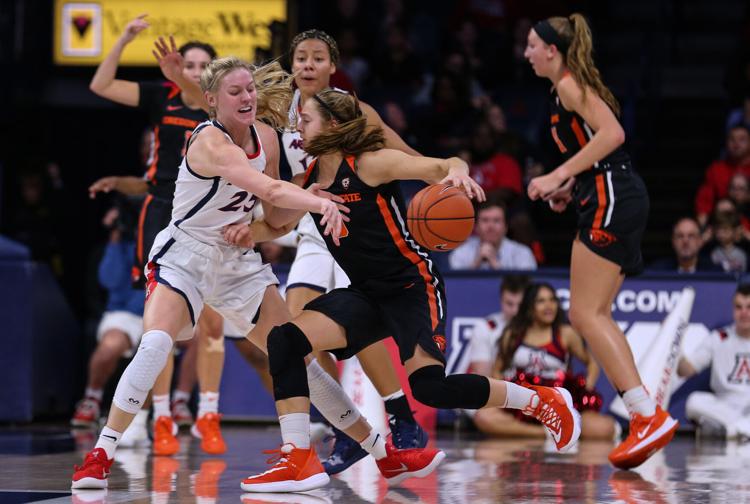 "It'll definitely help," she said. "We have never gotten this much time to work on just fundamentals. Working on the fundamentals now will be helpful when in season — we won't have to be working on that so much. We'll be able to work on more team-focused things, rather than working on our footwork working on our shooting. … I definitely think that will be helpful in the long run."
Reese thinks her motivation for this season comes from many places. She is a junior and she knows it's her time to step up even more as a leader and a role model. And she was "frustrated" with how the season ended last year — not on the court, but with the NCAA Tournament being canceled because of the pandemic.
"Now we'll never know how our season could have truly ended," Reese said. "Being able to refocus and now use that as motivation for this season. We definitely have a statement to make this year just to prove that we could have gone far in the NCAA Tournament last year. And, this is the last year for Aari (McDonald) last year for Sam (Thomas). We need to be able to use that time and make this the best season that we can."
Rim shots
• Former UA standout Tee Tee Starks is now a graduate assistant for UConn.
• The Wildcats took an outing last week to Safeway. The players were shown how to make healthier choices to fuel their bodies.
• Reese is excited to see and be a big sister to Capri Coppa, Barnes' and Salvo Coppa's baby girl that was born Sept. 15. "We definitely recruited a new player on the team," Reese joked. "It's exciting to see how she's going to be able to grow and how her and Matteo (Barnes and Coppa's son) will be and it's exciting to have a new baby to be able to interact with."
• Maya Nnaji, a class of 2022 recruit from Hopkins Minnesota, has Arizona listed in her Top 13 schools. Other schools who made the list include Stanford, Oregon, UCLA, South Carolina and Louisville. She is the sister of former UA men's basketball standout, Zeke Nanji. ESPN has her listed as No. 3 in her position of forward and No. 8 overall in the class.