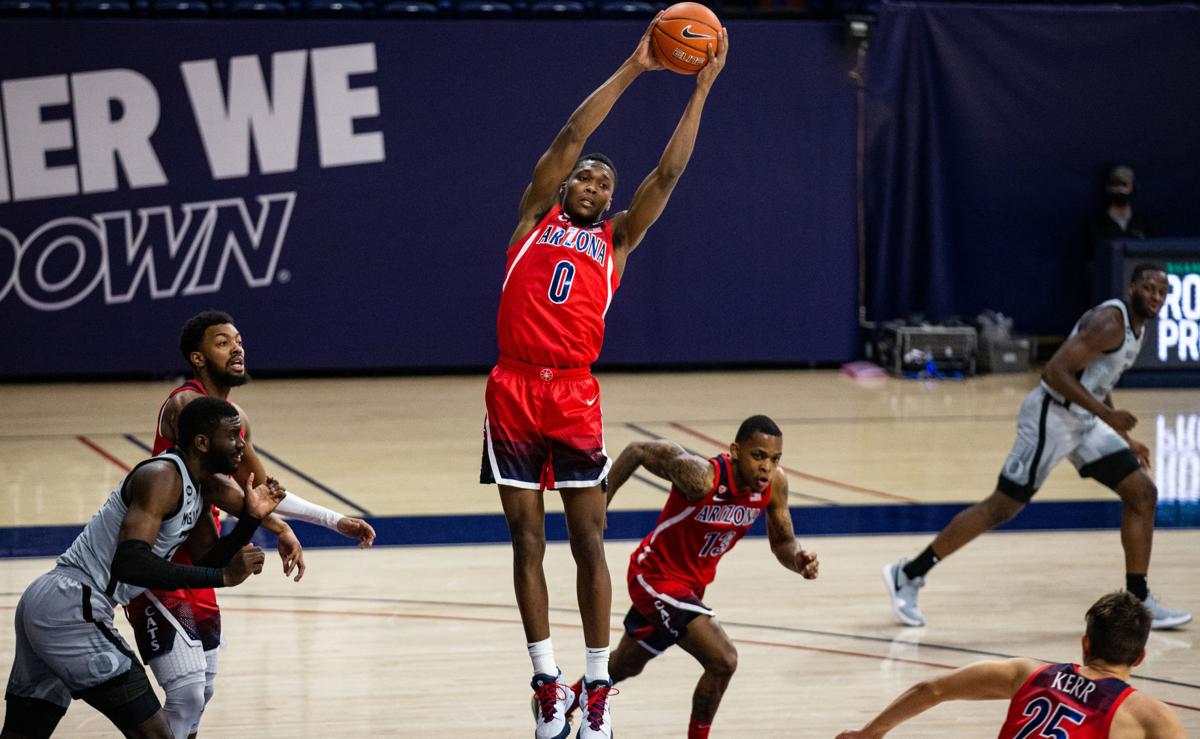 Among the things that Arizona has been known for during Sean Miller's 12 seasons as head coach, it's regular-season consistency.
With a few exceptions to both extremes, the Wildcats usually seem to wind up doing exactly what they're expected to do. Really bad losses and stunning upset wins alike tend to be rare before March.
So maybe the most notable thing about the 2020-21 Wildcats is that they managed to continue that trend despite still-looming NCAA storm clouds over their heads, a late decision from their school to self-impose a postseason ban, plus injury and eligibility issues — and, of course, COVID-19 protocols infecting every aspect of their lives.
The Wildcats had to replace all five starters last spring, recruiting frantically over FaceTime just to fill out the roster, then welcomed everyone in to an arena that lacked probably the biggest advantage they have: their fans.
The Wildcats also had to wake up just about every day at 6 or 7 a.m., take a COVID-19 test and play a reduced schedule that constantly changed because of their opponents' pandemic-related issues.
Then, after being picked to finish fifth in the Pac-12, the Wildcats put together a season in which they went 17-9 overall and 11-9 in the Pac-12, putting them in a loss-column tie as of Friday … for fifth place.
In addition, they didn't have a single Quad 3 (bad) loss or Quad 4 (very bad) loss all year in 12 of those games. They were just 5-9 combined against Quads 1 and 2. And while they still couldn't figure out Oregon, losing for the sixth and seventh time in a row, the Wildcats picked up big Q1 wins over Colorado at home and USC in Los Angeles.
But while the Wildcats' ultimate results were not a surprise, the mechanics of it might have been. Here's five reasons why the Wildcats had the season they did in 2020-21:
1. Their offense was better than their defense
The Wildcats had a higher national offensive efficiency rating (21) than defense (93), something that has only happened three times since Miller had the Wildcats fully retooled by the 2013-14 season.
Not surprisingly, it frustrated Miller that the Wildcats couldn't stop teams such as Stanford, UCLA, USC and Oregon from driving inside and either beating them athletically and/or pushing them aside to get to the basket.
Stanford and UCLA both averaged more than 50% shooting in two games against Arizona, and the Wildcats' low point may have arrived the weekend of Jan. 7-9.
They gave up a season-worst 58.5% shooting to USC in the Trojans' blowout 87-73 win over the UA on Jan. 7 and then allowed UCLA to shoot 49.0% and score 15 more points at the line than Arizona on Jan. 9.
"We are a horrible defensive team," Miller said after the UCLA game. "We played against two very good teams, but that's how you judge yourself, right?"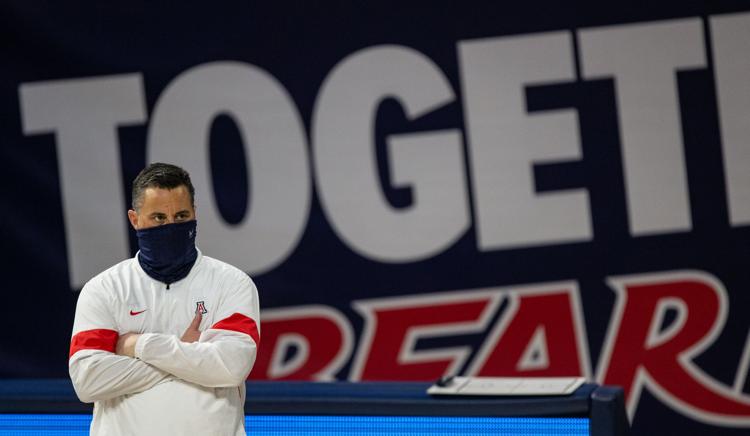 Three weeks later, things hadn't improved much. Stanford, a team Miller's Wildcats had never lost to before this season, came into McKale on Jan. 28 to finish off a season sweep of the Wildcats by going on a 15-2 run toward the end of the game and win 73-64. The Cardinal shot 54.2% in the second half to finish at 49.1% overall.
"The last eight minutes, it was just drive, drive, drive, foul, foul — and I've kind of seen that movie before," Miller said after that game. "When we've lost games this year, our defense just abandons us. That's what happened in the last eight minutes. We just had no ability to get a stop."
The Wildcats ranked seventh in Pac-12 defensive efficiency, allowing conference opponents to shoot 36.2% from 3-point range (the ninth-worst 3-point percentage defense) and 49.2% from inside the arc (the sixth-best two-point percentage defense).
But there were also plenty of times the Wildcats made up for all that on the other end of the court. On several occasions, Miller noted how pleased he was with an offense that was better than expected.
The Wildcats shot carefully, taking only 31.4% of their shots from beyond the arc — the 48th-lowest ratio in Division I — while hitting them at a 37.2% rate, the 36th-best 3-point shooting percentage nationally.
"I'm surprised by a lot of the things that we've been able to do at this point on offense," Miller said on Feb. 23, during his final weekly news conference. "That's the biggest surprise of all the expectations of this year's team. When you have that many new players and moving parts, it's difficult to have that cohesiveness, that execution, on offense. We've really found our way."
They also made the most of their offense by getting to the free throw line more often than almost any other team in the country, hitting free throws at a 72.7% rate. Their ratio of free throws taken to field goals taken of 41.8 was the ninth-highest in Division I.
James Akinjo took one-fourth of the UA's 3-pointers and hit 40.8% of them. Terrell Brown (36.8%) was a selective 3-point shooter and, despite some late-season struggles, Bennedict Mathurin finished at 41.8% from 3-point range and 47.1% from the field overall.
Inside, Jordan Brown's hook shot and other post moves allowed him to shoot a solid 56%; Christian Koloko took less than four shots a game, but hit 52% of them.
In the end, all that efficiency made Miller wonder what might have been if his defense was anything close to normal.
"If we were a better overall defensive team, we would be in the conversations right now about competing for the conference championship," Miller said on Feb. 23.
"A lot of that is just that we haven't been able to get the big stop, the big rebound or be consistent enough as a defensive team. But we've also had a lot of younger players get great experience playing big roles. So I think that sets those guys up for a bright future."
2. They limped by in the backcourt
Arizona's most significant returning player, sophomore Jemarl Baker, was playing like it at the time he broke a wrist against UCLA on Jan. 9 and was lost for the rest of the season. He had 33 points against NAU, 29 points at Stanford on Dec. 19 and was shooting 43.8% from 3-point range through the UA's Dec. 28 win over Colorado before a shooting slump immediately preceded his injury.
The blow was especially tough since the UA announced on Dec. 21 that it wouldn't have freshman guard Kerr Kriisa eligible until early February because of an NCAA clearinghouse issue. That left the Wildcats with a month to figure something out between James Akinjo, Terrell Brown and bigger wings Dalen Terry and Mathurin for the Wildcats' three perimeter spots.
Basically, they relied even more heavily on Akinjo and Brown at the two guard spots, while shifting Terry and Mathurin between the two wing spots as needed and even mixing in freshman wing Tibet Gorener during three games between Baker's injury and Kriisa's eligibility.
Akinjo played 37 minutes against UCLA when Baker was hurt, averaged 36 minutes in two games against ASU and even played over 33 in the Wildcats' Feb. 6 loss at mile-high Colorado.
Terrell Brown, who hit a game-winning 3-pointer in the UA's double-overtime victory at Washington State on Jan. 2, started seven games between Jan. 14 and Feb. 6. He averaged 31.4 minutes per game during that span, contributing a critical 14 points and six assists in the UA's two-point win at ASU on Jan. 21.
Then, once Kriisa moved into the starting lineup on Feb. 11, Brown returned to a combo guard role off the bench and there was no indication of any complaint.
"He's been a godsend," Miller said of Terrell Brown. "If you think about losing Jemarl Baker for a season-ending injury and Kerr Kriisa not being available, I mean, where would we really be without Terrell?
"His level of play, the type of kid he is ... he's as unselfish of a person and as a basketball player I've been around. All of us benefit when you have young players like Terrell as part of your program."
3. The freshmen stepped right in
Associate head coach Jack Murphy made multiple pre-pandemic trips to Europe to set a recruiting foundation that helped the UA land six international freshmen in the 2020 class. The Wildcats had to finish up recruiting five of them virtually due to the shutdown of in-person recruiting.
Miller used FaceTime, Zoom and video highlights to bring them into Tucson. He couldn't really know for sure what he had.
But by mid-December, it was clear that Lithuanian forward Azuolas Tubelis was a quick study to the college game.
He also had the athleticism and offensive talent that necessitated his move into the starting lineup against Montana on Dec. 22, shortly before the Wildcats began Pac-12 play.
He never left the lineup, with Miller at first starting him alongside Brown and then later with Koloko at center.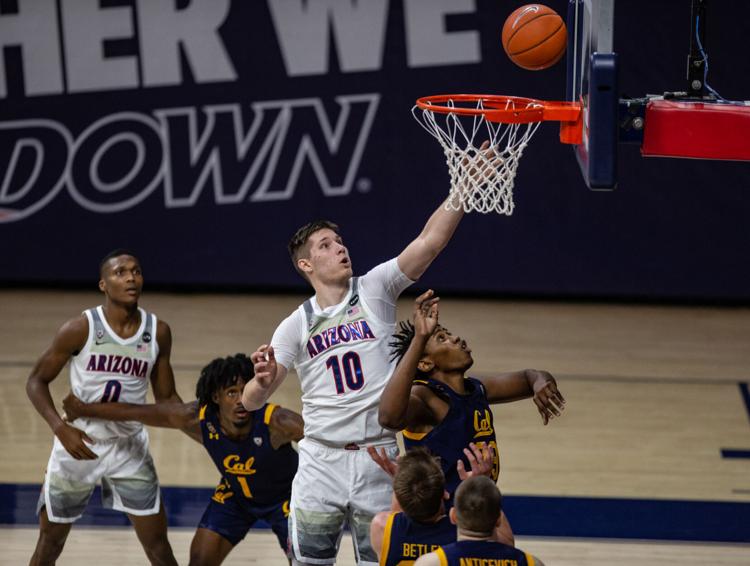 "He's better than I thought," Miller said of Tubelis, having recruited both Azuolas and brother Tautvilas virtually last spring. "He's proven home and away, against almost every style, that he's a very good player, and the best is yet to come."
While Kriisa was ultimately ordered to sit out 70% of Arizona's games because of arrangements that had been made for him to play for a Lithuanian club, he also wasted little time making an impact.
Kriisa first became eligible on Feb. 4 at Utah, going scoreless but showing the sort of toughness that Miller values despite his 6-foot-2-inch, 180-pound frame. Two days later, Kriisa even jumped in front of Colorado guard McKinley Wright on the fast break, planted himself in what officials ruled a legal guarding position and took a charge.
He entered the starting lineup for Arizona's home games against the Oregon schools the following week and hit a combined 6 for 15 from 3-point range.
Even though Kriisa wore the same No. 25 that his namesake Steve Kerr wore for the Wildcats, and hit 14 of 38 3-pointers during his monthlong season, his play off the ball actually wound up earning him time on the floor.
"Kerr, almost like T.J. McConnell, has great instincts in terms of drawing charges and making plays like that on defense," Miller said after putting in Kriisa late in the UA's 75-74 win over Washington on Feb. 27. "That's why he was in the game. We trusted him a little more."
Mathurin, meanwhile, generated the most NBA draft buzz, with his size, jump-outta-the-gym athleticism and steadiness from beyond the 3-point line.
But despite all that, Miller actually gave more starts at small forward to Terry (14) than to Mathurin (12), and vouched for the Phoenix freshman constantly no matter his production level in games.
"I've never coached a freshman in all the years that I've coached who's been more consistent with his attitude than Dalen Terry," Miller said. "He hasn't always played well. He hasn't always scored. But the next day, at halftime, after the game, he's the same. Sometimes that characteristic is every bit as important as how high you jump or how well you shoot."
Arizona's three other freshmen were in largely developmental roles: Gorener, Tautvilas Tubelis and French forward Daniel Batcho, who spent most of the season rehabbing a preseason knee injury.
4. They kept testing negative
There's no Kenpom.com ranking for "COVID-ity"; if there was, Arizona would have the lowest number in the country of games canceled or postponed because of its own COVID-19 issues: zero.
All eight of the Wildcats' games that were canceled or postponed were due to virus issues with their opponents.
Like most teams, the Wildcats don't disclose individual positive tests or tracing issues but players who are affected by either are not allowed to show up for games — and all of Arizona's uninjured scholarship players showed up for every game except for a late-season illness that prompted freshman Daniel Batcho to stay away. (Miller said Batcho's isolation had "nothing to do" with COVID-19 protocols.)
Miller noted frequently throughout the season how the Wildcats have had to modify their routines by waking up early for testing six days a week, limiting outside interaction and taking heavily modified road trips that included nearly all meals being eaten alone in players' hotel rooms.
"Certainly we've had some good fortune, but to never get shut down from the first day of school to the last day of our season, I think you have to give the players a lot of credit," Miller said. "You're not going to be able to do that unless they're disciplined in following the protocols that were set forth."
The Wildcats made up seven of their called-off games, leaving open a nonconference spot created after San Diego canceled its Dec. 21 game in Tucson two hours before tipoff.
Arizona had a chance to squeeze in a replacement nonconference game this weekend after finishing its 20 Pac-12 games, but Miller said it was difficult to find an opponent who wasn't playing in or preparing for their conference tournament — and one who would be willing to play at McKale Center.
"I think there's a time when we all kind of have to take our ball and go home," Miller said Monday. "I think now's that time for us."
5. They never gave up (and the proof is on the glass)
A day after Arizona started looking like a possible NCAA Tournament team, beating Colorado 88-74 at McKale Center on Dec. 28, the school announced it was self-imposing a postseason ban.
It could have been then that the Wildcats began to fall apart, with nothing to play for except regular-season achievements in a sport that is largely defined by postseason achievements.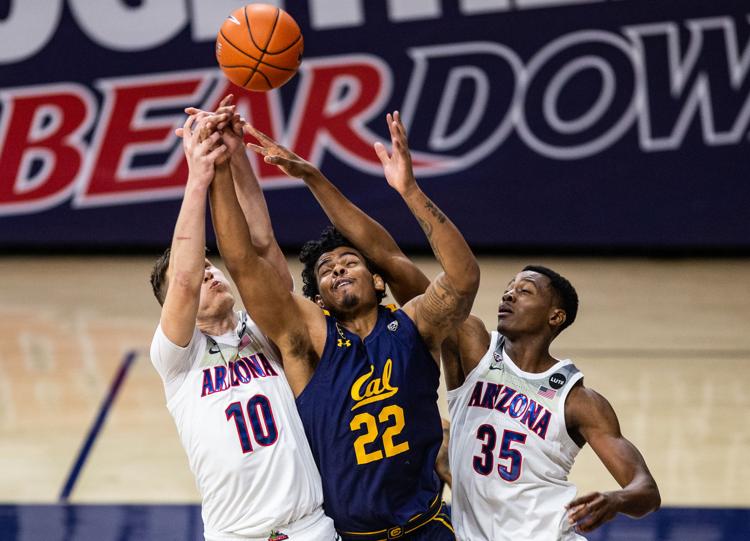 They could have turned south after getting swept at home to USC and UCLA in early January, a message that winning the league would be difficult.
They could have also packed it in after being swept in the mountains, when losses to Utah and Colorado put them too far behind to win the conference. And, certainly, after losing to Oregon on Feb. 13 for the sixth straight time, just 63-61 on a Chris Duarte 3-pointer taken late in Oregon's final possession.
But there the Wildcats were, beating then-first-place USC on Feb. 20 in Los Angeles, sweeping the Washington schools at home and playing Oregon closely for 30 minutes before the Ducks wore Arizona down again in a 80-69 loss.
Oregon was the only team that outrebounded Arizona all season. Since rebounding is sometimes considered a measure of effort, assuming size and talent are comparable, maybe that, too, says something about the Wildcats.
"Lot of toughness, lot of focus and a lot of heart," Akinjo said. "I think many people expected us to just give up once we found out there was no postseason but we kept fighting and just kept fighting like we did have something to play for."
Even if their ultimate record was, well, about what was expected.
"This year's team, there was so much unknown," Miller said. "I think if you have as much turnover as we have … you just don't really know. You throw COVID on top of it, and I'm just really proud of the group and how hard they worked and I really think that we became a good team.
"Sometimes we played well, and sometimes we didn't, but our intent was very good."