After having its fourth of five games pulled from them Wednesday, the Arizona Wildcats received some good news — and not just because they found another substitute opponent in Eastern Washington, nor because of anything that university officials or the Pac-12 declared.
This time, the Centers for Disease Control and Prevention came to the rescue. For the Wildcats and, possibly, for all of college basketball.
The CDC issued new guidelines Wednesday reducing quarantine time for those sidelined by contact tracing from 14 days to 10 — or just seven if coupled with a negative test, as long as no symptoms are present.
If those new guidelines had already been incorporated, Colorado coach Tad Boyle said, the Buffaloes would have had enough players to play Wednesday's postponed game at Arizona. It's also possible the Wildcats would have also been able to play Northern Colorado on Saturday, since the Bears had announced a COVID-19-related pause on Nov. 25.
Colorado managed to squeeze in two games last week in an event at Kansas State despite having one player test positive and two others taken out because of contact tracing. But another positive test this week sidelined too many of the Buffs, since none of the players quarantined last week could yet return.
"As I understand the new (CDC) protocols, two players that were contact traced in Kansas would have been available for the Arizona game," Boyle told the Star on Wednesday. "Under the old 14-day quarantine, they're out. So from a basketball standpoint, I think this could be a real benefit in terms of getting more games in because with basketball you're dealing with (only) 13 scholarship players."
While a widespread quarantine reduction wasn't placed in time to save Wednesday's UA-CU game, it could happen soon.
Doug Aukerman, Oregon State's senior associate athletic director for sports medicine and the head of the Pac-12's medical advisory committee, said Wednesday that it might take about a week for all local health departments within the Pac-12 footprint to adopt the CDC guidelines — although some might impose stricter measures anyway.
"Each health department is going to be a little bit different in how quickly they're going to be able to look at this and decide their comfort level," Aukerman said. "Some of them are dealing with outbreaks in their communities. Some of them are dealing with workplace outbreaks. So I think we have to understand that it's not a light switch that you flip and then suddenly everybody's in this new realm."
Besides, the contact tracing alone can take a while, no matter what quarantine time it might result in.
Boyle said the tracing process alone made the UA-Colorado game unplayable.
"Contact tracing is such a gray area because you've got your own medical staff that's weighing in on it, you have campus people who are weighing in, and then you have county people," Boyle said. "And contact tracing doesn't happen by snapping your fingers. It takes time.
"Sometimes it can take a day or two, and that's why I think you see teams pause. That's why we paused. We didn't pause because a bunch of guys were positive. We paused because they've got to figure out who else was exposed."
Arizona and Colorado didn't get to play. Neither did Eastern Washington after scheduled opponent Montana Tech backed out of a game with the Eagles because of COVID-19 issues. Northern Colorado hasn't played a single game yet, trying unsuccessfully to get to McKale Center on Saturday.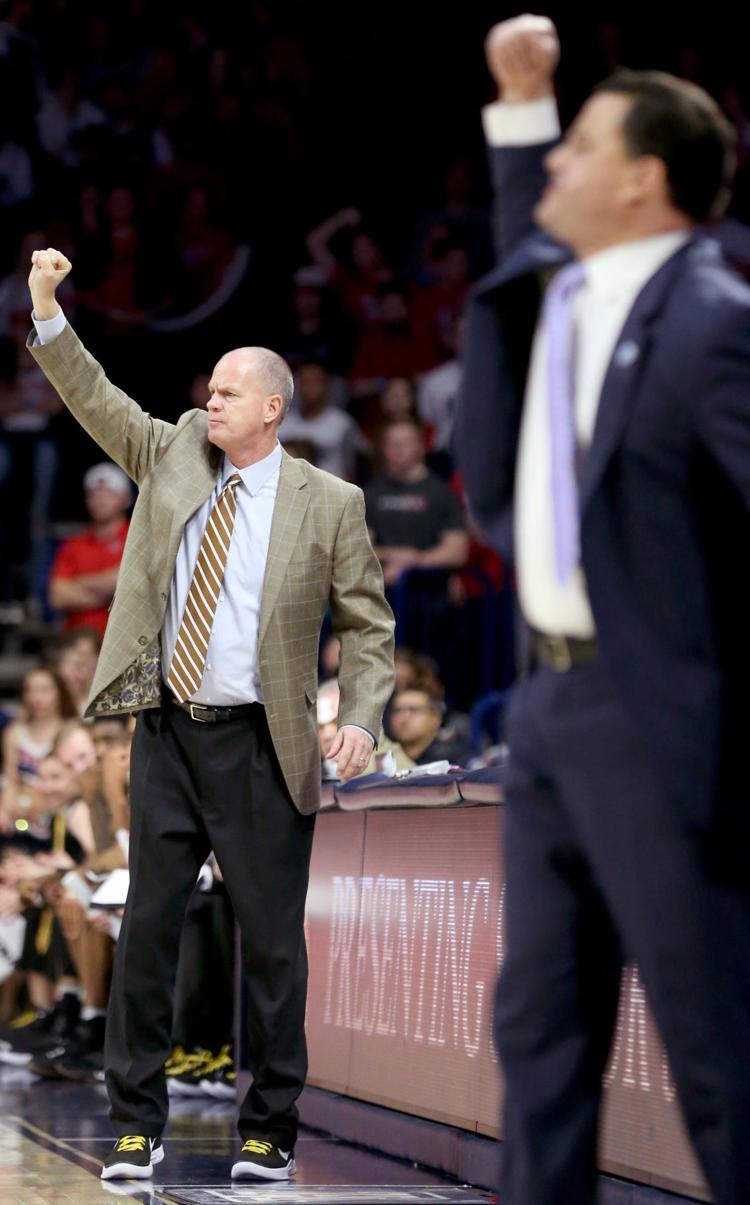 "Northern Colorado had been trying to make it work, but they've been in quarantine for a long time," said Ryan Reynolds, UA's director of basketball operations.
"It's a fine line if you're trying to play the game but have no time to practice before. That's kind of the position they were in."
Eastern Washington, meanwhile, hadn't been able to find a game since losing at Washington State to open its season on Nov. 28, with its next game not scheduled until Dec. 9 at UNLV. So the Eagles agreed to make the long trip from the Spokane area to Tucson; it's possible they will schedule another game in the area before heading to Las Vegas.
"Everyone's just kind of out there on the open market looking for games," Reynolds said. "They were willing to come down here instead of waiting on other teams."
But while EWU's effort means Arizona could actually get a game Saturday, there's no telling when the Wildcats will be able to play a Pac-12 opener of any sort.
Arizona's Dec. 19 game at Stanford may be moved or postponed because of a Santa Clara County health order prohibiting games through at least Dec. 21, and a rescheduling of Wednesday's Colorado game could be tough since Arizona's schedule is now packed tightly until Christmas.
Not that Boyle or Sean Miller could do anything about it, other than share notes and frustrations as they did this week.
"It's not just about you and your team — it's about your opponent, and Arizona has experienced that," Boyle said. "Arizona is ready to go, they're healthy, but they've got to find opponents to play. That's the thing that makes it tricky.
"I mean, next time we get ready to play Arizona, maybe we're ready and they're not. You just don't know."
Making it more frustrating for both coaches was the relative lack of issues both programs have had until now.
The UA still has not yet reported any COVID-19 issues, while Colorado was one of the first Pac-12 teams to begin offseason workouts back in July, sailing through an almost-normal preseason.
Things are different now.
"We've gone almost six months with no scholarship players testing positive — and then within six days you have two," Boyle said. "So that's where our guys were extremely disappointed not to be able to come down to Tucson and play.
"And I know from talking to Sean that Arizona is really disappointed that they want to play games. They've only had one. They've had a lot of cancellations. So it just stinks any way you look at it, but I think the biggest thing that I think everybody wants to feel comfortable with is that we're not spreading the virus through competition."