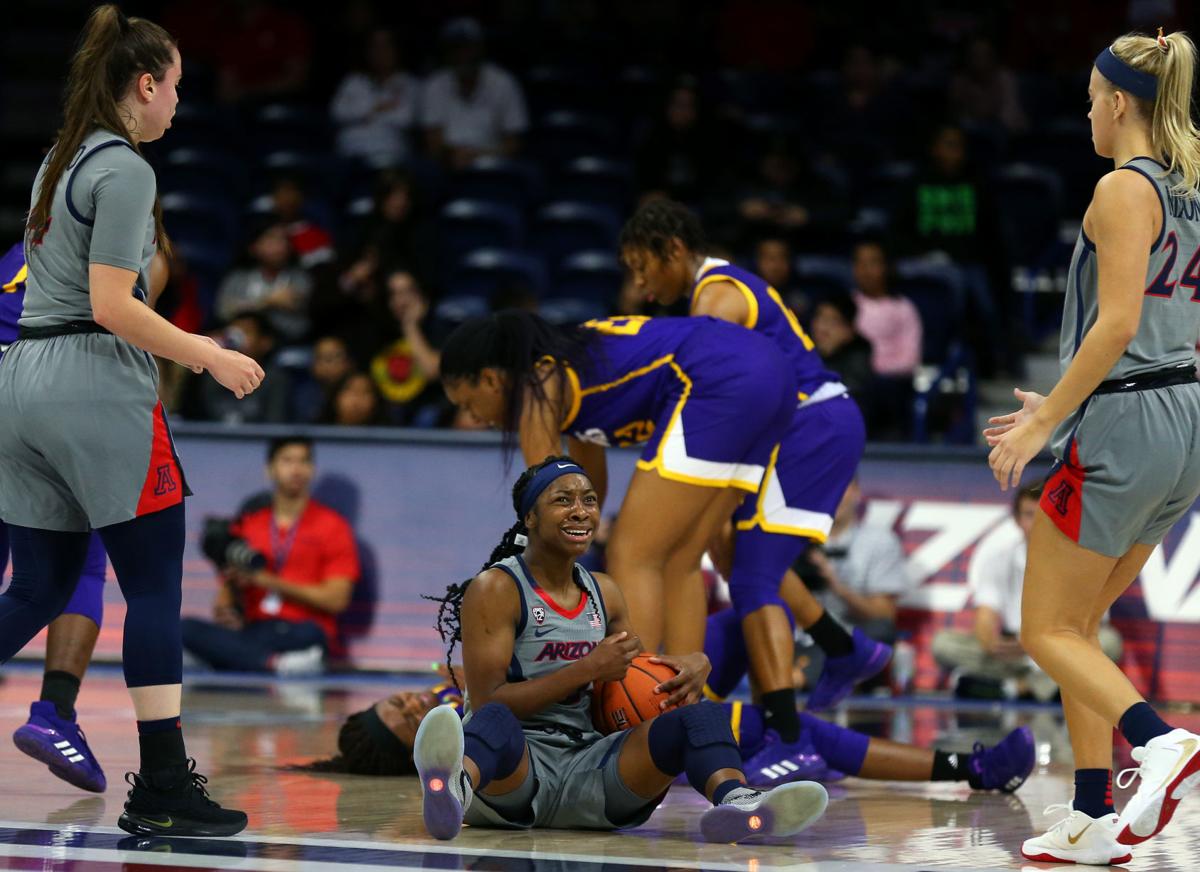 On Wednesday, the undefeated Arizona Wildcats faced their first big test of the season.
How would they respond against Prairie View A&M, three days after Aari McDonald set the program record with 44 points in a win over a ranked Texas team?
Arizona jumped out to a 15-0 lead in the first five minutes of the game and cruised to an 83-48 win in front of 8,542 fans as part of the Wildcats' annual "Kids Day" game in McKale Center. And McDonald … well, she finished one rebound short of putting up the first triple-double of her career.
"She was so close," UA coach Adia Barnes said. "You know, I thought that'd be a great thing for her to get. Not a lot of people in their lives ever get a triple-double. I've never been good enough to get a triple-double. I was hoping she did it."
McDonald finished with 15 points, 14 assists — the most by a UA player in 18 years — as well as nine rebounds and four steals. She entered the fourth quarter needing four rebounds for the elusive mark. McDonald grabbed her ninth board with 4:26 left but was held off the rest of the way.
Though she finished short, Wednesday's game was a continuation of McDonald's recent hot streak. In her last three games, McDonald has scored 83 points while shooting 29 of 42 from the field and hitting 21 of her 22 free throws. Wednesday's 14 assists was the most by a Wildcat since Feb. 24, 2001, when Reshea Bristol doled out 14 in a loss to Arizona State.
"Today, it wasn't about me," McDonald said Wednesday. "The Texas game is behind me, behind my teammates, and it was about just getting everyone involved."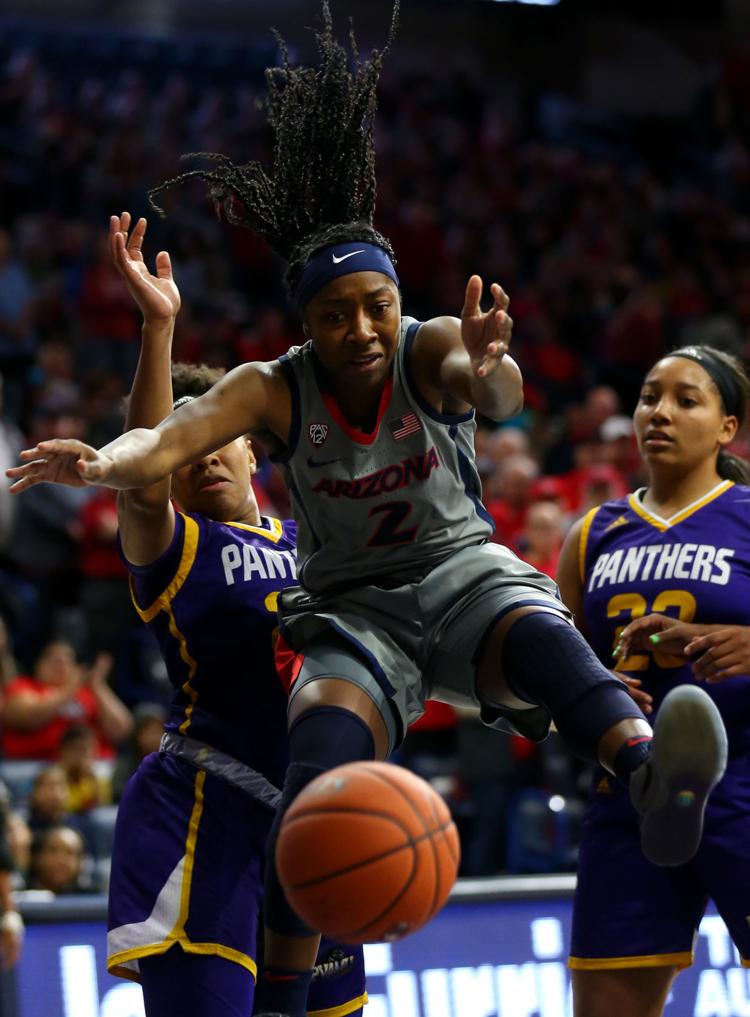 That was evident from the opening tipoff. McDonald found Dominique McBryde in the paint for an uncontested layup. A few possessions later, the same play was called for Sam Thomas, who scored. Cate Reese followed with fast-break buckets to give Arizona an 8-0 lead.
Thomas finished with 10 points and three assists in 19 minutes. Freshman Helena Pueyo added 12 points in 15 minutes, and Penn State transfer Amari Carter tied a career high with five steals.
Reese, a sophomore forward, scored 20 points and grabbed 10 rebounds in 28 minutes. She had 17 points against Texas.
"She's a lot smarter than she was last year. I think she finishes better," Barnes said.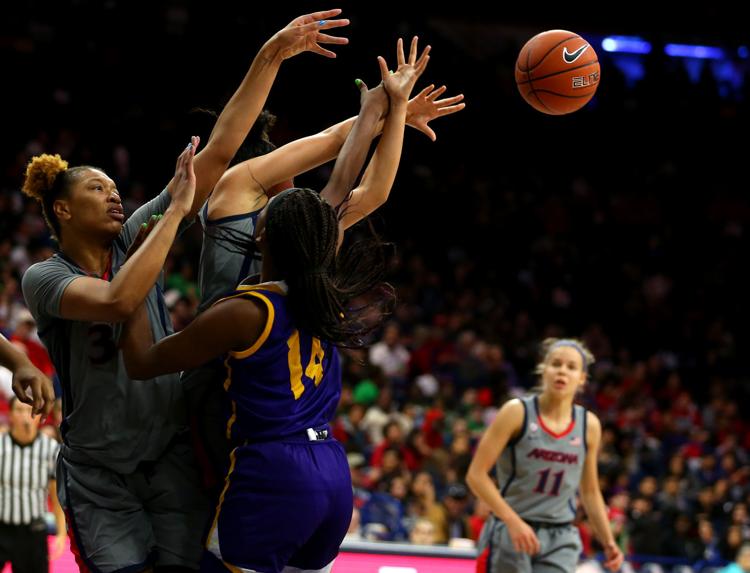 The second quarter was all about 3-pointers, with the Wildcats hitting five of them. Tara Manumaleuga hit back-to-back 3s from the corner. With 2:21 left in the half, Thomas and McBryde re-entered the game and fed McDonald for 3s from the same spot to the right of the key. Next time down the court, Thomas hit a 3-pointer from the corner.
The Wildcats led 42-22 at halftime.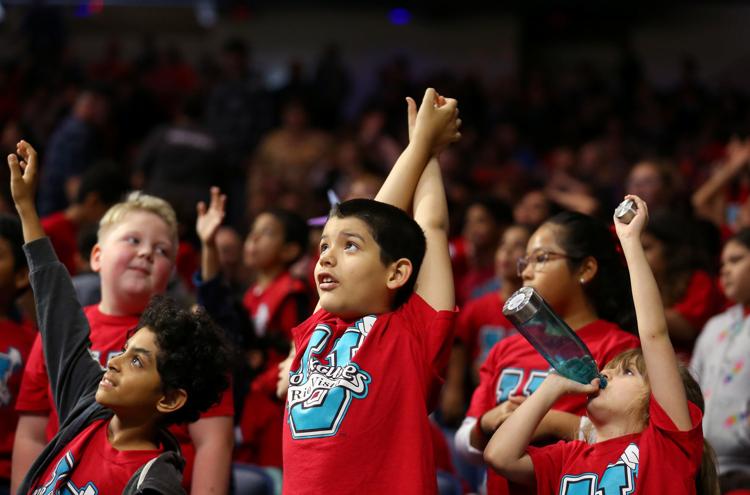 • Arizona held Prairie View A&M to 29.5% shooting from the field and just 25% shooting from the 3-point line. The Wildcats hit 52.4% of their shots and outscored the Panthers 40-18 in the paint. Arizona turned the ball over 19 times, however.
• The Wildcats have scored 80 or more points in each of their last three games, going 3-0 in the process. Arizona last won three straight games while scoring more than 80 each time in December 2000.
• Arizona (5-0) plays at Montana on Sunday.
Be the first to know
Get local news delivered to your inbox!