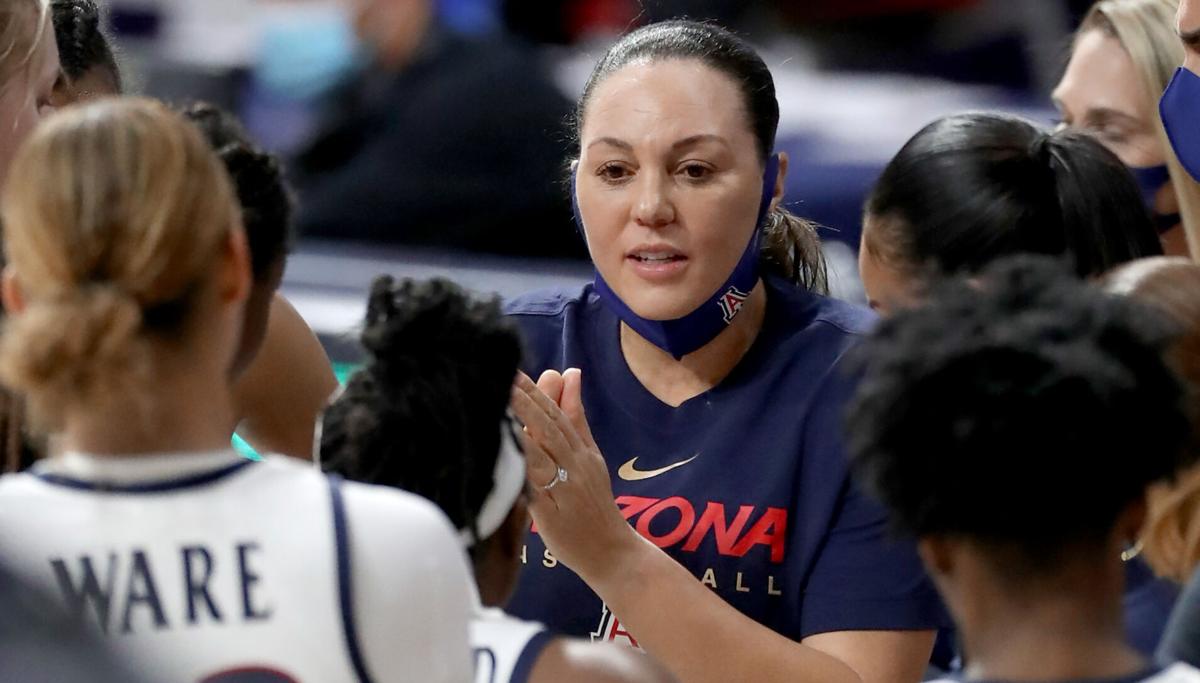 It's already a March to remember for Adia Barnes.
The University of Arizona announced Thursday that it is extending the women's basketball coach's contract through the 2025-26 season, pending approval from the Arizona Board of Regents. They are meeting next on April 14. Terms of the new deal were not immediately available.
The news comes four days before Arizona, a No. 3 seed, plays its first NCAA Tournament game in 16 years. The Wildcats will face Stony Brook at 11a.m. Monday in a game that will be shown nationally on ESPN2.
Barnes said it "means the world to her" that UA president Robert C. Robbins and athletic director Dave Heeke are committed to women's basketball — and to her.
"I knew it's a place that I want to be, knew that they want to be here, and that they were committed to me," Barnes said. " … I'm grateful that they were excited for me, and they see a future in what I'm doing here; I'm just more humbled by that. I never thought about the timing. I'm just happy to be here."
Barnes, a former standout player for the Wildcats, was hired five years ago next month to replace Niya Butts. After going 20-40 in her first two seasons, Barnes and the Wildcats hit their stride. They're 64-25 since.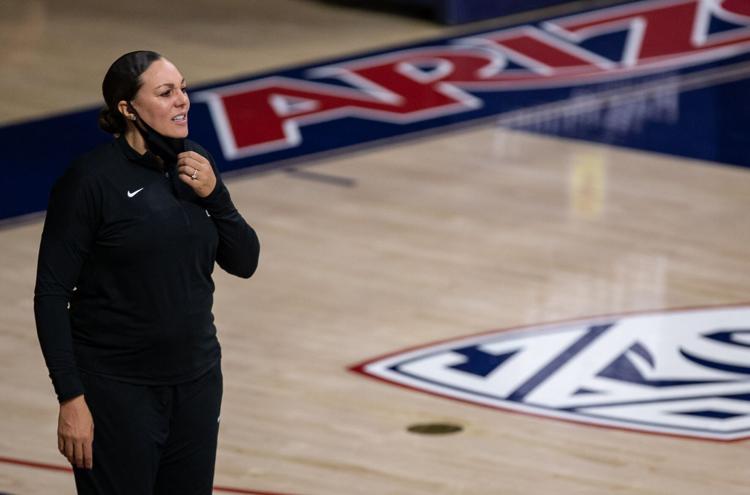 Barnes said that Heeke approached her first about the extension. There was no "back and forth," in the negotiations, she said. It all happened in a matter of days.
"We are thrilled that Adia will lead our women's basketball program for years to come," Heeke said in a news release.
"Adia has built a nationally-prominent program in a short amount of time that achieves excellence on the court, in the classroom and in the community. Her dedication to coaching and developing student-athletes is rivaled by her passion for our university, our athletics department and our Southern Arizona community. Under her outstanding leadership, Arizona Women's Basketball has become a national brand and we cannot wait to see where Adia takes us."
In five years, Barnes has turned the program from being picked to finish 11th in the Pac-12 to being ranked in the Top 10 nationally. Monday's tournament game will be the high point so far of a head coaching career that also includes a 2019 WNIT championship.
Barnes was already working on her second UA contract.
In August 2019, the regents approved a five-year contract extension that included a salary increase to $407,500 — a raise of more than $170,000 above the $235,000 she was making. The salary bump was supposed to go into effect in June of last year. However, the pandemic-mandated reductions in salary for all UA employees cost Barnes $81,500 — 20% of her new deal.
Barnes' last extension included two bonuses, one for academics. She was due to receive up to $15,000 for Academic Progress Report scores and a bonus of $30,000 if her players had a cumulative GPA of 3.3 or higher.
The contract also included performance bonuses: $10,000 for reaching the NCAA Tournament and $20,000 for a first-round win, with escalating bonuses topping out at $50,000 for winning the NCAA title.
Barnes also agreed to a retention bonus that was due to kick in last July.
"I believe when you do your job, everything else comes into place," Barnes said. "In my career, I do what I love. I don't want to ever be in a situation where I have to go work out every minute, fine detail. Because I think that when you're wanted by people and you want to be somewhere, I think it works out and it's effortless.
"And that's how it was here."