Of all of Arizona men's basketball's greatest tormentors, Frank Kaminsky probably stands the tallest.
If there was a Mount Rushmore for these things, the 7-foot-1 Wisconsin wunderkind — who almost single-handedly denied two potential Final Four bids for the Wildcats — would be on it, right next to Don MacLean and sandwiched between Reggie Miller and Bobby Hurley.
So it would be understandable if Arizona fans wanted to never hear from the Badger big again.
Because now Frank Kaminsky is on the Phoenix Suns, challenged with helping draw every last ounce of potential out of DeAndre Ayton, the former Wildcat one-year wonder, the NBA's 2018 No. 1 draft pick and the league's latest, greatest hope for a Big Man Revolution.
If only he could see what Kaminsky sees. And on this night frigid Thursday night in Manhattan, what the world sees.
The New York Knicks might not glimmer like they once did, but Madison Square Garden is still basketball mecca, the center of the hoops universe. There's something about playing in the Big Apple that brings out the best in people.
Especially on this night, and especially Ayton.
Just nine games removed from a 25-game suspension for taking a banned diuretic — he missed another five games with an ankle injury — and back in the starting lineup after three games coming off the bench, Ayton plays the best game of his young career.
Against a completely overmatched Knicks squad, the Suns center scores 26 points, tying the second-highest mark of his career, and sets personal bests for total rebounds (21), defensive rebounds (15) and plus/minus ratio (+31) in a 121-98 Suns rout.
And to think: 90 minutes before game time, he's going hungry.
The 6-foot-11-inch prodigy is roaming the opponent's locker room in Madison Square Garden on a mission. He can't find the pregame spread. He bellows. He begs. Finally, a team official points him in the right direction, and Ayton smiles.
Feed the big man, Phoenix. Feed him.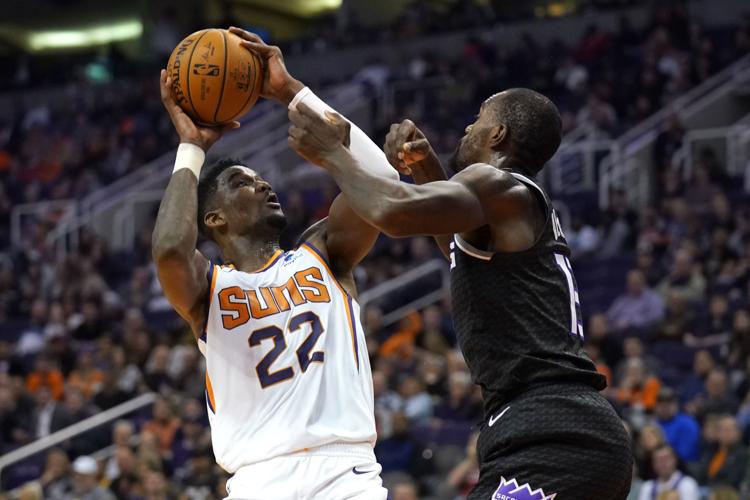 You can't blame DeAndre Ayton for Luka Doncic and Trae Young, just like you can't blame Sam Bowie for Michael Jordan.
More than a quarter-century after one of the great draft-day mistakes of all time — Portland's selection of Kentucky center Bowie with the No. 2 pick in the 1984 NBA draft over the Bulls' pick of North Carolina star guard Jordan — the chorus rang again. As Ayton wilted on the Phoenix bench, Doncic and Young started this season on a tear.
Dallas' Doncic, a 6-7 point forward with considerable skill, is averaging 29.1 points, 9.6 rebounds and 9.0 assists per game. The third pick in last year's draft, he'll be an NBA All-Star starter next month. Young, selected fifth overall by the Mavericks last year but swapped to the Atlanta Hawks in a draft-night deal, is averaging 29.1 points, 8.8 assists and 4.6 rebounds. He'll be an NBA All-Star starter, too.
Such is the world in the modern, guard-dominated NBA, where softened defensive rules have shifted the game from the post to the perimeter.
So the first question is this: Can a big man even dominate in today's NBA, the way the Shaqs, Wilts, Hakeems and Kareems of their day once did?
Of the top 30 scorers in the NBA, precisely one is identified as a center: Denver's triple-double machine Nikola Jokic. He ranks 30th. Four of the top 30 — the Bucks' Giannis Antetokounmpo, the Lakers' Anthony Davis, the Raptors' Pascal Siakam and the Celtics' Jayson Tatum — are power forwards, and only Davis plays primarily with his back to the basket.
So Ayton has his work cut out for him. Luckily for the Suns, he loves to work.
"You don't know who is watching"
On Oct. 24, Ayton's world shattered. On that day, it was announced that he'd miss games Nos. 2 through 26 of his second season.
A lesser man may have crumbled, done in by the harsh eye of the public and the shame of letting his team down.
"On the road, back at home, we always saw him in the gym, taking it seriously," Suns guard Tyler Johnson said. "It didn't look like he was going through the motions. You can look at it as a time to get better or as a time to fold, and one of the things my brother always used to tell me is that tough times don't last, but tough people do."
During his extended absence, Ayton met often with first-year Suns coach Monty Williams, where they talked anything but basketball. Williams conveyed his most treasured Bible verses, something the religious Ayton tremendously valued, and he checked in regularly.
Most crucially, Williams implored Ayton to forgive himself.
"For the most part, I talk to DA about my own flaws," Williams said. "It's easy to see a guy make a mistake and rip him apart. But I think when you realize that other people around you, who seem to have it together, that they have made mistakes, you don't feel as bad. When everyone was pointing their finger at him, I just said, 'Hey man, I didn't do that, but I did a lot of dumb stuff in my 20s that nobody knew about.'"
For his coach to be so supportive of what he himself calls "a humbling experience," Ayton was able to emerge with his chin up.
"His main thing to me is, 'What is your next right step?" Ayton said. "You don't know who is watching. It's more than basketball. You don't know who is watching, who you're inspiring."
Even the people in Ayton's own locker room.
"Whether you call it a dumb decision or just not doing what you need to, what happened happened," Kaminsky said. "There's no denying it. He took it on the chin. He didn't hide from it. He came in and apologized to everyone. He was very apologetic, and he's been engaged. You know how this league can be with the teams and players who have particular egos — it can fracture a team, and that didn't happen, and it didn't fracture us because of him."
Apologies out of the way, daps and hugs traded all around, Ayton was able to proceed with a purpose, and the Suns in kind.
"We really just rallied around him," Kaminsky said. "We know the kind of person he is. He wears his emotions on his sleeves. When he's down, he's got people talking to him, keeping his spirits up. Our staff really kept him engaged, kept him working, and that's a big credit for him. You can sit there and say poor me, but at the end of the day, he had his health. Most people who miss that kind of time can't do basketball work."
So that's what he did. He went to work. He didn't complain. He crafted his game. He started to find his spots. He mended wounds.
"Time heals everything," Johnson said. "Eventually this will be a little blip on the entirety of his career."
The question is, just how good can that career be?
If the first question is can a big man dominate in the modern NBA, the second question — at least for Suns fans, coaches and ownership — is this: Can Ayton be that man?
As a rookie, he showed flashes, debuting last season with 18 points, 10 rebounds and six assists in a 21-point win over Doncic's Mavericks, regularly posting 20-10 numbers.
But Ayton looked tentative at times, disappearing for entire chunks of games. In a 17-point loss to the Jazz last March, he had two points on 1-of-9 shooting. He had four in a 10-point loss to the Clippers, and six three games later in a rematch with Doncic and the Mavs, a 10-point loss.
So the first key is consistency.
"Most nights, he's playing against men," Williams said of the 21-year-old Ayton. "I don't think he's submitting to anybody; it's just he hasn't done it long enough. What I'm asking him to do is play at a high level for 35 minutes every night. That's hard for young guys. I think he's trying to figure out, from a cardio standpoint, if he can do it. Then once he gets himself in that position, he'll understand how gifted he is."
That's something the rest of the Suns have known since the start.
"I've seen him make some moves recently that are like … wow," Phoenix rookie guard Ty Jerome said. "He's banging in the post, lowering his shoulder. He can be so strong and dominant, and coach is just preaching that to him. He's been all ears."
To Devin Booker, perhaps an ideal running mate for a flourishing big like Ayton, and another cornerstone to the Suns' future, he sees a world of potential in the Arizona product.
"Maybe he's scratching (the surface)," Booker said. "You see it at times. He's young — I'm young also — and there's a lot of figuring out what you have to do in this league, and once you have success, and see what works, you try to keep doing those things and stay on them."
"He can dominate at two levels"
On this Thursday night against the Knicks, Ayton finds something that works.
The first 20-20 game of his young career only portends big things to come. In the two games that follow, Ayton will score 26 points with 15 rebounds in a surprising four-point win at Boston and 25 points with 12 rebounds two nights later in a two-point home loss to San Antonio.
The two games after that? Twenty points and 19 rebounds, total. Ten points each game.
Wins, too. In the 13 games since his return, the Suns are 7-6, with Ayton making a major difference on both ends.
That, his Suns comrades believe, sets him apart from his best-in-class brethren.
"The difference is he can dominate two levels," Kaminsky said. "That's at the elbow with his midrange game and at the rim. The thing I keep challenging him, the next step, is to shoot 3s. I tell him before every single game, 'Are you going to shoot a 3 today?' He says yes every single time and he never does it. He's capable of doing it. We see it in practice."
For now, the battle will rage.
Sprint as fast as he can — which, for a big, is pretty fast — and Ayton still won't outrun the comparisons to Doncic, nor to Young.
He'll never be them. Too tall. Too big.
"He should focus on being the best player he can be," said Williams, the former head coach of the New Orleans Pelicans and a certain uni-browed superstar. "I dealt with the same thing with Anthony Davis and Damian Lillard. Everyone was like, 'Why isn't AD rookie of the year?' Well, look at him now. And Damian is one of the best players in the league, too.
"Look, bigs don't have the ball all the time, and that hurts the perception," Williams continued. "But when you look at his impact on the game on both ends of the floor, you can't say the same about all the guys in his class.
"DA has an effect on so many levels on the game."
Be the first to know
Get local news delivered to your inbox!