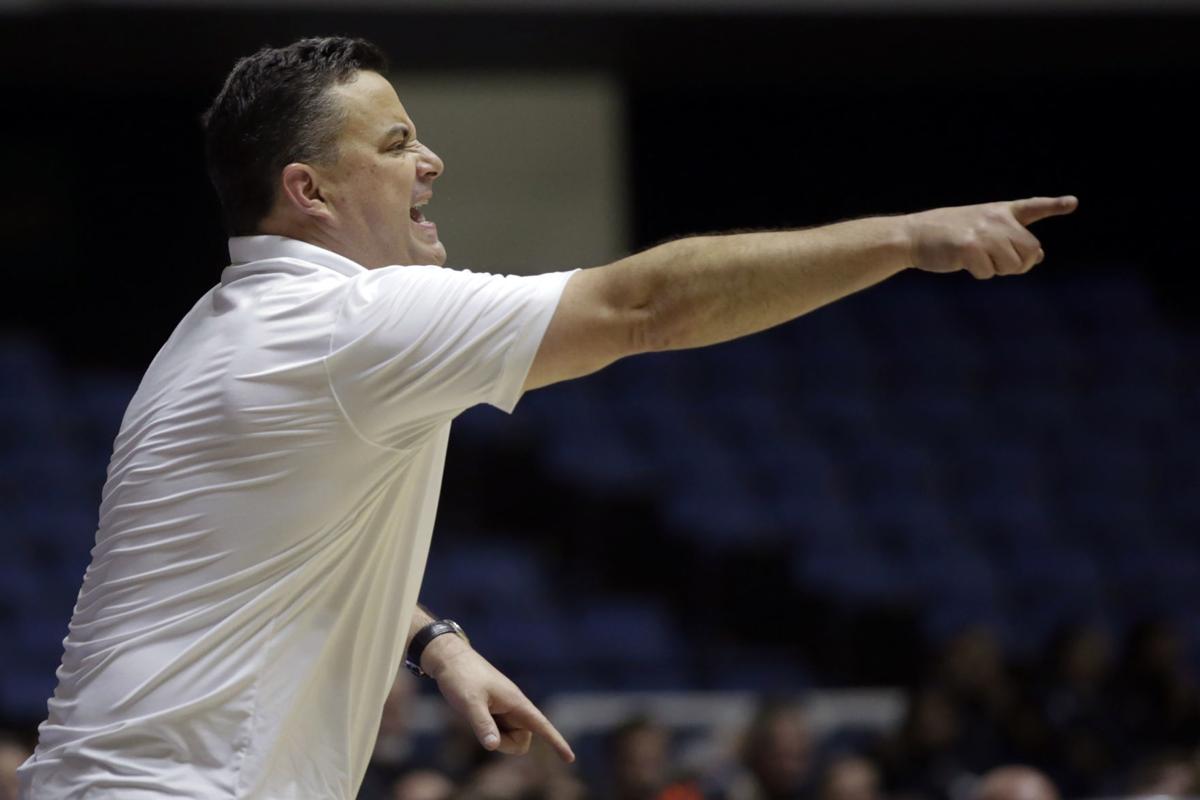 ANAHEIM, Calif. — Thanks to the dazzling shooting of Nico Mannion and the magnet-like ability of Zeke Nnaji to pull opposing defenders away from teammates, the Arizona Wildcats have put on two impressive offensive performances in the Wooden Legacy so far.
Leading the country so far this season in field goal percentage at 54.0, Arizona shot a collective 54.8% in wins over Pepperdine on Thursday and Penn on Friday to reach the Wooden Legacy championship game Sunday against Wake Forest.
The Wildcats made 17 of 33 from 3-point range over their two previous Wooden Legacy games and, on the few times they missed shots, they picked up the rebound a respectable 36% of the time.
But it's still only November, and there's a little issue Arizona coach Sean Miller is concerned about.
Of course, he's talking about defense.
On the other end of the floor Thursday, Arizona allowed Pepperdine to shoot 50.8% from the field and hit more 3-pointers (13) than anybody had against the Wildcats this season … until Penn matched that effort Friday.
In the semifinals on Friday, Penn hit 13 of 34 3s despite going just 3 of 14 before halftime while shooting 45.0% overall. Led by two-time Ivy League center AJ Brodeur, the Quakers burned UA in the first half with their ability to move the ball around before shooting carefully selected shots inside the arc and, in the second half, by making 10 of 20 3s, including 6 of 11 from freshman Jordan Dingle.
"I've never seen so many 3s go in — in two days, we've given up 26 made 3s," Miller said. "Some of it is clearly who we're playing. Some of it is our defense. We have to get better and we're going to only go as far as our defense improves."
Miller said there were parts of Friday's game where the Wildcats were better defensively, but said overall the defense is "like peaks and valleys," still lacking a permanent upward arc.
Center Chase Jeter said playing Penn within 24 hours of playing Pepperdine made it tougher. After all, chances are few of them had heard of Jordan Dingle before Friday, while the Quakers didn't have to look far to find out about guys such as Nico Mannion and Josh Green.
"We've got to give credit to Penn, especially Jordan Dingle," Jeter said. "It's kind of a timing situation, knowing the scouting report. But we've got some time here to scout for our next game and we're going to make sure that we're better prepared defensively."
Six of the nine players in UA's rotation are new, and Miller said that's also a factor.
"We have to continue to improve, we really do," Miller said. "Some of it is just that we have a lot of young guys out there and these types of teams like Pepperdine and Penn drive young guys crazy. They just have never seen the movement in the shooting like they're dealing with right now.
"But that's the good part about being here at this tournament. We've seen two unique styles."
On Sunday against Wake Forest, the Wildcats may not have that issue. The Demon Deacons, among the ACC's doormats over the past two seasons, are driven by an all-around senior guard (Brandon Childress), but are bigger and not nearly as reliant on the 3-point shot, taking them only 32.7% of the time.
Significantly bigger than the two previous Wooden Legacy teams the UA has faced, Wake Forest is also a good rebounding team, collecting 20 offensive rebounds to make up for 19% 3-point shooting in an 88-78 win over Long Beach State in the other semifinal game on Friday.
The Beach, meanwhile, had zero offensive rebounds.
"We didn't let them convert," Wake Forest coach Danny Manning said. "That's a great stat."
Arizona can claim plenty of great stats, too, just mostly on the offensive end.
For starters, there's Mannion. The Wildcats' un-freshman-like guard followed up a tricky game winner on Thursday by going 11 for 14 from the field against Penn, putting in a wide range of shots from the field while dealing with what Miller said was a "tight" back issue that kept him off the floor briefly.
"Nico Mannion was spectacular on offense," Miller said.
Mannion said he was simply trying to be aggressive and taking advantage of good looks, though he darted artfully around the perimeter to create some of them himself.
"We were all getting good looks, so it just made it that much easier," Mannion said.
Part of that, somewhat intangibly, is coming from Nnaji's ability to attract double-teams inside, and his increasing ability to pass accurately out of them.
It's a new thing, of course. Three weeks ago, before he started shooting at over an 80 percent pace, there was no such thing as a double team on Nnaji.
"Coming into the season, teams really didn't think Zeke was as good as he was in the post," Mannion said. "Each team defends differently. As of lately they've been double teaming Zeke pretty heavily.
"That's a credit to what he's been capable of doing, and what he's gonna continue to do for us this season. But he's also done a good job of being able to play out of the trap, and not letting it affect other aspects of his game."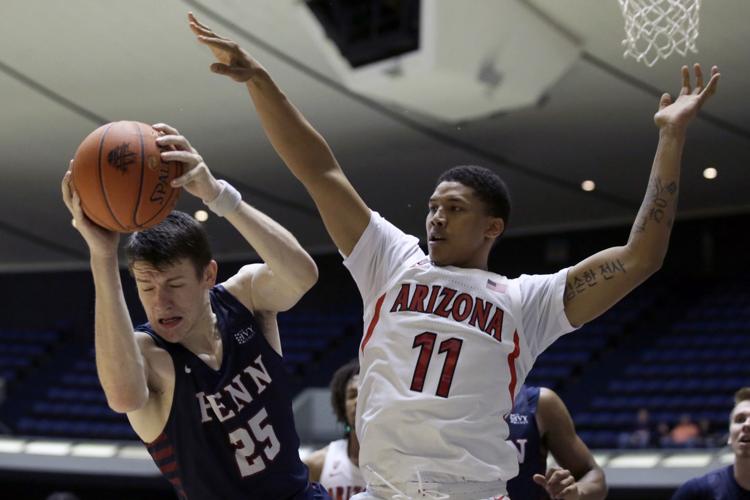 Miller said Nnaji did an "excellent" job of passing out of traps against Pepperdine and Penn, one reason why Jeter was able to score 19 points on 8 of 9 shooting against the Quakers.
Nnaji shot 5 for 9 himself, missing some second-half shots close to the basket that Miller said he normally hits, but said that the heavy load defensively may be affecting him slightly.
"It's really a learning experience for him because, man, he's guarding perimeter players and we're asking him to do a lot of different things that he's never done before," Miller said. "My thought is that in every game that he plays, every time we're able to give him feedback and watch film, he'll learn and grow a little bit."
It's a balance, of course, for Nnaji and the Wildcats, finding both good offense and good defense.
It's just that, in this early part of the season, things are a little lopsided.