There was at least one statistic the Arizona Wildcats could be proud of over the weekend, and even that one might be soon be threatened.
The school announced that an average of 13,939 tickets were distributed for each of the Wildcats' historic home losses to Washington and Washington State, a level of support that UA athletic director Dave Heeke referred to when asked what he hears from fans of coach Sean Miller's embattled program.
"Look, we're gonna lead this conference for the 35th year in average attendance," Heeke said during a news conference he called at halftime Saturday to support Miller. "This is an unbelievable fan base that has been very supportive of the program and where we're headed."
Except, at the moment, the McKale Center fans aren't getting the return on investment they historically do.
The owners of a 49-game home-court winning streak until Oregon beat them 83-75 at McKale Center during the 2015-16 season, Arizona this year had its 52-game nonconference home-court winning streak snapped by losing to Baylor 58-49 on Dec. 15.
That was the first of four home-court losses this season, more than the UA has had during any other season except Miller's rebuilding years of 2011-12 and 2009-10, with ASU, Stanford and Cal still yet to appear at McKale this season.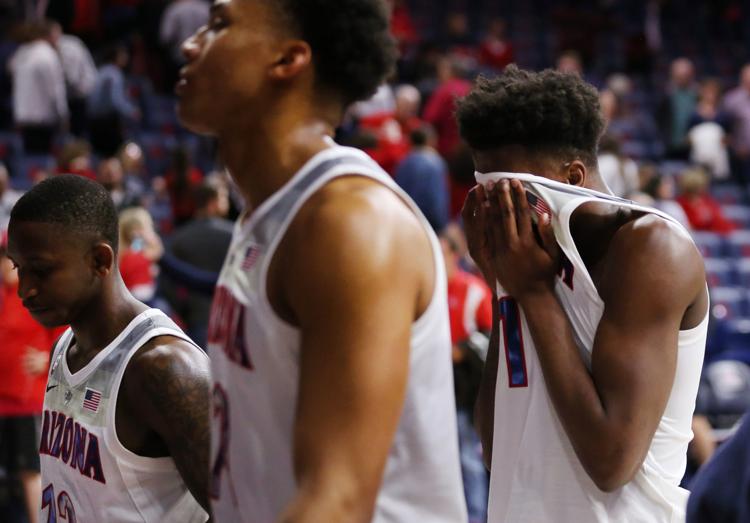 Other notes of significance about the Wildcats' woeful weekend:
Their 14-point loss to Washington State was only the fourth time the Wildcats have lost at home by double digits since 2007-08. The others: An 11-point loss to UCLA in 2012-13, an 11-point loss to Bucknell in the first round of the 2012 NIT and a 30-point loss to BYU in 2009-10.
The loss to WSU was the first time the Wildcats have lost at home to a team with a losing record since the Craig Robinson-coached Oregon State Beavers won 63-55 during Miller's first UA season of 2009-10. OSU improved to 11-13 overall and 6-8 in Pac-12 play after that one.
The UA's four home losses this season represent 22.2 percent of UA's 18 home losses during the nearly 10 years of the Miller era.
The Wildcats were swept at home during a two-game conference weekend for the first time ever under Miller, though Arizona did lose two straight home games during the 2009-10 season (to OSU and ASU).
The Wildcats' leading scorer, sophomore wing Brandon Randolph, shot a combined 3 for 20 in the losses. He's now sitting at 30.9 percent over 11 Pac-12 games.
The team's leading scorer in conference games, Brandon Williams, sat on the bench for a third straight game with a knee injury.
The team's best overall performance Saturday might have come from the last guy in the rotation: Freshman guard Devonaire Doutrive had his first double-double with 10 points and 11 rebounds.
"My role is to go out there and do what I do, which is to play defense, rebound, just do what the team needed," Doutrive said. "But we obviously didn't get the win."
Heeke says the fans he hears from are looking forward to that changing.
"We hear nothing from our group, our fanbase, other than, 'Let's move forward, let's get back to winning basketball games,'" Heeke said, "and that's what we're gonna do."