Even with a family name well-known in basketball circles, Max Hazzard also knows what it feels like when you get no respect.
The UC Irvine grad transfer, who announced Tuesday he would play his final college season for Arizona, felt it as a standout player at Los Angeles Loyola High School.
There, while college coaches eyeballed talents such as UCLA-bound center Thomas Welsh and UA-bound guard Parker Jackson-Cartwright, Hazzard left in 2015 without a high-major offer, despite having a grandfather (Walt) who starred at UCLA, a dad (Yakub) who walked on at Stanford, a brother (Jacob) who walked on at UA and an uncle (Rasheed) whose basketball training clients include Deandre Ayton.
Hazzard was thought of as a mid-major guy, a 6-foot guard who could shoot and defend a little but not enough at that size for the big boys.
He chose UC Irvine and sat out as a freshman. Then, even as a redshirt freshman who dropped 10 points on Arizona at McKale Center early in the 2016-17 season, he found the other team didn't always respect him, either.
"My first year, we were playing at (UC) Santa Barbara and they weren't guarding me," Hazzard said. "They were sagging off me, and I could hear the coaches saying 'Back off. Let him shoot.'
"I was like, 'OK, that's not going to happen again.'"
The Gauchos could hardly be blamed: Hazzard shot just 30.5% from 3-point range as a freshman, so paying more defensive attention elsewhere was statistically prudent.
But that never really did happen again, because Hazzard not only developed into a skilled 3-point shooter but, by doing so, into a high-major talent. A second-team all-Big West pick last season, Hazzard led the Anteaters in scoring with 12.5 points per game, while taking 62% of his shots from 3-point range — and hitting 38.8% of those 3s.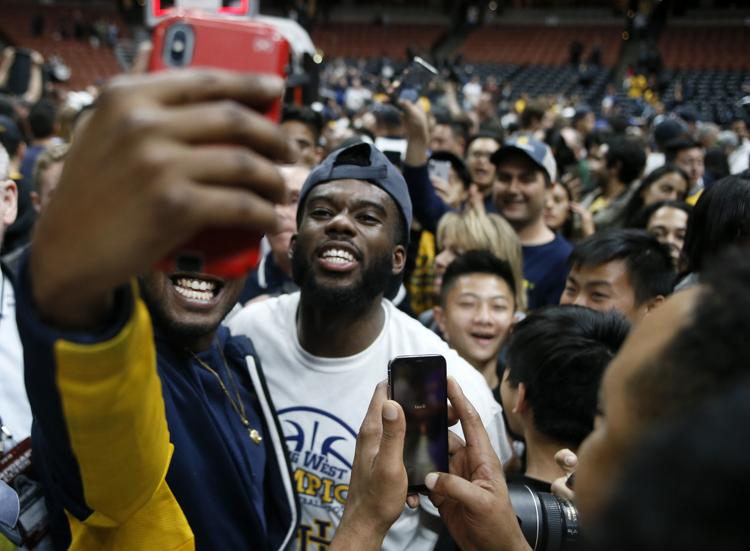 That's likely why Arizona sought him to join its 2019-20 backcourt, which will bring in five-star talents Nico Mannion and Josh Green, but also lacks significant experience and shooting — especially if soon-to-graduate guard Dylan Smith plays elsewhere next season. The Wildcats' roster is full overall, currently with 14 players for 13 spots if you count guard Brandon Randolph, who is testing the NBA draft and is not expected to return.
Hazzard could fill a role as a spot starter or top reserve, bringing shooting, defense and overall experience to round out what projected starters Mannion, Green and Brandon Williams will bring to the three perimeter spots.
Or, maybe, even more than that.
"I know they've got a bunch of pieces but I like my chances of having a big role on the team," Hazzard said. "I have the ability to play both ends of the floor and I'm a veteran. I know I have a different confidence level, and I can bring a different level of competition."
Hazzard didn't need long to decide UA had the sort of fit he was seeking. He also considered transferring to Gonzaga, Cal, Minnesota, Pitt, TCU — or going back to Irvine — but scheduled only one visit, to Arizona last Thursday night until Saturday.
When Hazzard returned from Tucson, he did not schedule another visit.
Even though Hazzard once visited UA to see a Red-Blue Game when Jacob was a freshman in 2012-13, came back for Jacob's graduation in May 2016 — and played in that 2016-17 game — this was a different sort of visit.
"It was an exciting weekend, really getting around campus and getting to see it with my own two eyes," Hazzard said. "Getting to spend time with the players and the coaching staff (was helpful) as well, for as my family."
Hazzard said he was hosted during the visit by rising junior Ira Lee, his teammate briefly on an Oakland Soldiers team in the summer of 2014. He said he also spoke with from former UA guard Stanley Johnson, another Soldiers alum, plus Ayton, both of whom supported a decision to play for the Wildcats.
After Hazzard's decision went public Tuesday, he also heard from Wildcats who aren't even in town yet.
"Yessir! Welcome to the family!!" Mannion tweeted, while Green posted this on Twitter: "Sheesh (wide eyes emoji) keeps getting better … looking forward to playing with you bro."
Hazzard announced his commitment via video, perhaps fitting for a guy who works a part-time DJ in offseasons, thanking UC Irvine coach Russell Turner and assistant Ryan Badrtleai.
"They took a chance on me back in high school when a lot of coaches didn't," Hazzard said in the video. "It was an honor going to battle with you day in and day out as well as the rest of my team. It's always been a dream of mine to play at a high major program and I'm now blessed with the opportunity."
As much as Hazzard's departure hurts Turner, Hazzard also made it clear it wouldn't have happened without his coaching. Hazzard said he always excelled defensively, but improved playing within Turner's well-regarded defense.
Even though he's just 6 feet tall, Hazzard said he often defended taller players, even being assigned to Oregon's 6-9 Louis King in a second-round NCAA Tournament game last season.
That was a tough day. King scored 16 on 5-for-10 shooting, while Hazzard was held to seven points on 3-for-11 shooting, and the Ducks coasted to a 73-54 win to reach the Sweet 16.
But it couldn't erase the fact that Hazzard had 19 to lead UC Irvine to its first-ever NCAA Tournament win two days earlier against Kansas State, nor that he won the Big West Tournament MVP award with 23 points against Cal State Fullerton.
Besides, now, Hazzard will get to face the Ducks at least twice more in the Pac-12. As well as sharpen his game against potential NBA talent in practice every day.
"Oregon bothered our whole team, me as well," Hazzard said. "They changed their defenses and they're really long. It was kind of hard to get in a rhythm."
Playing teams like Oregon regularly is "exciting. It'll be fun. I'm looking forward to playing different teams, in a different conference. It's a really exciting time."