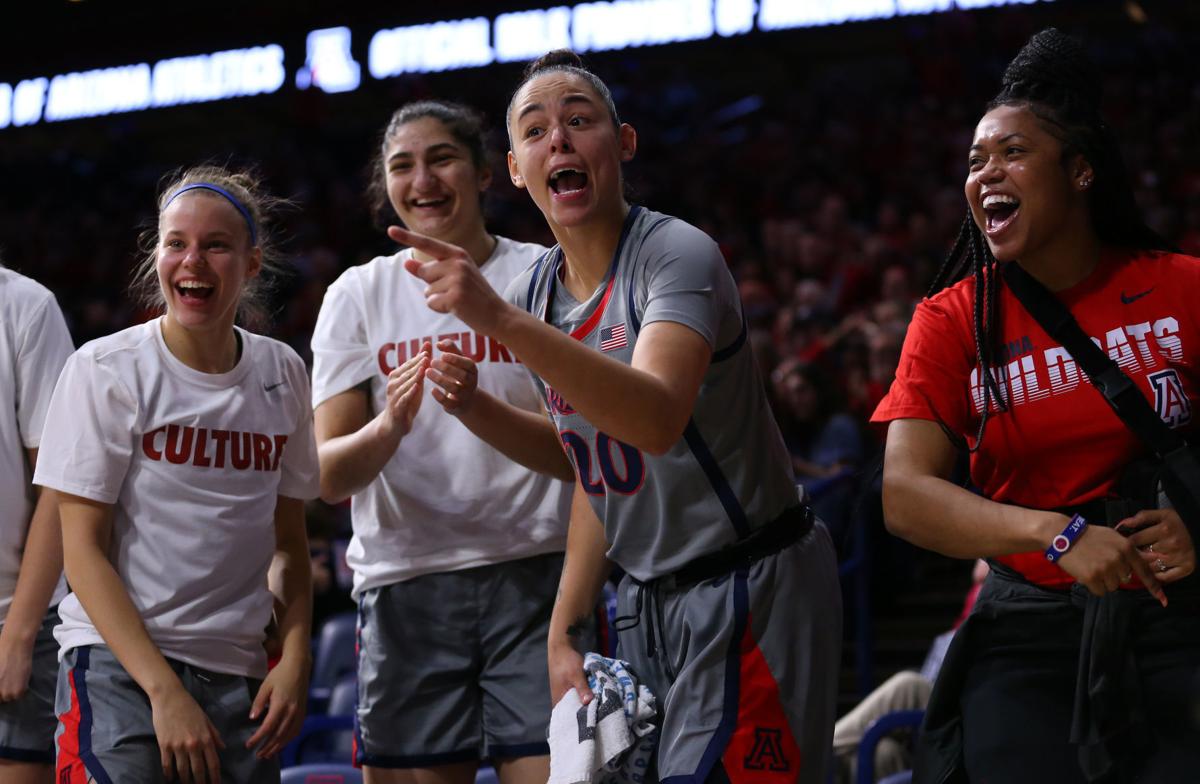 Dominique McBryde is at her best against Oregon State.
In last year's Pac-12 season finale against OSU, McBryde scored 20 points and grabbed eight rebounds.
Last month against the Beavers, she scored four points, got two big blocks and made her presence known inside in her first game back from an injury.
And Sunday, McBryde unleashed another dominant performance. Her 19 points, four blocks, three assists, eight rebounds and one steal sparked the UA to a 65-58 overtime upset of No. 9 Oregon State in Corvallis. The 12th-ranked Wildcats (19-4, 8-4) will host Washington (11-12, 3-9) on Friday.
McBryde said she "has no idea" why her best games have come against OSU. It may have more to do with her team.
"It's about who wants it more at this point," McBryde said. "I think we really wanted this win. We didn't want to end the game with another overtime buzzer-beater, last-second buzzer-beater, whatever it may be. It's really hard to playing against anybody in this month so I think whoever steps up and wants more, it'll show. … I think we have a lot more basketball to play and we're not even at our best yet."
Arizona is at its best with McBryde on the floor. The Wildcats are 14-1 this season when McBryde starts.
And when she finishes? Arizona is nearly unstoppable.
McBryde registered a key block in overtime Sunday, knocking the ball away from the Beavers' Taylor Jones. The Beavers had run a similar play earlier in the game. McBryde said she "took a chance" when she saw it happening again.
Best friends forever
Adia Barnes' radio show features questions from the audience, most of them taking place off-air. Monday night, someone wanted to know who was tougher, McBryde or Sam Thomas?
McBryde, appearing on the show as a guest, launched into a response about how she and Thomas have different approaches. She was soon interrupted by another fan: Thomas, who was wearing McBryde's practice jersey and carrying a sign that said she was No. 20's biggest fan.
"I was surprised, but not surprised," by Thomas' appearance, McBryde said, laughing. "No one sees how weird Sam and I are behind the scenes."
When something silly is going on with the Wildcats, it's a safe bet that McBryde and Thomas are involved. The two impersonated UA assistants Salvo Coppa and Jackie Nared in a video shown to Barnes and her staff at Christmas.
On Sunday, the Wildcats attacked Barnes in the winning locker room, spraying the coach with water. Thomas was front and center, alongside Bryce Nixon and Helena Pueyo . McBryde hung back.
"I knew I would squirt her a little bit too hard or I was gonna get in the way of all the fun, but I had my phone out. I was ready for it," McBryde said. "I'm glad we took part in that … I'm glad she (Barnes) is a good sport."
The biggest rebound
Barnes didn't know exactly how her team would respond Sunday, less than 48 hours after losing to No. 3 Oregon by 33 points.
"I was hoping we would, but didn't know if we'd respond enough to win," Barnes said. "That was good. I saw what we were made of — that was a good test.
"It means a lot because it just shows what this program is becoming and what we're able to do — because we continue to break our own records, set the bar, and leave a legacy, which we always talk about. I'm just proud that our hard work is showing now, because we are getting better. We're continuing to improve."
Barnes said her team is "extremely special; a great group of young women."
"They're so much more than basketball players," she said. "They continue to impress me. I'm so proud of them and I'm proud of the women that they're becoming. I've been able to see that process and I love that."
Rim shots
Aari McDonald has been named to the Naismith Trophy midseason list for player of the year. She is also one of 10 finalists for the Ann Meyers Drysdale Award, given annually to the nation's top shooting guard. Last week, McDonald made the cut for the Dawn Staley Award and the midseason Wooden awards.
ESPN bracketologist Charlie Creme's latest projections have UA listed as a No. 4 seed in the Dallas Regional — and hosting the first two rounds of the NCAA Tournament.