While playing his final season for Arizona, Dusan Ristic played before Utah fans dressed in "FBI" and "U of PAY" T-shirts and could hear taunts from close-up fans at Washington, while students in Oregon waved fake $100,000 paychecks at teammate Deandre Ayton.
Turns out, all that was nothing.
The Serbian big man had reason to fear for his safety when he returned to Europe to play for Red Star Belgrade as a rookie professional.
Fans of rival Buducnost Voli "were throwing coins, spitting at us and one of my teammates was hit by a bolt" during the Adriatic League Championship Series, Ristic said. "It was kind of scary, but we have a security guard. We spent four days in a hotel there with police around us 24 hours a day."
Ristic said the assaults were meant to intimidate players, not hurt them, but his club took it pretty seriously. In a statement, Red Star, known in Serbian as BC Crvena Zvezda, blasted Buducnost Voli's management for not acting responsibly. The team said "a complete lynch of the whole club" was avoided only because the Red Star stayed composed.
"A club with such history and tradition has never before faced such hostility anywhere, as was the case with BC Crvena Zvezda's delegacy in Podgorica in Games 3 and 4," the club said in its statement, according to Eurohoops.net.
Ristic said even some of Buducnost Voli's well-traveled former NBA players — including former Suns forward Earl Clark and former Heat guard Norris Cole — told him they had never seen anything quite like it.
"They said 'This is crazy,'" Ristic said.
Not only did the Red Star win the series to capture the ABA championship while also qualifying for high-level Euroleague series in 2019-20, but Ristic had a chance to play in front of friends and family for the first time in five years.
Ristic finished his senior season of high school at Kansas' Sunrise Christian in 2013-14, then spent four seasons with the Wildcats. Afterward, he signed a three-year contract to play for Red Star, for whose youth club he had played on before heading stateside.
Ristic talked to Star recently while commuting between his hometown in Novi Sad to Belgrade. Here's what he's up to: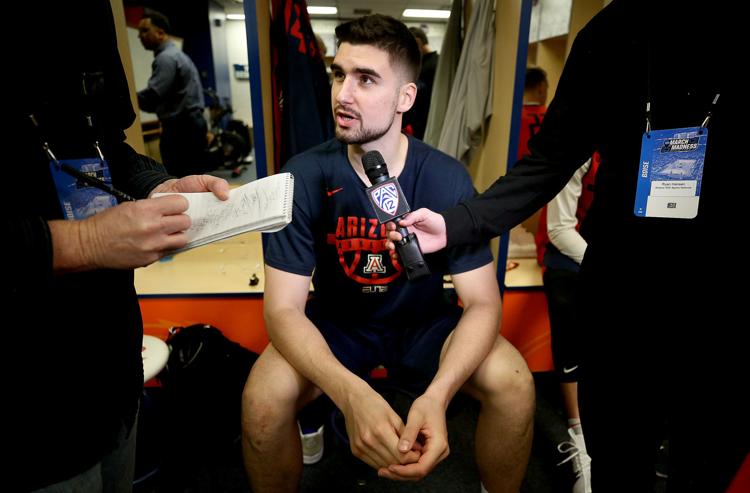 Because the Red Star had two other veteran centers, Ristic played in only 17 of 30 Adriatic League games, averaging 4.8 points and 2.2 rebounds per game. Still, he said it was a good learning experience.
"It's been a good year for me, though I didn't have a lot of playing time," he said. "It kind of reminds me of my freshman year at UA. We have a really loaded team, along with two guys at my position, and they're more experienced. Sometimes the coaches trusted them more.
"I had some good games, like my freshman year, and some games when I didn't play at all. I still played the five but it was the same thing like in my last year at Arizona, where if I had the chance, I'd shoot the outside jumper as well. I would say I'm more a five than a four here because here the four (power forward) is more outside. This year, the coaches didn't really want me to shoot 3s. The role of the big man here is to roll into screens and (play inside), but that's something I will have in the future.
"I have two more years (under contract) after this. I talked to the GM and this year was more about getting back into European basketball and hopefully next year I will have a bigger role."
Although Ristic's relationship with Red Star initially took a hit when he decided to play U.S. college basketball, things strengthened quickly last summer.
"This is a great place," he said. "When I was younger, I was probably the most talented player (on the developmental club) at that moment and they weren't happy I left, but when they realized I can come back to the Red Star they followed me and our relationship stayed good. I didn't experience any bad moments for them. I felt like I was part of their goals and also the fans there welcomed me really well. Especially when you play for the Red Star and you're a domestic player they respect you a lot."
Ristic's transition back on the floor took some time, requiring a re-adjustment to more physical play.
"Playing 20 minutes in Europe is a lot," he said. "Our best player plays maybe 25 minutes a game (former Wichita State guard Joe Ragland led the Red Star with only 22.3 minutes) because the rotation is much deeper. Maybe 14 players play and you have to be ready at all time. It's funny, the referees almost didn't call anything. In the Pac-12, they call every hold or call sometimes. You can't use your forearms or push players and here everybody's pushing everybody, using legs, shoulders, elbows.
"I wasn't surprised because I've played under those rules before. I was more surprised my freshman year in college.
"I have a few Americans on my team and we always talk about the difference between college basketball, the NBA and Europe. Europe is more similar to college in terms of team basketball. It's much less individually oriented than the NBA. Even though the shot clock is only 24 seconds, that might sound quick, but it's still a slower pace than in college. It's definitely more physical, players are older, stronger and the referees allow contact and don't call fouls for every contact. And something I learned this year is the ball moves really fast and all the players are super quick players. It's like an ultimate thinking game."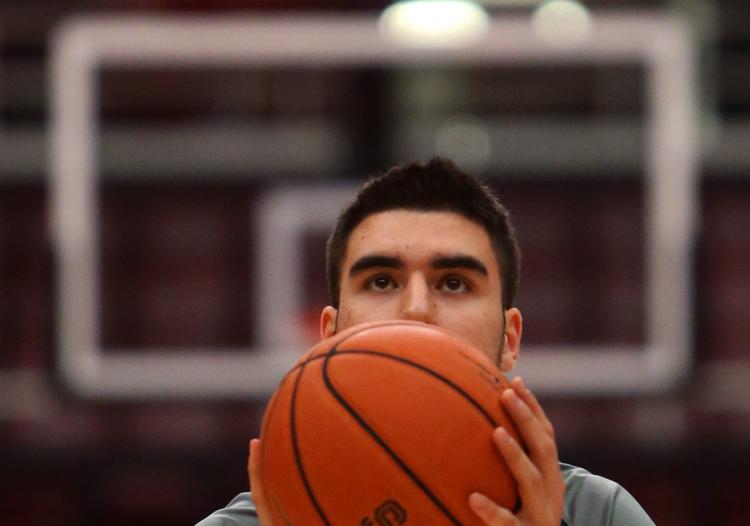 Despite the adjustment, Ristic said having played for Arizona in college was also beneficial in many ways.
"When you go from playing Europe first, then college, then come back again, I felt like much more (ready) player than I was five years ago now," he said. "I was a skinny kid, couldn't really use my skills because it was such a physical game.
"In college, it's also (about) life. You learn to show up for classes, go to team meetings, take care of your body, learn what to eat — those are things I learned at Arizona.
"The difference between college and pros here is the (European pro) coaches tell you what to do, but if you don't do it they don't care. It's up to you to perform. In college, you have coaches who push you. They force you to be a basketball player. It starts with proper nutrition, lifting weights. When I came back to Red Star, everyone was amazed, 'Wow, you look bigger, stronger, tell us the secret.' The difference in the coaches are more willing to help you (at Arizona)."
Ristic said he expects to have a bigger role in Serbian League games this spring because one of Red Star's other big men is departing, and he started off well. Ristic had 18 points and eight rebounds in Saturday's opener against Dunav to become the club's "Nike Player of the Game."
"I feel I'm in pretty good shape, but we still have a month and a half to go," he said. "If we go all the way to the (championship) the last possible date is June 20. That's a pretty long season considering we started in early October."
Ristic said he enjoys the support of family at every home game — Novi Sad is less than a two-hour drive from Belgrade — though his mother jokingly complained that she missed waking up early in the morning to watch him play for Arizona. There's plenty of support elsewhere, too. While fans may have crossed over the line in Montenegro, Ristic has found they are notably passionate and vocal, sometimes singing and dancing in the stands.
It's a different environment, on and off the court, and Ristic has been experiencing both of them fully.
"It took me some time to get back to this culture. I had to accept some culture things to be successful in the United States, the way you hang out with friends, the way you talk to coaches," he said. "I was only in America for four years, but it felt like longer than that. The four years in college are big for all individuals because you grow mentally, you can get perspective one some things.
"Sometimes now I almost think I have two opinions of things. Here, it's more relaxed, the pace of life is slower. In the states, people are working more. In America, people just live faster. Both of those things have a lot of positive things but when you're able to see both cultures, it helps. There are pros and cons to everything."