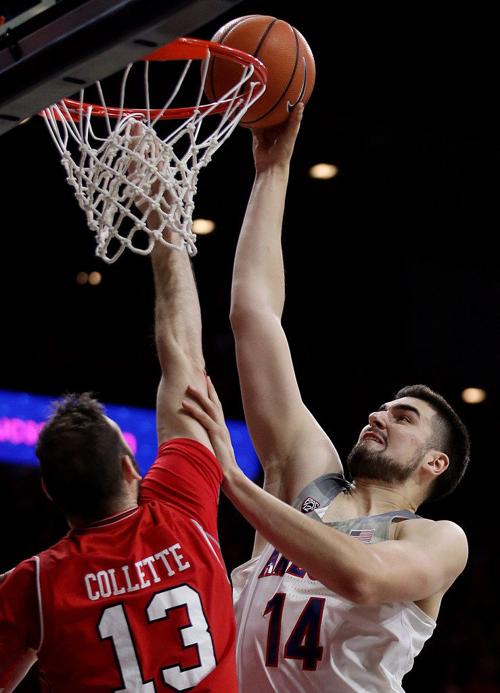 Arizona center Dusan Ristic had a career-high 23 points, including three 3-pointers, to hold off Utah's late rally and help give the Wildcats a 74-73 win at McKale Center.
The win came with a scare at the end for the Wildcats. Utah guard Justin Bibbins hit a 3-pointer with six seconds left to pull the Utes within a point and Utah received the ball back with 4.3 seconds left when Allonzo Trier was called for an offensive foul.
But Utah's Donnie Tillman missed a well-defended layup under the basket after taking an inbounds pass. Keanu Pinder then grabbed the rebound and, while he missed an ensuing free throw, a desperation heave from David Collette failed to reach the Utes' basket.
The win was Arizona's 15th in its last 16 games, moving the Wildcats to 18-4 overall and 8-1 in the Pac-12. Utah, which is now just 1-12 against Arizona under Sean Miller, dropped to 13-8 and 5-5.
Ristic continued his recent hot streak by making 9 of 11 shots, including 3 of 3 from beyond the arc. Ristic had taken only five 3-pointers all season before the game and missed all of them.
Trier added 16 points, four rebounds and five assists for the Wildcats, but six turnovers and five fouls. Arizona shot 64.4 percent from the field but was outscored by 12 points on the free throw line.
Utah hit 18 of 21 free throws while the Wildcats were 6 of 11, a reversal of a trend that has helped UA win several games lately.
Utah led 68-67 with 3:44 left but Ristic hit a hook shot in the post and then, after the Wildcats defended Sedrick Barefield into a missed 3-pointer at the shot-clock buzzer, Ristic hit hit his third 3-pointer of the game to give UA a 72-68 lead with 1:29 left.
But Barefield made a layup with 1:21 left and Bibbins hit his a 3-pointer with six seconds left to pull the Utes within a point.
Up by 10 at halftime, Arizona took a 52-39 halftime lead when Dylan Smith hit a 3-pointer in the right corner with 16:13 left.
But Utah kept getting to the free throw line, while McKale Center fans changed their "U of A" chant to "ref you suck," and Bibbins hit all four free throws he took within 37 second just before the eight minute mark to cut UA's lead to 65-58.
Parker Van Dyke later hit a 3-pointer with 6:11 left to cut UA's lead to just 65-64, prompting UA coach Sean Miller to call a timeout. Arizona was scoreless in the last 2:47 at that point.
The Utes made it a 12-0 run and took a 66-65 lead when Barefield hit two free throws and the Wildcats headed into the final media timeout (with 3:44 left) trailing 68-67.
In the first half, Ristic had 11 points and Parker Jackson-Cartwright had 10 to lead hot-shooting Arizona to a 43-33 halftime lead.
Ristic continued the improved and varied offense he's shown in recent games, including his first 3-pointer of the season in six tries, while making 5 of 6 shots overall for 11 points. Jackson-Cartwright had 10 points on 3 for 4 3-point shooting, while Deandre Ayton had nine points and six rebounds.
Arizona shot 69.6 percent overall, including 7 of 9 3-pointers, while holding Utah to 38.5-percent shooting. Barefield led Utah with 13 points in the first half while making 4 of 6 field goals.
Arizona scored on seven of its first eight possessions and hit its first six field goals while taking an early 14-4 lead. Ristic scored inside three times during the run while Trier and Ayton both hit 3-pointers.
In fact, the segment until the first media timeout (with 15:13 left) might have been the best of the season for the oft-slow-starting Wildcats. At that point, Arizona was 6 of 6 from the field, had outrebounded Utah 5-0 and held the Utes to 2 of 7 shooting.
Arizona later went up by 12 points, 24-12, when Jackson-Cartwright hit a 3-pointer with 10:55 left but Utah cut it to just 31-27 after scoring eight straight points toward the end of the first half.
When Arizona beat Utah 94-82 on Jan. 4 at Salt Lake City, Jackson-Cartwright had 19 points while hitting 3 of 4 threes and making all eight free throws he took.