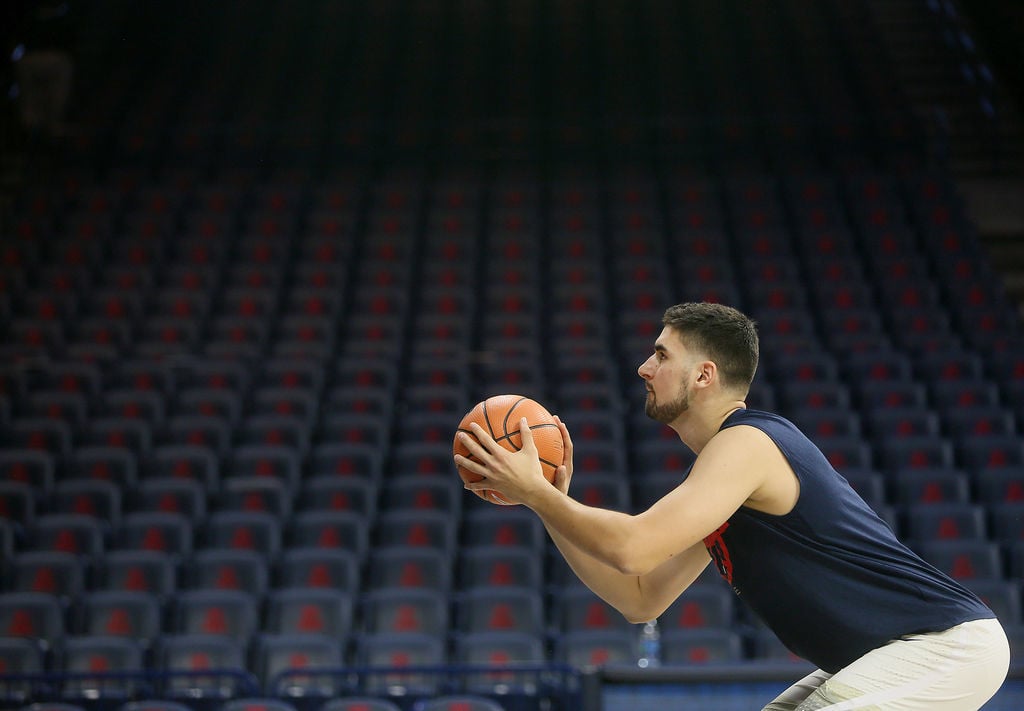 When his otherwise productive four-year Arizona Wildcats career ended without a Final Four last March, cut short for the last time in a dreary loss to Buffalo, Dusan Ristic could have quickly moved on in style.
Several European pro clubs offered Ristic a chance to finish out their seasons, and they were willing to pay him to move on to new surroundings.
Instead, the Serbian 7-footer stayed around in his adopted hometown of Tucson, shook off that first-round loss, and got back to work.
"I took a few days off to stop thinking about it," he said. "Obviously, it was a tough ending to my career and season. It was a really tough time to be honest, with everything that happened this year. We had a team with high expectations, so when we lost that first game it was disappointing and frustrating."
Speaking by telephone last week from his temporary home in South Carolina, Ristic said he opted not to turn pro immediately so that he could go through the NBA pre-draft process, and receive feedback while flushing out some parts of his game that weren't always obvious at Arizona.
After all, he spent his first two seasons at Arizona playing behind Kaleb Tarczewski at center, and then, when he did get the chance to start, played in the shadow of future lottery picks Lauri Markkanen (2016-17) and Deandre Ayton (2017-18), who starred at power forward for a season each.
Ristic was known for low-post scoring efficiency, shooting 57.7 percent from two-point range as a senior and offering a near-certain bucket the Wildcats would turn to early in games, but there were other parts of his game he is trying to showcase now.
Such as 3-point shooting: Ristic actually hit 75 percent of his 3-pointers during Pac-12 play, but only on 6-for-8 shooting because he was more valued for his interior offense.
By the end of the spring, Ristic is aiming to make NBA scouts well aware of that long-range ability. He said he also wants to prove he can defend smaller players, adjusting to a modern NBA game that no longer treasures back-to-the-basket 7-footers.
That's why Ristic stayed in the U.S. this spring. That's why he went to the seniors-only Portsmouth Invitational pre-draft camp despite warnings that it's tough for a big man to shine in typically guard-oriented showcases. It's why he's working out in Myrtle Beach three times a day, sometimes on the beach itself.
"I'm trying to see the bigger picture," Ristic said. "I'm preparing for the pre-draft process but the next year as well. I'm working on some things I didn't have a chance to in Tucson, trying to shoot more 3s and the guys here with me that are going through the pre-draft process are forward or guards, so I'm defending them every day."
The F2 Basketball firm that Ristic is working out with is marketing him on social media, too.
It blasted video of Ristic's ball-screening work on Twitter and also posted video of him hitting seven straight 3-pointers off pick-and-pop moves, noting that "@ristic-dusan couldn't miss from DEEP."
Ristic's agent, Chris Patrick, said Ristic has been working on his speed while dropping his body fat from 15 percent to 10 percent in Myrtle Beach.
Ristic averaged 9.0 points and 5.0 rebounds while shooting 50 percent in Portsmouth; after that, Patrick said, about 15 NBA teams unsuccessfully requested he be invited to the NBA draft combine.
"A lot of teams were disappointed he didn't get invited," Patrick said.
But Ristic has already worked out privately for the Brooklyn Nets. Patrick said a number of other NBA teams have asked to have him in after the combine this week.
Meanwhile, Ristic keeps preparing in Myrtle Beach, and former UA teammate Parker Jackson-Cartwright might soon join him. Patrick's firm is also representing the former UA guard, though Jackson-Cartwright is unable to train until later this month because of injuries.
If the spring goes well, Ristic could find himself in a potentially interesting position. He might become a surprise NBA draft pick, might sign an undrafted free-agent deal or a two-way contract with an NBA team — or might head back to Europe with considerable leverage as a skilled and non-import 7-footer.
"There are a lot of examples of how it might go," Ristic said. "T.J. (McConnell) went undrafted and made the league. There are more and more players who go to Europe or overseas somewhere and then come back and play in the NBA. But I'm not concerned about making the NBA right away."
Ristic already has a tie with Belgrade's Red Star club, on whose developmental teams Ristic played before moving to the United States as a high school senior. That club wanted to keep Ristic home instead of having him play college ball in the U.S., causing some initial friction that Ristic says has since passed.
Because he didn't play for the Red Star — and wore red and blue instead over the past four years — Ristic has some good experiences he won't ever forget.
No matter how sour that ending was.
"One of the NBA people when I had an interview with them asked, 'If you could go back four years would you change anything, or would you have stayed in Europe?'" Ristic said. "I said, 'No.'
"I had an amazing experience at Arizona and grew a lot. I met so many good people. I had a chance to work with one of the best college coaches. I was part of a great college basketball program overall. I've had a great experience and I don't regret anything."
Be the first to know
Get local news delivered to your inbox!