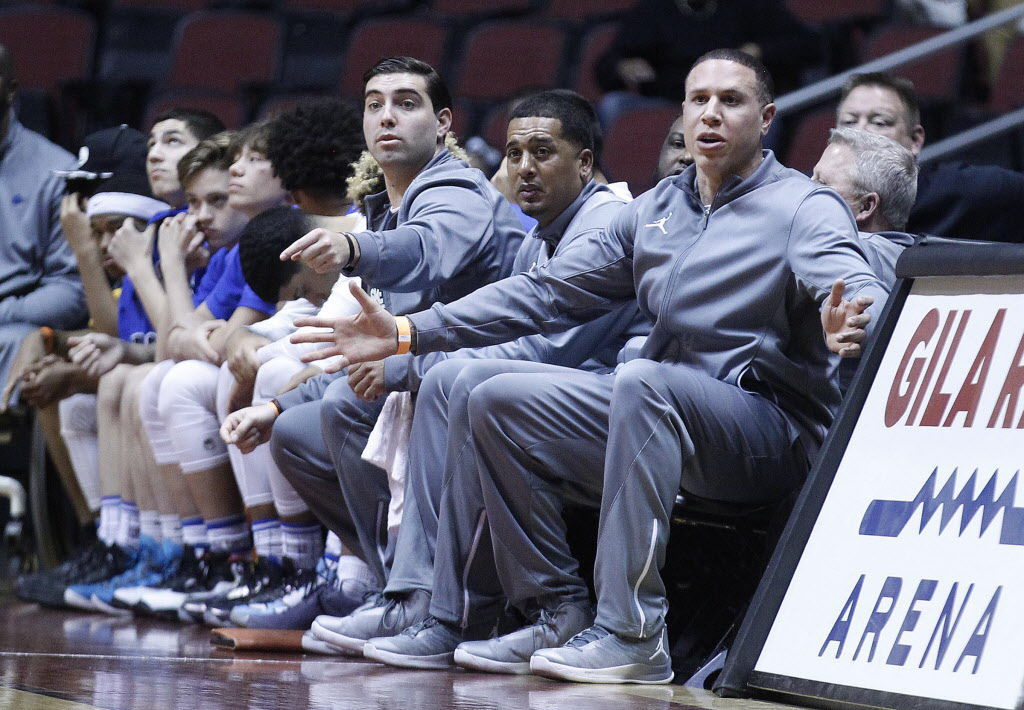 Former Arizona Wildcat standout Mike Bibby is out as Hillcrest Prep's head coach after only 10 games, potentially ending his mentorship of UA signee Dalen Terry.
Bibby and Hillcrest co-founder Nick Weaver both told the Arizona Republic on Monday that Bibby's departure was mutual, although Weaver did not return a text message from the Star.
Hillcrest suffered two big losses in the Hoophall West event at Scottsdale last weekend, losing 88-71 to Prolific Prep of California and 67-52 to Hamilton Heights of Tennessee despite entering unbeaten and ranked third nationally.
A USA Today report on Hoophall said Hillcrest might have been "shell-shocked" after playing only lesser opponents prior to Hoophall and suggested Hillcrest's emotions weren't under control yet.
USA Today said Terry shoved an opponent more aggressively than normal at one point and also was whistled for a delay of game.
Hillcrest is sponsored by Adidas, though Bibby is a Nike endorser who wore a Nike Jumpman shirt at Hoophall West
A day before the Hoophall West began, Bibby told the Star that he was grateful that Weaver had given him another chance at coaching when he had just left Shadow Mountain last spring after having led the school to five state titles in six seasons.
A 6-foot-7-inch combo guard from Phoenix who signed with the Wildcats last month, Terry said Bibby had been helpful to learn from, especially as a former point guard.
"He works on my shot a lot," Terry said. "I feel like he was one of the better shooters in the NBA, so why not listen to him?"
Gonzaga sellout likely
Arizona is expected to have its first sellout of the season on Saturday against sixth-ranked Gonzaga.
UA's website showed only 77 tickets remained as of Monday afternoon, though unclaimed student and complimentary seats are sometimes added back to the pool as gametime approaches.
The Wildcats averaged announced crowds of 13,071 at the 14,644-seat McKale Center over their first six home games this season.
Arizona drops to 15 in AP Top 25 poll
Arizona dropped three spots to No. 15 in the AP Top 25 poll after losing at Baylor on Saturday, while the Bears rose seven spots to No. 11.
Gonzaga (10-1) rose from No. 9 to No. 6 after beating Washington in Seattle on Sunday.
Among other Pac-12 teams, Oregon (7-2) rose three spots to No. 10 after beating Hawaii, while Colorado (7-1) dropped from 20 to 24 after losing at Kansas.
Washington dropped out of the AP Top 25 after losing to the Zags.
Unbeaten San Diego State (10-0), meanwhile, moved into the poll for the first time this season at No. 25.
The Aztecs are not playing Arizona this season but have beaten BYU, Creighton and Iowa.
Allen named Pac-12 Player of Week
Utah's Timmy Allen picked up his first Pac-12 Player of the Week award Monday while Washington's Isaiah Stewart was named the conference's Freshman of the Week.
Allen, a former Mesa Red Mountain forward, averaged 25.5 points, 6.5 rebounds, 5.0 assists and 1.5 steals in Utah's wins over BYU and Central Arkansas while shooting a collective 58%.
Stewart averaged 16.3 points and 10.3 rebounds over Washington's three games last week, with 21 points and 10 rebounds against Gonzaga.
Be the first to know
Get local news delivered to your inbox!