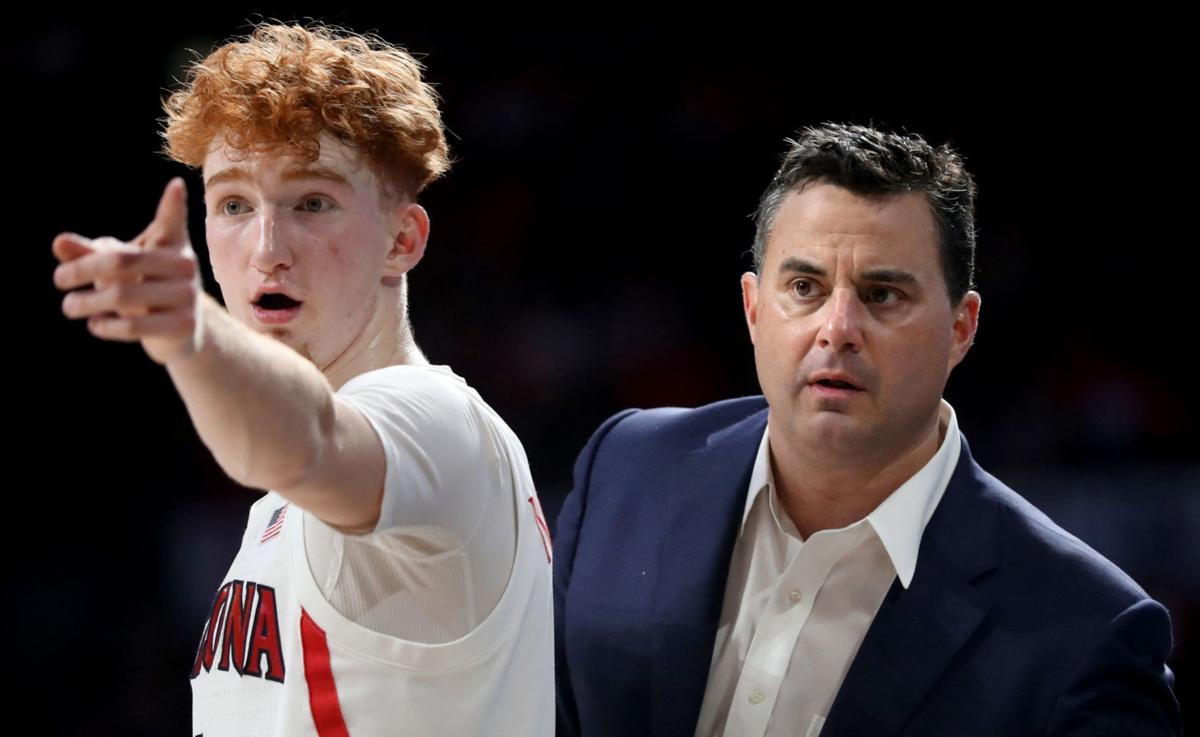 After scoring 22 points and grabbing a game-record 10 steals to earn co-MVP honors at the 1990 McDonald's All-American Game, New York guard Khalid Reeves entered Arizona with the kind of cred that today suggests instant stardom and a fast track to the next year's NBA draft.
He didn't even start as a freshman.
Reeves would eventually become a star for the Wildcats, averaging 24.2 points as a senior in 1993-94 and attracting a first-round NBA pick, but it wasn't yet his time with the Wildcats.
Senior Matt Muehlebach and junior Matt Othick were the Wildcats' best two guards in 1990-91, best because of their ability to play college basketball at that moment, which was all that really mattered at the time.
"I just think the experience factor is hard. It's hard to imagine," says Muehlebach, now a Tucson attorney and Pac-12 Networks analyst. "I always tell people I started ahead of Khalid Reeves, and Khalid was clearly better than me. But I was a senior and that's probably why I started. He was learning the ropes and we had a bunch of older guys."
Until the roster management of UA coach Sean Miller was severely interrupted by a federal investigation into college basketball, prompting the sight of three freshmen taking unusually prominent roles on a correspondingly inconsistent team this season, this was a fairly common occurrence at Arizona.
The freshmen either didn't start or, if they did, other older players around them soaked up a lot of the responsibility and production.
Forward Richard Jefferson stepped back as a freshman in 1998-99 while seniors Jason Terry and A.J. Bramlett led the way. Point guard Mustafa Shakur could look up to juniors Channing Frye and Salim Stoudamire in 2003-04. Aaron Gordon caught passes from juniors Nick Johnson and T.J. McConnell in 2013-14 while McConnell stuck around to guide Stanley Johnson as a freshman the next season before he became a surprise NBA player himself.
You could even go all the way back to 1984-85, when Lute Olson's first McDonald's All-American, guard Craig McMillan, often came off the bench as a freshman for a team that started up to four seniors and a sophomore named Steve Kerr.
Then McMillan stuck around to help show the way for younger talents such as Sean Elliott and Anthony Cook.
"Guys knew: 'This is Arizona, I've watched it and now it's my time to shine. It's my turn to keep that going,'" said Corey Williams, a forward for the Wildcats in the mid-1990s who now also works as a television analyst. "You witness the legacy from the bench and then when your time comes you have to get out there and defend it."
The Wildcats' most glaring example of carefully meshing in their freshman talent, in terms of overall team success, came in 1996-97. Then, wildly heralded Phoenix freshman guard Mike Bibby came in to run the Wildcats immediately — but had the help of three junior starters, including the particularly vocal Miles Simon.
Bibby didn't have to lead the way. He just had to do his thing.
Every Wildcat basketball fan knows what happened next: Arizona won the national championship.
But Bibby left after two seasons and today, it would be a shock if he were around more than one. And the leading scorers from that 1996-97 team, juniors Simon and Michael Dickerson, today might be the kind of guys who leave after a year or two for the NBA or another level of pro basketball.
In turn, the guys they learned from — like 1995-96 seniors such as Corey Williams, Joseph Blair or Reggie Geary — might have not stuck around to mentor anyone, either.
That's why when Muehlebach is looking to assess a team's potential, he'll turn to Kenpom's "minutes continuity" metric, which measures how many of a team's minutes are played by the same player a year ago.
Arizona ranks 312 out of 353 teams this season.
Colorado ranks No. 2 nationally.
Guess who's alone in first place in the Pac-12 right now?
"When you look at that stat, it's not a surprise Colorado is leading the league," Muehlebach says.
What makes minutes continuity particularly interesting for Arizona is that transfers don't count because their minutes were gained elsewhere — and the Wildcats have been learning hard not only on freshmen Nico Mannion, Josh Green and Zeke Nnaji but also on transfers Stone Gettings, Jemarl Baker and Max Hazzard.
All six of those guys weren't in Arizona uniforms last season, though Gettings practiced with the Wildcats the last half of last season after his graduation from Cornell.
"Those fifth-year seniors never played for Arizona, so they're experienced but not on the continuity side of it," Muehlebach says. "It's layered — it's experience from an individual standpoint but also in the collective."
The current one-and-done era obviously makes "minutes continuity" difficult for any high-level college program, and Muehlebach is quick to point out how teams such as Washington and Kentucky have also struggled while being forced to lean heavily on young players this season.
But Arizona has another problem underlying it all: The FBI investigation all but blew apart Arizona's 2018 recruiting efforts at the same time that top players Deandre Ayton, Allonzo Trier and Rawle Alkins were leaving school early.
With virtually no one other than Ira Lee and Dylan Smith left to help out — former starting center Chase Jeter rarely plays for the Wildcats anymore — Miller filled holes with freshman talent and transfers.
That added the talent that has helped the Wildcats win 16 games so far ... but also the lack of continuity that has helped result in seven losses.
"We have eight guys right now playing in games that weren't here physically a year ago," Miller says. "So it's hard to develop a culture of leadership in such a quick way. You're developing it as it as it goes."
Which might be another way of saying that Nico Mannion can't be Mike Bibby. Mannion does actually have to do it all: lead the break, pass, score, defend, but also lead, as much as possible.
By all accounts, he's trying.
"Nico is definitely the leader of this team and before every game I tell him, 'Hey, run the show because he's our PG,' " Lee said. "But I think with all the hype that's came around him, people forget that he's still a freshman. He's still a kid. He played high school ball last year. He's had a couple off games and that's to be expected. But if you just block all that out, he's done a lot of great things this season."
Looking from the outside, with firsthand knowledge of what it is like on the inside, Williams speaks a little blunter about Mannion's situation.
"He's in the worst spot of all," Williams said. "He's talented but the hype machine has been out of control. Everybody knows how many scouts are coming to the game to watch him and they're trying to destroy him and make a name for themselves."
Not only does Mannion have to lead and produce but Williams says opponents are constantly trying to bring him down, well aware of his first-round NBA draft projection.
"It's also about letting the other guys know that you're not going to make a name because of me," Williams said. "It's hard for Nico to understand why (UCLA guard) Tyger Campbell is going absolutely bananas. I had (the broadcast of) UCLA at Colorado and he was on the bench.
"But I know Sean and his staff have told these guys, 'Hey, this is the Arizona effect. Everyone is going to try to make a name off you. You just can't show up and win.' "
That probably applies even Thursday against Cal, a team Arizona has beaten seven times in a row. Mannion will be directly facing fifth-year senior Paris Austin while Green will likely match up against high-producing sophomore Matt Bradley, giving the two Bears standouts a chance at some additional attention.
Mannion and Green will need to produce, defend and hold off their counterparts, all while leading the Wildcats in a game they need to win to stay near the top of the Pac-12 race.
Then again, every game may be like that the rest of the way.
February is a month, Williams says, where teams "start to play for something else or they fold it in" to focus on the NBA or something else ahead, and also when freshmen have to push physically past a wall they've never encountered.
"Kids have been going hard since September and it's the most basketball they've played in their lives," Williams said. "They're in unknown territory and there's still 10 games left."
So, for Mannion and the rest of Arizona's freshmen, the road doesn't get any easier.
Just, maybe, a bit more familiar.
"You hope when we get to late February and early March that we have a solid foundation," Miller says. "That our best players have emerged."