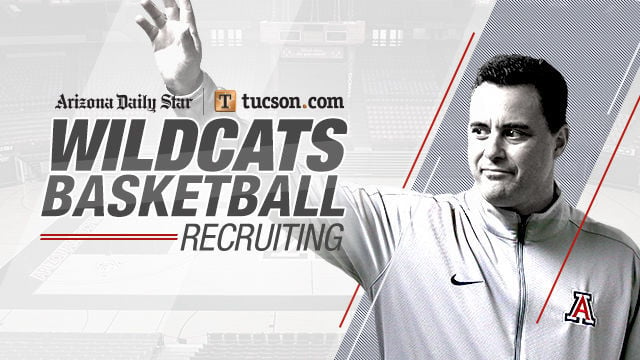 Arizona's recruiting followed some noteworthy basketball bloodlines Wednesday, when the Wildcats offered scholarships to the son of former NBA all-star Dikembe Mutombo and the cousin of former UA forward Zeke Nnaji.
With the sort of shot-blocking emphasis that his father was famous for, the 6-foot-11-inch Ryan Mutombo is a four-star 2021 center from Atlanta. The 6-9 Elvis Nnaji, meanwhile, is an unranked center who is considered one of Minnesota's top 2022 prospects.
Ryan Mutombo confirmed his Arizona offer on Twitter, having also recently tweeted that he's received offers from Georgia, North Carolina A&T and Tennessee State. According to 247Sports.com, Mutombo also has offers from Georgetown, Stanford and Georgia Tech.
Analyst Evan Daniels of 247Sports.com called Mutombo a "late bloomer with major upside," noting his length, strong frame, good hands and touch around the basket.
"Good feel as a passer out of the high post and on the block," Daniels wrote. "Shot the ball from the mid-range area with confidence, and mechanics are fine. Impressive feel for the game and a high IQ. Good area rebounder and rim protector. Lacks lift, and just gets end-to-end OK. True low post player."
In a December 2019 story, 247Sports.com reported that the younger Mutombo spends at least eight hours a week working one-on-one with his father, a four-time defensive player of the year in the NBA.
"He's trying to give me those nuggets here and there," Ryan Mutombo told 247Sports.com. "He tells me to block everything. I go after every single ball when I'm down there. I'm really relentless."
Nnaji may not have a national ranking, but he and fellow UA target Cam Heide were placed among Minnesota's top 11 prospects in the class of 2022 in a 2018 PrepHoops.com story.
"Elvis rebounds in big numbers and has the type of length that makes you believe that he is going to be as big as his relative Zeke Nnaji," PrepHoops.com wrote. "Elvis is a defensive pain because of that active length getting deflections and shutting down advances forcing passes to bad spots. Also moves his feet really well so he can switch off to several players."
Nnaji told Gopher Illustrated last October that he had been hearing from Minnesota, Iowa State, Purdue, Iowa and Arizona while he also reported an offer from Marquette last month.
Rim shots
Zeke Nnaji was scheduled to interview with the Suns on Wednesday after speaking to the Magic on Tuesday, according to a report from Minneapolis' KSTP-TV.
The NCAA announced that college basketball programs can begin required workouts on July 20, though Arizona has tentatively set a July 27 starting date. The NCAA also delayed a vote on whether to allow summer recruiting events in August and September.
Be the first to know
Get local news delivered to your inbox!