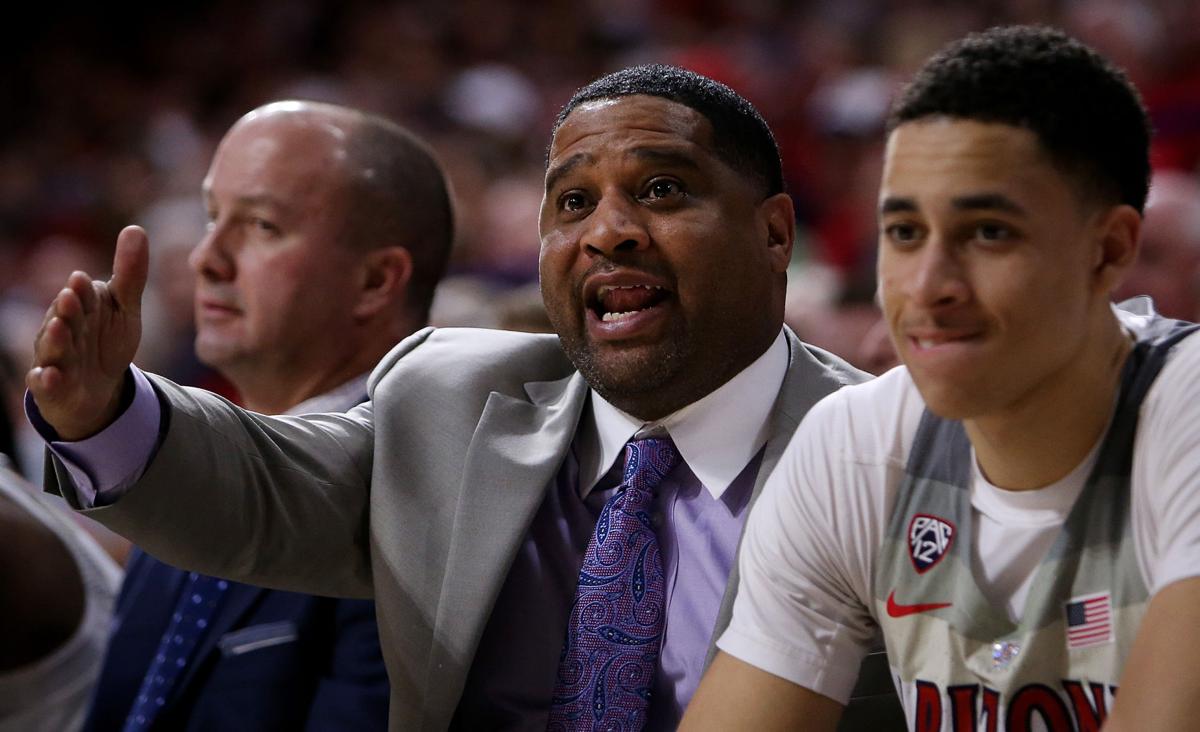 After the long testimony and cross-examination of Marty Blazer wrapped up Friday in the college basketball corruption trial, financial advisor Munish Sood took the witness stand. While there, Sood — a business partner of aspiring agent Christian Dawkins who took a plea deal in exchange for his cooperation —  talked about his relationship with former UA assistant coach Book Richardson.
Much of Sood's testimony paralleled that of the initial federal complaints — that, for instance, an undercover FBI agent gave Richardson $15,000 on July 20, 2017.
Of that meeting, Sood said: "Just Emanuel Richardson came in, met with us for about an hour, and then just kind of gives us an update on his business. When he left, (the undercover FBI agent, posing as an investor) gave him an envelope of $15,000."
Sood said that Richardson had requested the money through Dawkins, who is facing bribery charges in the current trial. Sood believed the money would go toward Richardson's recruitment of a specific player.
Sood was later asked about his first meeting with Richardson, which took place in Las Vegas in March 2017. 
Sood testified that Dawkins told him before the meeting that Richardson, a good friend, was an assistant coach at an "elite college program" that Sood took to mean a top-three program nationally. (Arizona was 27-4 overall and ranked No. 7 nationally when it traveled to Las Vegas that March for the Pac-12 Tournament. The Wildcats then won three games in as many days to take the tournament title). 
U.S. attorney Noah Solowiejczyk asked Sood to describe the meeting. The following is an excerpt of court transcripts obtained by the Star:
Sood: "Just it was an introductory meeting. We told him what we did, the things that we did for athletes, our services, he shared —"
Solowiejczyk: "Mr. Sood, you said, 'what we did.' Was anyone else present besides you and Mr. Richardson?"
Sood: "Yes. My assistant was there."
Solowiejczyk: "Please continue."
Sood: "So we just kind of exchanged ideas what we did. He told us about the — his recruiting strategy, his relationship with Christian and it was a short meeting but that was just an introductory meeting."
Solowiejczyk: "After you met with Emanuel Richardson in Las Vegas did there come a point when soon after that when you reached out to him again?"
Solowiejczyk: "How did you do that?"
Solowiejczyk: "What prompted you to reach out to Emanuel Richardson at that time?"
Sood: "Just wanted to follow up, tell him thank you for taking the time to meet with me."
Solowiejczyk: "At that time did you have any interest in developing a relationship with Mr. Richardson?"
Sood: "Again, because he had access to potentially some high-level players that may be entering the NBA."
Solowiejczyk then asked Sood what he meant when, in an April 24, 2017 phone call, he told Richardson that "We're happy to be supportive in any way we can." 
Sood: "(I meant) the resources like money that he may need in order to help him to continue to recruit."
Solowiejczyk: "Recruit what?"
Solowiejczyk: "And then you went on to say, this is a couple of lines down from that, 'You know, my goal is you know a lot of — you have a lot of young talent coming.' Mr. Sood, why were you mentioning young talent at that point?"
Sood: "Because they were projected to have … a top-five pick potentially coming in the draft and we wanted to see if we can get a meeting or access to that player."
Solowiejczyk: "And then you went on to say, Mr. Sood, a couple lines down from that, at line 15, "And you know as you get more comfortable with me and my team my hope is we can continue to, you know, build a long-term relationship.' Mr. Sood, were you, in fact, interested at that time in building a long-term relationship with Emanuel Richardson?"
Solowiejczyk: "Why was that?"
Sood: "Because he worked for a great program and they're always going to have access to good players."
Solowiejczyk:. "What was your impression of Richardson's response to this?"
Sood: "That, you know, that he was open to working with me or us."
Solowiejczyk:. "At page 4, this was Mr. Richardson speaking. And I'm looking specifically at lines 7 and 8. He said to you, 'I'm going to honor, I'm going to respect and I'm gonna over-deliver and under-promise.' Did you understand what he meant when he said this?"
Sood: "I believe he was stating that if we're helping him with money to recruit that he's going to deliver hopefully one or two players to us."
Solowiejczyk: "Then finally, Mr. Sood, you said, a couple lines down from that, line 10, 'You know, you're always being asked for stuff. You're always being looked at from all different types of people.' What did you mean by that, Mr. Sood?"
Sood: "That, you know, him as a coach, he's always being approached, from my understanding was with players and their families for money and then also from a regulatory perspective he has the NCAA to I guess also monitoring him."
A PDF of the above conversation in the transcript is attached.
---
Zeke Nnaji and Terry Armstrong played in the Iverson Classic game on Friday, though we couldn't find a result or box score. On Wednesday, Nnaji won a related 3-point competition.
Pretty good 3-point contest performance by Hopkins senior Zeke Nnaji at the Iverson Classic. Resulted in winning, beating out future Florida G Tre Mann. Nnaji, 6-feet-10ish, is an Arizona signee. pic.twitter.com/Npgoj2dbPE

— Darren Wolfson (@DWolfsonKSTP) April 25, 2019
Contact sports reporter Bruce Pascoe at 573-4146 or bpascoe@tucson.com. On Twitter @brucepascoe