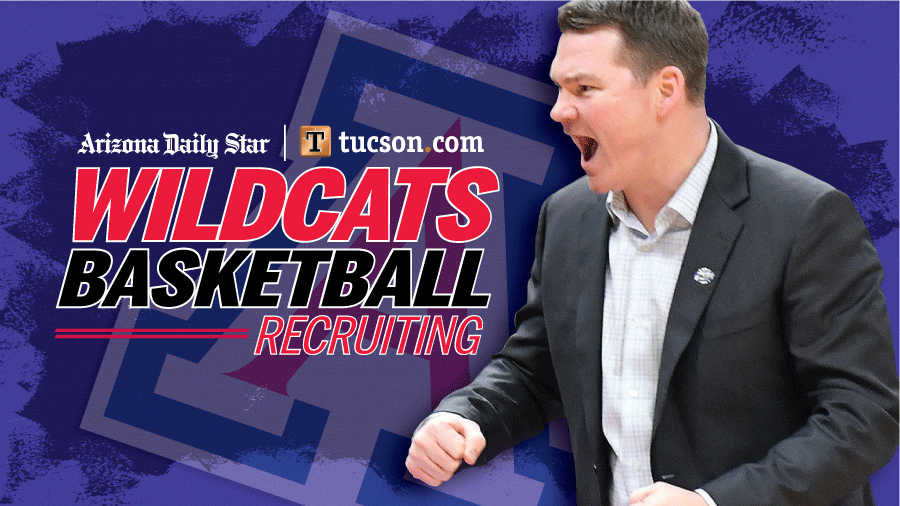 Arizona is welcoming the long-awaited return of official recruiting visits in style this weekend.
The Wildcats are scheduled to host five-star class of 2022 point guard Jaden Bradley starting Friday, the first time they've had an official (expenses-paid) visitor to campus since Bennedict Mathurin and Ziaire Williams toured campus in November 2019.
Official visits and all other in-person recruiting activities were prohibited from March 2020 until this month because of the pandemic. Bradley has worked quickly since, taking visits to Michigan, Alabama and North Carolina. Arizona has hosted commit Dylan Anderson and several other recruits unofficially already this month.
While Arizona will have plenty of opportunity to sell Bradley — the Wildcats are entering next season with combo guards such as Kerr Kriisa and Pelle Larsson expected to play point guard — there will also be some stiff competition.
Of the two picks on 247Sports.com's Crystal Ball, a Kentucky-oriented analyst predicted in May that Bradley would head to North Carolina while national analyst Jerry Meyer predicted back in January that he would go to Kentucky — a choice that Meyer indicated could change.
"Think Arizona has a chance," Meyer said in a text message to the Star.
Bradley's father, Nate, indicated his son has significant interest in Arizona, too. Nate Bradley said via text message that UA coach Tommy Lloyd was recruiting Jaden for Gonzaga for seven or eight months before he took over the Wildcats in April.
"We see him as a great teacher and player developer inside a head coach's body," Nate Bradley said of Lloyd.
Originally from Rochester, New York, and now playing for Florida's IMG Academy, Bradley began his official visit tour at Michigan from June 4-6. In an interview with 247Sports.com's The Wolverine, Nate Bradley said the visit was "awesome" and noted that he had good conversations with coach Juwan Howard and assistant coach Phil Martelli.
The Michigan staff showed the Bradleys video of how Jaden would likely be used. Arizona is likely to do the same.
"He said, 'This is what it looks like when it's done the right way. This is what we've done in the past,'" Nate Bradley said. "We were really happy with what he showed him. It was a lot of point guard stuff, but he told him to watch all of it, not just the point guard, because the point guard is responsible for all five positions."
Bradley then went to Alabama from June 11-13 and hit North Carolina this week before leaving for Tucson on Thursday. Nate Bradley told Tar Heel Illustrated that his son played some pickup ball in Chapel Hill and heard about UNC's plans to handle the still-uncertain legislation that will allow athletes to profit off their name, image and likeness while getting familiar with new coach Hubert Davis and his system.
"He's got a really good sense of humor, but he's candid," Nate Bradley said of Davis. "He showed us previous point guards that they've had, and how Jaden had a lot of those traits that some of those guys had, and how he could fit in. He talked about the expectations of some of those guys going pro next year, and what that would look like for Jaden, so that made us pretty comfortable."
After all three previous visits, Jaden Bradley posted videos of himself in the gear of that team.
For Michigan, Bradley included one in which he wore a football jersey. Howard, posing as a center, prepared to snap him the ball.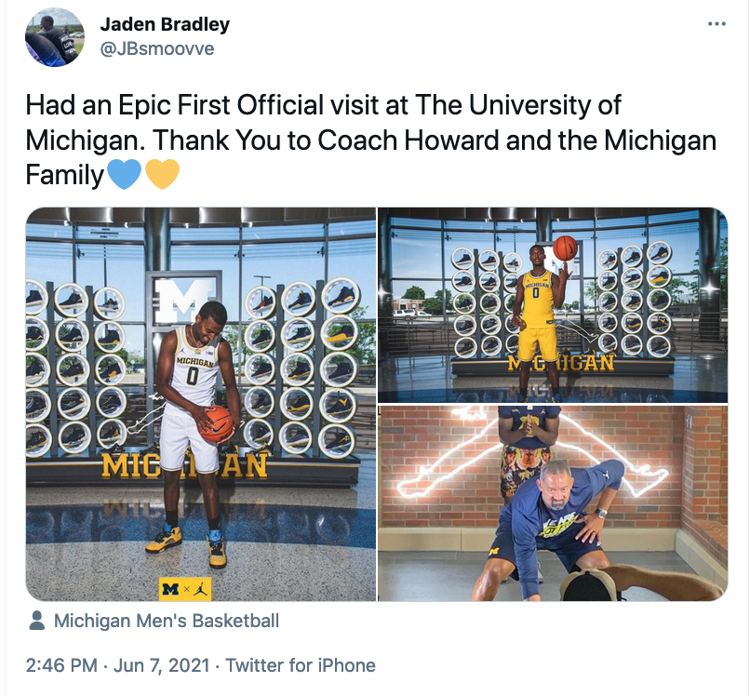 "Had an Epic First Official visit at the University of Michigan," Bradley tweeted. "Thank you to coach Howard and the Michigan family.
Howard posted on June 13 that he had a "first class visit" to Alabama ("How do I look in Crimson and White?" he asked followers) and on Wednesday posted three images of him wearing North Carolina uniforms.
"Thank you UNC for an awesome visit," Bradley tweeted. "That Carolina blue hit different, right?"
Sometime this weekend, Bradley is likely to post photos of him wearing UA red and blue. Except this time, the Wildcats hope he keeps wearing the gear for good.
Contact sports reporter Bruce Pascoe at 573-4146 or bpascoe@tucson.com. On Twitter @brucepascoe