The Arizona Wildcats' recruiting is back among the nation's elite.
The nation's top 2019 point guard, Phoenix Pinnacle's Nico Mannion, announced he will play for the Wildcats in 2019-20, giving Arizona its first five-star commit since its projected powerhouse 2018 class was severely compromised by a federal investigation into college basketball.
The 6-foot-3, 180-pound Mannion chose the Wildcats over Marquette, having eliminated North Carolina and Villanova on Sept. 7. He had an Oct. 5-7 visit scheduled for Marquette, but told 247 Sports that he decided to come to Arizona within a day or two after UA coaches visited his Phoenix home last Sunday, the first day in-home visits could be made.
"I mean, I kind of had an idea and I was leaning that way a little bit, but Marquette is such a great school as well that I at least wanted to give them a shot," Mannion told 247 Sports. "But after the in-home, a day or two after, it just felt right. I didn't need to take any more visits, it felt like home."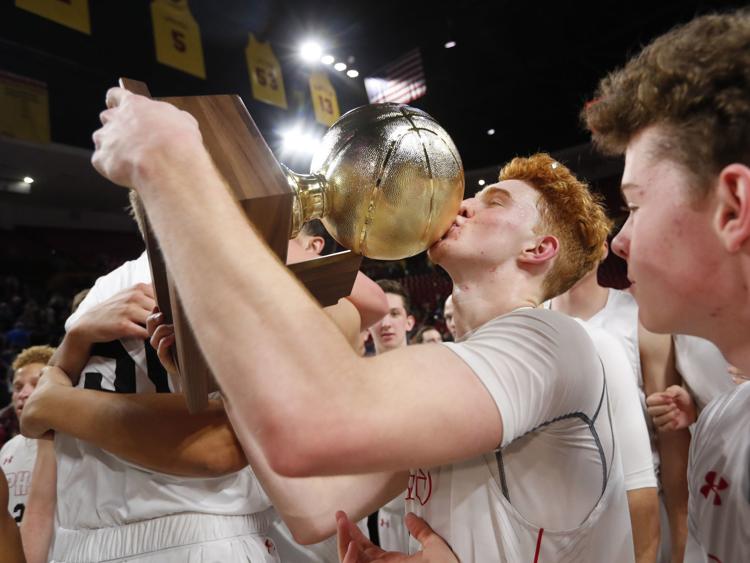 Mannion told 247 Sports that the UA coaches were "real" in dealing with him and made it known clearly how much he was wanted.
"That was a huge thing for me, go where I'm wanted, where I can go in right away and produce," Mannion told 247 Sports. "I think they will give me that opportunity.
"Just the consistency really, they were at all of my games. They've been down here pretty often, they went to a couple of my high school games."
Ryan Silver, director of the West Coast Elite travel club where Mannion has played, said Mannion and the UA coaches always had a strong connection.
"The Arizona coaching staff are very real people," Silver said. "Sean Miller is very real. (Assistant) Mark Phelps is real. … Sean Miller was a point guard when he played and I think Nico has a really unique opportunity. He's from Arizona and he loves Arizona."
Mannion's decision might send a positive signal to other recruits about Arizona, after the Wildcats lost two of their three initial 2018 commits, Jahvon Quinerly and Shareef O'Neal, after the investigation became public nearly a year ago. Several other five-star prospects in the class of 2018 eliminated the UA from serious consideration, too.
The UA entered April with no 2018 recruits, though Miller managed to get a recommitment from four-star guard Brandon Williams, who decommitted because of UA's off-court issues, and landed four other players in the spring to build a 2018-19 roster.
Things may be different now.
"There doesn't seem to be as much concern from the recruits' standpoint and from the coaches" over the investigation, 247 analyst Josh Gershon said. Arizona is "still going after high-level guys. The investigation changed things with last year's class — and it was too late (in April) to get a normal Arizona class, but it looks like in 2019 they will end up with a Top 5 or 10 class."
Mannion is scheduled to visit Arizona for the Oct. 14 Red-Blue Game along with fellow five-star prospects Josh Green and Jeremiah Robinson-Earl. Mannion has been a travel-ball teammate of Green, an Australian guard who played with former UA star Deandre Ayton at Phoenix Hillcrest Prep in 2016-17.
Whether Mannion helps pull in other high-level recruits in 2019, there's little doubt he can make an impact next season.
He's rated the No. 1 point guard and No. 9 player overall by 247 Sports, while ESPN rates him the No. 11 player and Rivals has him at No. 20.
"He's really the full package as a point guard," Gershon said. "He can score, he's a very good shooter, he can handle it and he's a very good passer — and an underestimated athlete. Every time you see him play, you think maybe we're not giving him enough credit. It's his work ethic and love for the game. I haven't seen as many players like that."
Silver said Mannion joined his club in eighth grade at 5-foot-10 and 140 pounds, and has made a consistent progress since.
"The reason for his success is he just works hard and he's passionate about the game of basketball," Silver said.
ESPN draft analyst Mike Schmitz, a UA grad, also suggested good things about Mannion's future after seeing him play for the Italian national team in June and in other performances. Mannion is the son of a former Utah basketball standout, and his mother is a native of Italy who played professional volleyball.
"High on Nico Mannion's NBA outlook," Schmitz said on Twitter. "Has positional size, impressive change of pace with the ball, good feel, has touch and creativity, killer mentality/confidence. He's impressed me with the Italian U16 team (in June), on the AAU circuit, and at Steph Curry Camp. Great get for Arizona."
As a Pinnacle High School freshman in 2016-17, Mannion was the subject of a lengthy Sports Illustrated feature on growing up as a basketball prodigy.
As a sophomore last season, Mannion led Pinnacle to the Arizona 6A title and reclassified over the summer so he could join the class of 2019.
He will play his final season for Pinnacle starting this fall.
UA forward Emmanuel Akot and guard Brandon Williams, who could be sharing point guard duties with Mannion in 2020, both saluted his decision on Twitter.
"PGU is back?" Williams said, referring to UA's former nickname of Point Guard U. "Congrats kid."