In a defensive slugfest, No. 11 Arizona held off No. 5 UCLA 58-52 on Saturday at McKale Center. Here are five takeaways from the Wildcats' latest triumph over the Bruins:
1. This time, it's defense
It was unofficially 50s Day at McKale Center for Arizona-UCLA — and no, not the 1950s.
Arizona's victory over the Bruins pushed Tommy Lloyd to 50 wins in 57 total games at the UA; he's done it faster than any coach in conference history.
Ever since Lloyd was hired nearly two years ago, the Wildcats' up-tempo and Euro-style offense has ranked among the best in college basketball. But for the first time under Lloyd, the Wildcats scored under 60 points in a win. The 58 points on Saturday are the lowest Arizona has scored, period, under its second-year head coach.
"We could win a game 1-0, and it'd still be a win," Arizona guard Courtney Ramey said.
Ramey, backcourt mate Kerr Kriisa, freshman point guard Kylan Boswell and wings Cedric Henderson Jr. and Pelle Larsson were tasked with guarding UCLA's veteran perimeter players: Tyger Campbell, Jaime Jaquez Jr. and David Singleton. Campbell and Jaquez combined to shoot 10 for 35 from the field, including 3 for 9 from 3-point range. Singleton was 0 for 5 with two rebounds and no assists in 35 minutes. The grizzled trio entered Saturday averaging a combined 40.9 points per game but scored 25 against the Wildcats.
"We didn't want to give good players good shots. We wanted them to make tough shots," Ramey said. "When you hold their best players to that, that's going to be a tough night for them. ...
"The game was in the 50s. That's not something we're used to, but we did a pretty good job on them.
"They're a great team. They took away a lot of things, but I think we battled."
Ramey, a transfer from Texas, said Saturday "was kind of like a Big 12 game for me, so I'm used to it."
"Big 12 games are like this," he said. "I know it's different for (Arizona) because they're used to playing games in the 80s and 90s. But in the Big 12, games were in the 50s and 60s, so you have to be great down the stretch and adjust during the game.
"They're a physical team, and I think we matched that today. It's something we can get better at, but I think we showed today that we can play in the 50s, 60s, 70s or 80s."
The last time Arizona scored under 60 points and won was in 2015 against UCLA.
"We proved today that we can win low-scoring games," Kriisa said. "Everybody keeps talking about our offense, our offense, our offense, but nobody talks about how good our defense is, and I think today we proved that we're really gritty. … I'm really proud of the guys."
Said Lloyd: "You gotta be able to win multiple ways. Obviously, UCLA was able to get that game at their tempo, but I think we were comfortable the whole time — maybe except for that last minute when we were trying to ride out that lead — but other than that, I thought we were comfortable the whole time."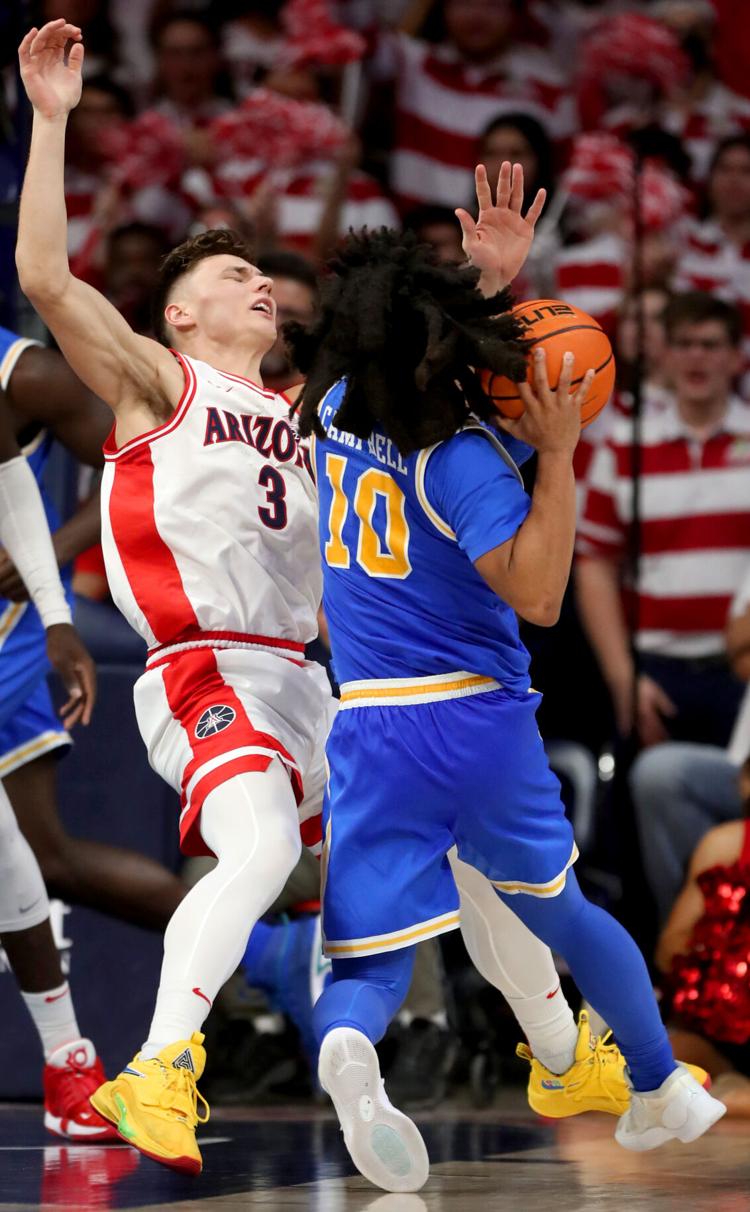 2. Holding off last-minute run
Speaking of "that last minute," UCLA nearly won — again — in come-from-behind fashion. The Bruins ended Thursday's win over Arizona State on a 16-2 run to secure their 14th straight victory.
After Arizona center Oumar Ballo's dunk put the Wildcats ahead 56-44 on Saturday, UCLA deployed a full-court press and forced four turnovers — three steals and a five-second violation — to cut the Wildcats' lead to 56-52 with 26 seconds left. Lloyd then called a timeout.
" 'Just win the game.' That was the biggest thing," Ramey said. "The press came, we had some turnovers, but those are things we can fix. The biggest thing is to win the game."
Arizona nearly frittered away two previous second-half leads in Pac-12 play this season. The Wildcats led Washington by seven, but the Huskies were in position to send the game into overtime with a tying 3-pointer (which they missed). Against ASU in Tempe, the Wildcats led by 15 at halftime, but the Sun Devils chipped away at the deficit in the second half and pulled within one possession.
Arizona's largest lead Saturday was 13 following a Ramey 3-pointer.
3. Seven Man Army
The Wildcats played just seven players on Saturday: Ramey, Kriisa, Henderson, Azuolas Tubelis, Ballo, Larsson and Boswell.
Adama Bal, a second-year wing from Paris, and Estonian big man Henri Veesaar did not play a minute against UCLA. Bal, who hit two critical 3-pointers in Arizona's win over UCLA in the Pac-12 Tournament championship last season, was expected to have a prominent role off the bench this season but has played double-digit minutes only three times since the Maui Invitational. Bal has played a combined 21 minutes since the Wildcats began the bulk of Pac-12 play on New Year's Eve. Veesaar has only played 17 total minutes over the last five games.
"We won. Great. I told those other guys, 'This is how it goes in these games.' I think we need to tighten that rotation a little bit," Lloyd said.
"We need an eighth and ninth guy to step up, but they have to earn it."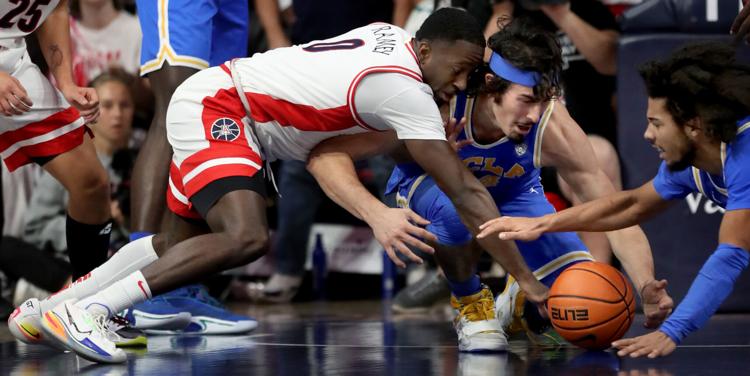 4. Ramey finds his groove
Ramey, who finished Saturday with 11 points, shot 8 for 15 from 3-point range against USC and UCLA this week, the most 3s he's scored in a two-game series this season.
Ramey is 12 for 23 (52%) from 3 in the last three games.
"Biggest difference was the ball went in this week. Last week it didn't," Ramey said. "I gotta give them credit, they kept telling me to shoot the ball, kept giving me confidence, and when your teammates keep telling you to shoot, then you have no choice but to shoot the ball."
5. Back in the title hunt
For the first time this season, the Wildcats swept a Pac-12 series. 
More notably, the Wildcats positioned themselves back into the conference regular-season championship frame. Arizona (6-3) is now two games behind first-place UCLA (8-1) in the standings.
"These are big wins," Kriisa said. "These are wins that you have to win at home especially. We're not thinking about the title race right now. We just gotta get better and clean up a lot of stuff, especially in the beginning. We should've punched them out, but we were a little shaky with their press (defense), even though we knew it was coming. Yeah, we have a lot of things to clean up, but I'm excited."
Lloyd said the Wildcats haven't earned the right to talk about a Pac-12 championship.
"You don't just throw that statement out there. It's gotta really, really, really mean something, and you have to really, really give yourself a chance," he said.
"We took a step today, but you know what? We gotta go up and play those Washington schools next week, and both of them, to be honest with you, got the better of us down here. We have a lot of work to do."