Since last playing Dec. 22 in Tennessee, the Arizona Wildcats took a three-day Christmas break, then practiced for another week.
With everybody back except still-missing forward Kim Aiken, the Wildcats have had no COVID-19 issues affecting practices. They had plenty of time to work on fundamentals. Plenty of time to learn about themselves, and their upcoming Pac-12 opponents.
But possibly more than anything, the Wildcats learned to stay flexible.
While preparing for a twice-rescheduled game against Washington on Monday, after having lost New Year's weekend games at UCLA and USC because of the Los Angeles teams' COVID-19 issues, the Wildcats at first thought another game might also be moved up to Jan. 1.
"We started preparing for that a little bit," coach Tommy Lloyd said.
Instead, Arizona is now scheduled to restart Pac-12 play on Monday night against Washington, then play a road game at ASU on Saturday — and potentially go Tuesday-Thursday-Saturday the following week with a possible road game at UCLA to come before a home weekend against Colorado and Utah.
The merry-go-round was spinning even faster elsewhere around the Pac-12.
ASU, also originally scheduled to play at USC and UCLA over the weekend, instead played at Cal on Sunday — and is scheduled to play at UCLA on Wednesday before hosting the Wildcats on Saturday.
The Bruins, on the verge of their own COVID-19 return, are able to accommodate the Sun Devils because Thursday's scheduled game against Stanford was postponed because of the Cardinal's own COVID-19 issues. Stanford had already pulled out of the Christmas-day Diamond Head Classic.
And Colorado, which has been scheduled for a Jan. 13 appearance at McKale Center, was scheduled to play Oregon on Monday after returning from its own pause. Counting the Buffs, four of UA's next five opponents have all been hitting the COVID wall.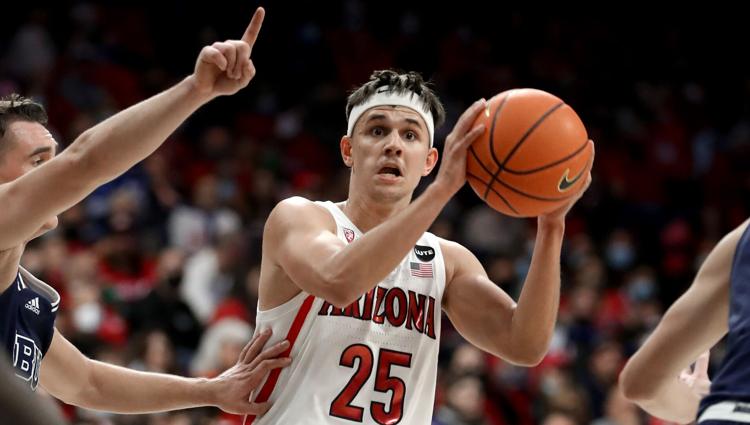 So with all that going on, the Wildcats put their heads together and just played basketball.
"Obviously things are in flux right now a little bit with the current COVID situation everywhere," Lloyd said. "I just told our guys our job is to be excited to play, continue to practice well and get better. So we kind of went back to the basics."
That was fine with sophomore Dalen Terry.
"It's just a regular week," Terry said. "We just had no games, so it kind of felt a little weird."
As close as the Wildcats appear to have become during their 11-1 start this season, a little time away from each other and the game may have helped. While UA's season didn't start until Nov. 9, most Arizona players started assembling fully in July, with newcomers Pelle Larsson and Adama Bal arriving just before school started in August.
It's been a long haul already.
"It was just some time that we needed," Terry said. "Obviously, we've been with each other every day for the last few months, even in the summer, so it was cool to get away from the guys but it was also great to see that excitement of seeing each other again.
"I think it was something that every team should have through the season. There should be a week or two that you get to have some time to yourself, but obviously we're not going to take away from the main goal. We still want to play and see each other and have a great season."
'No issues,' Lloyd says
While several Colorado players canceled plans to spend Christmas with family and instead quarantined in Boulder, according to Buffzone.com, Lloyd said the Wildcats have remained issue-free and that he didn't want them to change their holiday plans for cautionary reasons.
"These are all difficult choices, but obviously, you've got to factor in the well being of the kids and their families and mental health," Lloyd said. "They're more than just basketball players. Everything was kind of unraveling right before Christmas, and we didn't think it would be fair to the guys to say `OK, shift in game plan. Y'all go back to Tucson to hang out in your rooms by yourself.'
"And, listen, our team has done a great job of taking all the available precautions to prevent a COVID spread on our team. I know that's far from any guarantees, but they've done what they've been asked to do. So if they've done what they've been asked to do, I think they should be able to see their families over the holiday."
Because its players are fully vaccinated and boosted, the Wildcats were not required to undergo surveillance testing upon returning to campus after Christmas. UA has, however, been testing any players with symptoms.
"We've had no issues," Lloyd said. "If we have symptomatic people, they will be tested but other than that we're kind of marching forward day-by-day and abiding by the protocol."
Jan. 11 possible for UCLA
Arizona has been discussing Jan. 11 as a possible reschedule date for its postponed Dec. 30 game at No. 5-ranked UCLA, and the Wildcats may have to return to Los Angeles to face No. 7 USC on another date.
The Wildcats are scheduled to play twice each weekend after Saturday, except for the week leading up to a Jan. 29 home game against ASU, but both USC and UCLA have two other games scheduled that week. Since Lloyd said playing on consecutive days is not likely, that suggests UA cannot play both USC and UCLA on the same trip unless there are other cancellations around the conference.
"It might be tough to do a two-game road trip and cram it into the a conference schedule," Lloyd said. "So I'm expecting probably to have to go to LA two times. But quick trips, in and out. That would be my guess as of now but again, everything is subject to change. It's probably really hard for the league to throw out the schedule they already did and make a new one."
Instead of back-to-backs, Lloyd said he thought there could be Tuesday-Thursday-Saturday or Monday-Thursday-Saturday weeks ahead. If Arizona and UCLA are rescheduled for Jan. 11, the Wildcats would be playing three games in five days if their home games against Colorado (Jan. 13) and Utah (Jan. 15) are played as scheduled.
"We're expecting a logjam of games to come up here in the next couple of weeks," Lloyd said. "You guys (media) will be pretty busy and we'll be pretty busy."
Aiken's status still unsettled
Aiken did not rejoin the Wildcats after their Christmas break, but Lloyd said he's still on the team. Aiken hasn't appeared in any form with the Wildcats since their Dec. 5 game at Oregon State. The UA has repeatedly cited personal reasons for Aiken's departure.
Aiken was averaging 13.5 minutes per game over Arizona's first seven games,
"I've been told that I'm not allowed to comment on any of that," Lloyd said. "He's a member of the team and we'll see what happens in the future."
Contact sports reporter Bruce Pascoe at 573-4146 or bpascoe@tucson.com. On Twitter @brucepascoe