Considering the Red-Blue Game's importance to Arizona's recruiting efforts, it's no surprise how heavily the school promotes its perennially sold-out preseason celebration.
But, really, this year all the Wildcats had to do was trot out Chase Jeter.
Jeter spent two years playing in Duke's vaunted Cameron Indoor Stadium, after all — and still raved about his first Red-Blue Game last year as a redshirt transfer.
"It was a great experience," Jeter said. "I got to feel like what it's like to play a game at McKale Center and I haven't felt that in a long time. I'm excited to get right out on the floor" on Sunday.
And just in case Jeter's words aren't enough, there's also those of former Wildcats standout Allonzo Trier, who has been playing for the New York Knicks at Madison Square Garden. The NBA rookie is finding out that the "mecca of basketball" isn't all that different from McKale.
"I talked to Allonzo the other day, and he was talking about how special it is to play in Madison Square Garden," UA coach Sean Miller said. "He talked about the adjustment from McKale Center to the Garden and that the adjustment isn't nearly as significant for him."
While Trier played in three Red-Blue Games, Jeter so far has had just one experience on the floor. Playing on a team with Deandre Ayton but against Dusan Ristic and Ira Lee in last season's scrimmage, Jeter played just 12 minutes before fouling out. But he hit 3 of 6 shots while blocking two shots on defense.
"I feel like I had a good showing other than fouling out," Jeter said. "It was fun."
This time, Jeter has a whole season of fun to look forward to at McKale Center. Not only is Jeter eligible this season, but Ristic and Ayton are gone, meaning there's a massive opportunity for the 6-foot-10-inch, 230-pound Jeter.
Miller said Thursday that Jeter will be his starting center, which was no surprise. The only question is how many minutes he can play productively.
"Coming from not playing last year to knowing that my role is going to change tremendously … I know that I need to be a leader," Jeter said. "I know what my teammates need and what they expect of me."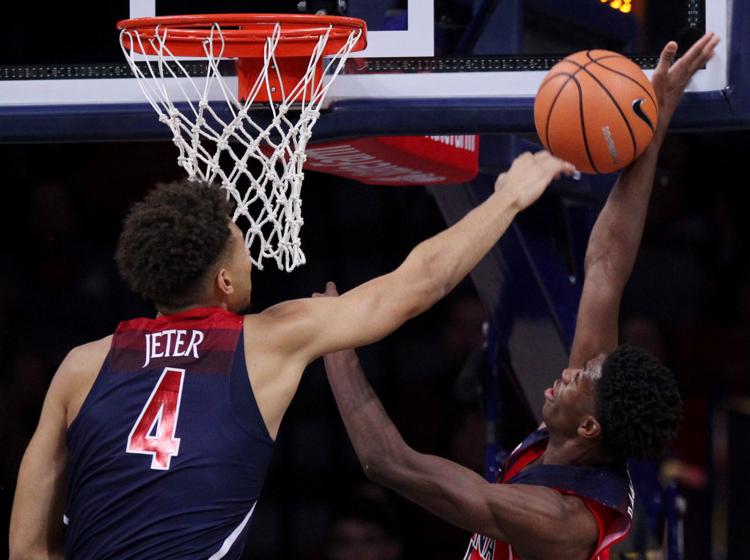 Miller said Jeter worked hard last season while playing against the two 7-footers every day in practice. That unique experience adds to the two years of experience Jeter logged at Duke, where he started six of 48 games over two seasons and averaged 2.1 points and 2.2 rebounds per game.
Miller said Jeter will add significantly to Arizona's interior defense, thanks to both his skills and the intelligence that twice landed him on the ACC's all-academic team.
"Chase has a lot of gifts on defense," Miller said. "He's smart. He can move. He knows where to be. A ball screen defense is a big part of the game now, and he's as good of a guy moving in that area as we've had.
"Offensively he will learn how to play off of others. He might not be as adept of a scoring guy, but I definitely think he can be a double-figure scorer. What makes him good is his versatility, the things he can do on defense."
Unlike Ristic, who played the post alongside Ayton, Jeter will be counted on to play center in what could often be a four-out scheme. With strength on the perimeter and a thin group up front, the Wildcats will likely post Jeter at center with 6-9 Pitt grad transfer Ryan Luther, 6-7 sophomore Ira Lee or even 6-7 combo forward Emmanuel Akot playing at power forward.
"Coach said the game is changing and as the game changes we change with the game," Jeter said. "I've played in settings where I've been the only five and there's four out. It's honestly the most common in today's game. It's something we'll adjust to but it's not going to be something that's a detriment."
While Luther has stretch-four skills, he's also strong and versatile enough to play center when Jeter is out. Lee is also expected to back up at center when needed.
"There's going to be a great mixture of guys on the court," Jeter said. "Ryan and Ira are fully capable (at center) as well.
Of Luther, Jeter added: "He can score the ball in the post, he can shoot it on the perimeter, he can put the ball down on the ground in the mid-post, he can pass the ball. He's a very skilled and gifted offensive player."
The Wildcats have already been working together now for three months, in limited offseason workouts and during the first two weeks of full practices that began on Sept. 30.
But their work at the Red-Blue Game will be a little different, of course.
They'll be playing before another full house at McKale Center.
"I'm even more excited this year to get out there," Jeter said. "We want to show the fans what we've got in store for this season."