Maddie Searle usually sits on the UA bench next to assistant coach Salvo Coppa. Searle is the one carrying a binder and taking notes throughout the game.
It's easy to miss her. The players play, after all, and the coaches coach. And Searle, a graduate student manager, is right in the middle.
Arizona (23-13) will host Northwestern (21-14) at noon Saturday at McKale Center. The Wildcats' postseason run has been a team effort by players, coaches and support staffers.
Searle's job covers all aspects of the program. One day she will ask Jessika Carrington, the Wildcats' director of operations, about how she handles specific situations. Another day, she'll assist with recruiting.
Searle's in-game responsibilities include tracking which defense the Wildcats run and the results, as well as keeping tabs on substitutions so Coppa can make sure he has the right matchups.
Once the game is over, Searle breaks down film to find "passion plays" — deflections, second-chance opportunities and the little things that head coach Adia Barnes believes are important.
"They matter to us. Because it is effort — and effort isn't always on the stat sheet," Searle said.
Searle has been a graduate student manager for the last two years after spending her undergraduate years at Penn State. She witnessed the Nittany Lions' slide in women's basketball as a student and then an intern.
"They won their third Big Ten (championship) in a row — and then we went complete opposite," she said.
Arizona's rise to relevance has been much more fun.
"I think we are so much better in so many ways than last year — not just on the court, but as a staff," Searle said.
Searle has adjusted to living in the desert — not an easy thing for something who had never been west. She credits Barnes for welcoming her into the program and pushing her to be her best. Searle thinks that is one of the keys to the Wildcats' success.
"I think Adia doesn't ever settle for anything, whether that's in the office or a graphic," Searle said. "Her question always is, 'How can we do this better? How can we get better?' I think that's how she is with the team. She never, ever settles. And I think that translates on the court. I think she's just a great motivator."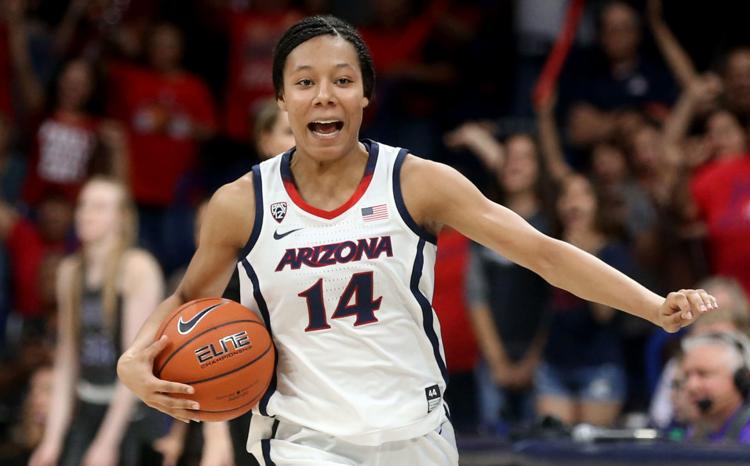 De-fense
None of Arizona's last five opponents have scored more than 60 points or shot better than 37 percent from the field. As the competition has gotten tougher, so too has the Wildcats' defense.
The UA held TCU to 26.9% shooting in the semifinals Wednesday. The Wildcats forced three shot-clock violations in the first quarter and added another in the third frame. They had nine steals — four from Aari McDonald and three from Dominique McBryde.
Sam Thomas was clutch with four big blocks.
"They were all on jump shots. I don't think any were on layups. She finds a way," Barnes said of Thomas. "She's like the silent assassin. She finds a way to do things. She is one of our best defensive players. She is the most underrated player. People think they can beat her and isolate her, and they can't.
"That's just her. She has instincts, long arms and good timing. She's athletic. So she just finds a way to contest, and she does it without fouling. That's something, that's her gift. I wish I could take credit for that, but I can't. That's her."
'Electric' environment
The Tucson community is showing up to cheer on the Wildcats. Wednesday's attendance of 10,135 was the largest crowd in program history.
After the game, McDonald had the understatement of the WNIT: "Yeah, there were a lot of people here."
"It makes us feel good. … We definitely went through some rough patches in the game," she said. "Just hearing them cheer definitely helped us out and motivated us to go harder."
The result has been a big-game atmosphere unlike anything Arizona's current players have ever seen.
Barnes described the environment with three words.
"Incredible. Electric. Fun," she said. "You know I always say I love Tucson. I'm happy I chose this place. It's meaningful. There's a special place for Arizona always in my heart. ... This is where I grew. This is where I learned my most valuable life lessons. This is where I came in as a 17-year-old — who was a year younger than everybody — immature, bratty little freshman to a leader when I left.
"So all those things I hold that to my heart. I don't just say that because I'm up here. I feel that, and it's special to me. I want to do some special things here.
"Did I think we were going to do it in a couple of years? No. Have we arrived? No. We're not where we need to be, but we are moving in the right direction. And I love the fact that we were able to get 10,000 fans here. … To walk out there and see that, it almost brings a tear to my eye."
Barnes is hoping for a sellout for Saturday's WNIT final.
"No one has done that," she said. "And most in women's basketball haven't done it unless they've played in the (NCAA) championship game.
"And not too many people have played in the championship game."