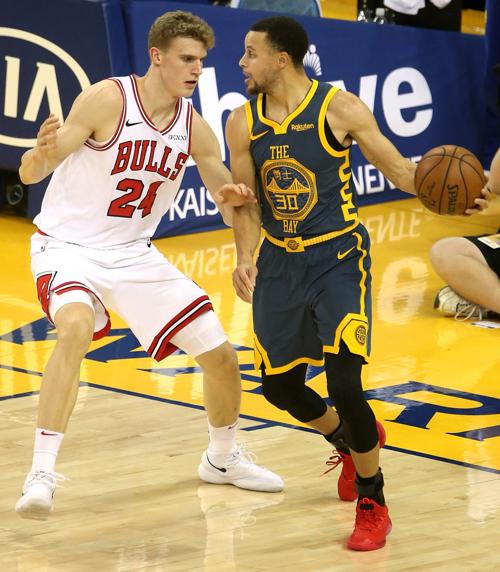 OAKLAND, Calif. — In terms of his career longevity, 2012 All-Star appearance, 2015 Finals MVP and three championship rings, Andre Iguodala could make a case for himself as the most successful NBA player ever to have played collegiately at Arizona.
But the veteran Golden State Warriors forward wasn't interested in all that last Friday, after matching up with another fellow former Wildcat in Chicago's Lauri Markkanen.
"He's gonna be good," Iguodala said. "Better shooter than people think. Can size you up. The game's gonna go back to mismatches and he's gonna draw a lot of mismatches. He's good in the post. … He's gonna tighten up his handle."
"He could be the best player to come out of Arizona."
"Who's the best?" he said. "Sean Elliott? Mike Bibby? Jason Terry? Gilbert Arenas?"
Iguodala made no mention of himself, then settled on Arenas, the three-time all-Star. But he also wouldn't be surprised if the Finnish big man surpasses even him someday.
"He's got all the tools to be the best coming out of there," Iguodala said.
Considering how woeful the Bulls have been during Markkanen's second season in the league, it's hard to see it sometimes.
Chicago was blown out in style when Iguodala faced Markkanen in a 146-109 game last Friday at Oracle Arena. Klay Thompson hit three 3-pointers in the first 70 seconds, the Warriors took a 43-17 lead at the end of the first quarter and it was pretty much over after that.
"He sees a glimpse of the rim and he's going up," Markkanen said, explaining Thompson's early spurt with a characteristically succinct description. "That's how good of a shooter he is."
The Bulls dropped to 10-32 at Golden State and then picked up their 33rd loss a night later at Utah, losing the first three games of a five-game road trip that continues Tuesday against the Lakers in Los Angeles.
Having already fired coach Fred Hoiberg on Dec. 3 and promoting defensive-minded associate head coach Jim Boylen to replace him, the Bulls aren't seeing improvements on the court, at least not yet.
"Of course, nobody likes getting their butt kicked," Boylen said after the Warriors game. "But we'll take the good moments and build on them and hopefully take the bad moments and learn from them."
Among the good moments, he said, was being able to use Markkanen at small forward, matching the 7-footer against Kevin Durant and Iguodala. That move spoke to the unusual versatility Arizona saw during the 2016-17 season, when Markkanen served as an almost unguardable 3-point shooter who also, especially later that season, more aggressively scored around the rim.
His skillset has continued to grow in Chicago.
"It's different," Markkanen said. "I mean, I wasn't just a shooter (at Arizona) but sometimes I felt like it. I think I've always had more to my game but it's a different system here. I think it accompanies me pretty well."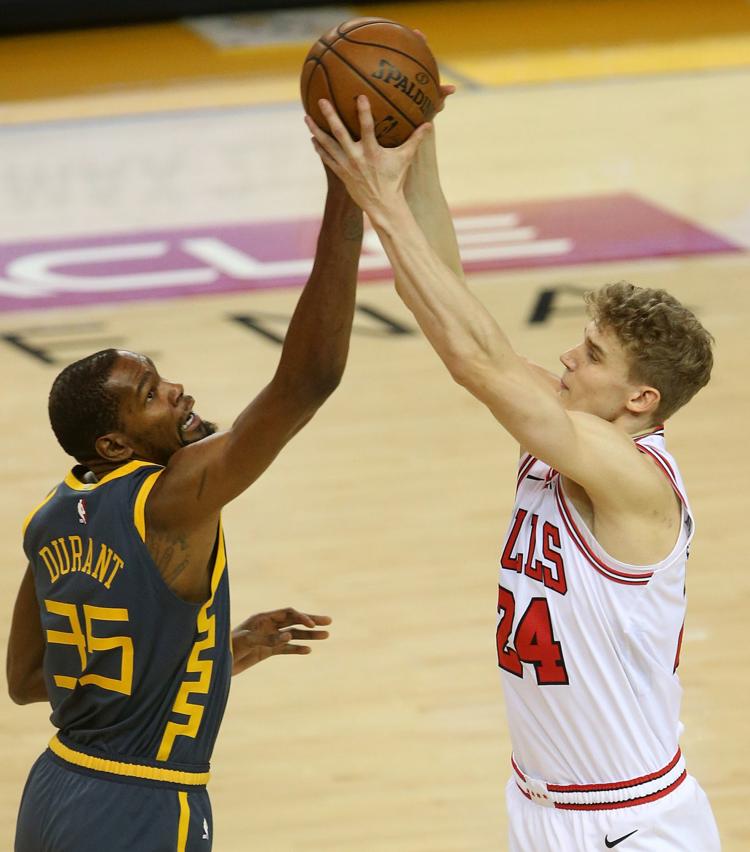 There's no doubt Markkanen accompanies the Bulls' plans. Chicago is trying to rebuild around a young core of players led by former UCLA guard Zack LaVine, former Providence guard Kris Dunn and Markkanen.
"We love him, and he's had some huge games for us this year," Boylen said. "He's still learning how to play with Kris and Zach and we're still learning how to get him involved as much as we can.
"I think the thing he's trying to do is trying to defend. He's trying to make the most of his opportunities. He can play with his back to the basket. He can play facing. He can drive the ball. He can shoot the three. He has a pullup game."
Similarly, Iguodala said defense is probably going to be the "last step" in Markkanen's improvement.
"He's going to continue to polish it up," Iguodala said. "If he can be constant defensively and take a stance to that end where he's going to be physically imposing, he's got all the tools to be pretty good."
Obstacles have made it tougher to improve this season. Not only are the Bulls adjusting to Boylen, but Markkanen also missed the first 18 games of the season with a right elbow strain. And even though Markkanen returned to score back-to-back 30-point games just before Christmas, Boylen says he's still not fully himself.
"I think he's still working his way back," Boylen said. "That was a very difficult injury and there's times when that thing's a little sore.
"It's healed, but it's still healing, if that makes sense."
In typical form, though, Markkanen has taken a philosophical approach to the injury.
"It's part of the game," he said. "It sucks, but I've had my good moments. I haven't been playing as well as I want to, but it's part of the game."
That's about as downbeat as Markkanen gets.
During a brief conversation with the Arizona Daily Star after a Bulls shootaround at the University of San Francisco last Friday, about the only other thing Markkanen even remotely expressed concern about was the long NBA trips and the pressure that puts on his wife, Verna, and their 11-month boy back in Chicago.
And that came only in the context of talking about how, as a Finn, he actually can appreciate Chicago's weather and how much he enjoys the place.
"Yeah, it's more like home but we're on the road so much," said Markkanen, noting that his parents sometimes fly over from Helwsinki to help. "Of course, Chicago is our home now and I love it. I have family here, so it feels good."
When there's trouble on the court, you won't hear Markkanen talking about that, either.
When Markkanen was asked last month if Hoiberg had lost the Bulls' locker room, he tried to deflect the question with a smile and said that's "a difficult question to ask."
Prodded for more, Markkanen said, "Obviously, the players are taking care of themselves and we talk about different stuff in the locker room, but I don't think we talk about coach's decisions or anything like that."
A Yahoo account of the exchange concluded simply that Markkanen is "clearly too nice to say anything negative on the record."
But Markkanen's polite nature isn't to be misunderstood for a lack of personality.
During his year with the Wildcats, Markkanen was known to be sneaky funny, and the world saw it last November when Markkanen appeared to troll Donald Trump in the wake of the California wildfires.
Trump claimed that the Finns prevented fires in part by cleaning their forest floors, so Markkanen responded by slyly combining his sense of humor with his passion for fighting climate change.
He posted a photo of himself on Twitter while holding a rake.
"Anybody need their floors raked?" Markkanen wrote, adding "#FinnishRakingSeason."
He then encouraged followers to join him in donating to a Red Cross site that was aiding those impacted by the fires.
The Bulls see that sort of humor all the time.
"Lauri's great, man," Bulls guard LaVine said.
"He's really funny. He doesn't talk a lot because he's from Finland, but he's a goofball. You never see him down.
"Just the other day we were going through plays at practice and it was early. NBA players don't like that sometimes. But he's just out there smiling and laughing, and it brought a smile to my face.
"That dude, I've never seen him mad. He's a great person, and a special talent. We need him."
While lining up next to Iguodala on the free-throw lane late in the Warriors' blowout of the Bulls, Markkanen even appeared to have the veteran former Wildcat smiling.
He has game, and personality.
Maybe that's the skillset that carries Markkanen far in the NBA.
"He's kind of got a little swagger to his game," Iguodala said. "I like it a lot."
Rim shots
Arizona and Washington both received eight votes in the Associated Press Top 25 poll Monday, while the Wildcats are rated No. 36 in Sagarin, No. 49 in Kenpom and No. 51 in NET. Among Pac-12 teams, Washington (38) has the highest NET rating, followed by Arizona and Oregon State (71), while ASU has slipped to 83.
OSU's Stephen Thompson picked up the Pac-12 Player of the Week award after averaging 25.5 points, 8.0 rebounds and 5.5 assists while shooting 50 percent in the Beavers' sweep of USC and UCLA. UA nominated center Chase Jeter, who averaged 16.5 points and 7.0 rebounds in a sweep of Stanford and Cal.