NEW YORK — For a point guard, everything starts up top.
And so it is for T.J. McConnell, Arizona's former floor general now in his third season with the Philadelphia 76ers.
When we last checked in with McConnell around this time last year, he looked like a new man. Then in his second season with the 76ers, his second in the NBA, he let his hair down a little. Or, at least, he let it grow out a bit, looking far more advanced in age than during his time in Tucson. Wiser, more mature.
A year later, his hair is even longer, so it's no surprise that during Philadelphia's Christmas Day game against the Knicks, it is giving him fits, not unlike the fits he's giving these Knicks.
We're minutes into the second quarter of the 76ers' Madison Square Garden matinee, and a mostly filled arena — the most famous of them all — is currently sneering at McConnell.
He's just led a precision fast break, slowing only to spot a trailing J.J. Redick over his right shoulder, and finding a wide-open Redick is like spotting a winning lottery ticket on the ground. Instant riches.
With the adept timing of a professional watchmaker, McConnell shovels a pass to Redick, who fires off an in-motion 3-pointer. Swish.
The 76ers, who've trailed for much of the early going, take a 3-point lead, their biggest since a 5-2 advantage less than three minutes in.
McConnell backpedals a few steps and brushes the hair out of his eyes.
So, first he flips the pass. Then then he flips his hair.
This hair, it's new, or, at least, it's different from the Arizona days when he kept it nice and tight up top.
It's just about the only thing about McConnell that's changed.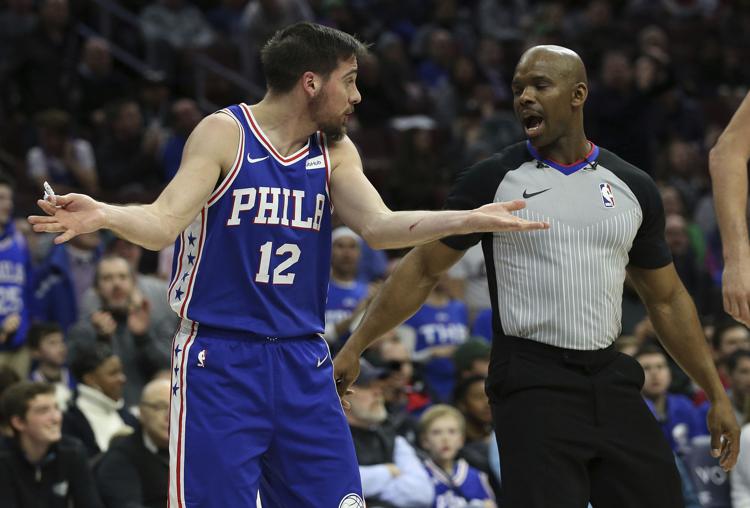 With 1 minute 38 seconds left in the third quarter of a tight game on Christmas Day, McConnell takes over.
First, a three-point play, as he hits a driving layup off an assist from Joel Embiid while drawing a foul from Knicks rookie guard Frank Ntilikina.
Then, after he catches an inside pass and lets the ball slip from his hands — too much residual hair gel, perhaps? — he corrals the ball and lets go a shot from just inside the free-throw line, which sinks in, just beating the 24-second clock.
On Philadelphia's next possession, he slinks quietly into the right corner and waits patiently for the ball to rotate over to him. It does, and he casually hits a 3-pointer. That makes it eight straight points for the former undrafted free agent.
McConnell, the well-paid, well-coiffed former Wildcats star, is having the kind of Christmas you dream about.
He'll go on to finish with 15 points, tying a then-season high, and in typical McConnelian fashion, he'll add five rebounds, four assists and two steals. The 76ers win 105-98, snapping a five-game losing streak and 1-9 stretch, and starting a 7-2 run on which they are currently, heading into Saturday's game with the Bucks.
"I think he was the MVP of the game," Philadelphia head coach Brett Brown will say after the game. "He wears his heart on his sleeve. I have sort of like a very antagonistic relationship with him; I coach him harder than I coach anybody else, and I'm just so proud of him coming out of left field, being in the NBA, staying in the NBA and now playing in the NBA. I mean, he played today. I thought he was the most valuable player today for us."
Their relationship is a sight to behold. Brown barks at McConnell and McConnell barks right back. It is a living, breathing embodiment of the kind of chatter McConnell had with Miller during Arizona games, all 78 of them, of which the Wildcats won 69 and lost just nine.
It is not unlike the on-court relationship McConnell shared with his father, Tim, a legendary high school coach back in McConnell's native Pittsburgh, where, at Chartiers Valley High, T.J. went 29-2 as a senior and earned all-state honors.
What's a little barking when it leads to wins?
"My dad did that, coach Miller definitely did that, and coach Brown does that," McConnell said. "It's the way I like to be coached. They get on me, it fires me up, and I go out and try to change the game. When you say they invest in me — I'm just as loyal. I have so much love for coach Miller, and coach Brown the same. I've been fortunate to play for some amazing coaches."
It wouldn't be a shock — in fact, it's darn near a probability — that one day he'll end up a coach just the same.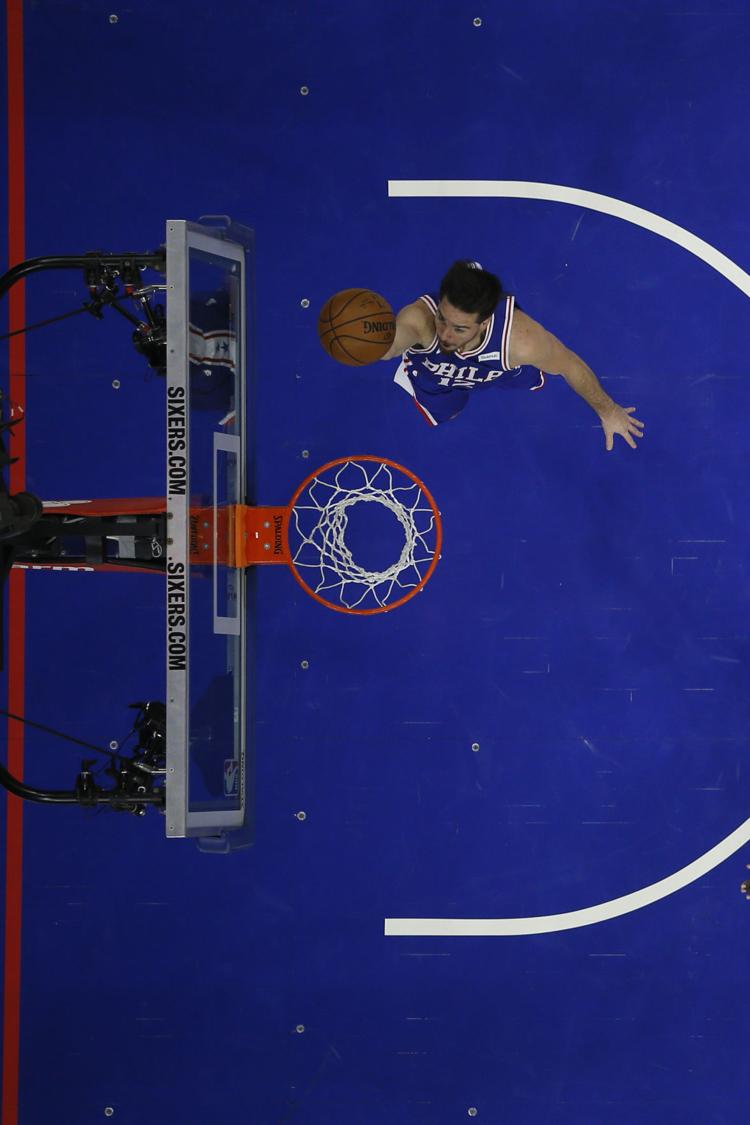 If one thing has changed about McConnell this season, it's his shot.
Or, at least, his confidence in his shot.
Midway through the fourth, he passes up what would've been a contested 3-pointer, instead gets himself wide open near the right post and shoots a jumper. He sinks it.
He'll head to the bench a half-minute later.
The No. 1 pick in the 2016 NBA draft, Simmons missed all of his rookie year with a broken bone in his foot.
His return this season — though heavily anticipated for Philadelphia fans who'd heard "Trust the Process" until their ears bled — was supposed to leave McConnell the odd man out. Though 6 feet 10 inches tall, Simmons primarily plays point guard for the 76ers, and Philadelphia happens to have another former Arizona point guard, Jerryd Bayless, as well.
McConnell is no fool. He saw the writing on the wall. After starting 17 games as a rookie and another 51 last year, McConnell knew that he'd have to add to his game if he wanted to stay on the floor.
So, this offseason, he shot, shot and shot some more. The result: McConnell has improved his shooting from 46.1 percent from the field last season to 53.5 percent this year. His outside shooting is drastically improved — from 20 percent to 43.2 percent — and his scoring is up nearly a point per game to 7.7, despite his minutes dropping from 26.3 to 24.8.
"Ben is here, and he is a special talent, so I needed to find a way to be on the floor," McConnell said. "I worked on my shot a lot this summer, trying to be more confident when I shot the ball. It's about confidence a lot in this league, and finding ways to stay on the floor, adapting to change, combining the confidence to know you're supposed to be on the floor, that you're good enough, that you put in the work, and knowing that you're still going to be that annoying player who never quits. That's a good combo to have."
When McConnell heads to the bench with 8:31 left in the game, Philadelphia leads, 86-79.
Minutes later, the lead is cut to 90-89, yet when McConnell re-enters the game, his instant impact is noticeable.
With 4:30 left in the game, McConnell wrangles a loose ball and in one motion, leaps and fires a pass to a streaking Simmons for the dunk to grow Philadelphia's lead to 93-89. On the defensive end, McConnell chases down Jarrett Jack to contest what would've been an open look at the basket, and he leaps with all his might, appearing to get his hand on the ball to deflect the shot, which misses its target.
A minute later, he finds Redick again for an open 3, and Philadelphia is once more up seven.
McConnell pumps his fist, but this time, there is no hair flip.
He may have scored 15 points on the day, but this could be his crowning moment. He has watched his scoring improve seemingly by the day, but McConnell still relishes the clean pass more than anything.
And after the game, Redick will say as much.
"He and I have a great connection," Redick said. "He tells me, as soon as he gets on the court, 'I'm only looking for you,' and obviously he's looking for other people, because it's not like he just plays buddy-ball with me. But it's an intentional thing for him, to create for other guys, and to make the right play consistently."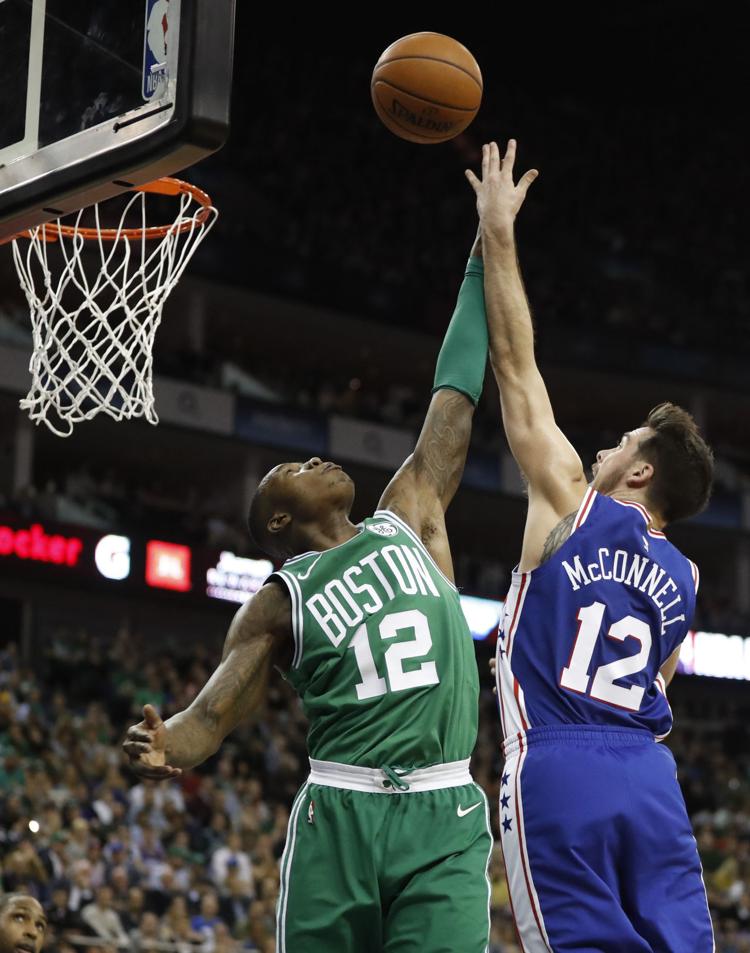 While McConnell's scoring is up, and his passing elicits raves from his teammates, his defense also has the 76ers raving.
McConnell is the fly buzzing near the cow's tail. He's the drop of paint on the otherwise pristine carpet. He's the alarm clock that won't stop ringing.
He is a nuisance on the court to an opposing guard, and if you thought that was going to go away after he left Arizona, you're far mistaken.
"That pressure defense, only a certain type of guy is willing to do that, first off," Bayless said. "It's very valuable. It disrupts the other team's offense."
It also sends a message to Brown and the rest of the 76ers coaching staff, and to the team's management, as well: This is a guy you want on your side.
"I'm still finding my way, and I'm never going to think to myself I'm here to stay," McConnell said. "The league can be tricky. I'm going to have that mindset that I'll fight every day to stay, and I'm going to have that every year. I don't want to change that about me. I want to be the same guy. My game can change, but I don't want to change the person I am on the floor."
That attitude is evident to the rest of the 76ers.
"He's always got to have that feeling like I don't belong," Redick said. "If you ever lose your edge, you're going to get eaten alive, and I think he knows that. He is an anxiety-ridden idiot during games. The things he says to me… But it's who he is. It's what makes him great. If he ever loses that, he's going to be in trouble, but I don't think he will."
That's quite the compliment from a teammate, and after his own Miracle on 34th Street, McConnell will get another one, from the player some are calling the best young point guard prospect in years.
"He killed it today," Simmons said. "He came off and gave us a lot of energy. Really, he was dominating when he was on the floor. There was one point where I said, "Just leave him out there, coach; you don't need me out there right now.'"
Seriously, is there a better compliment for a basketball player?