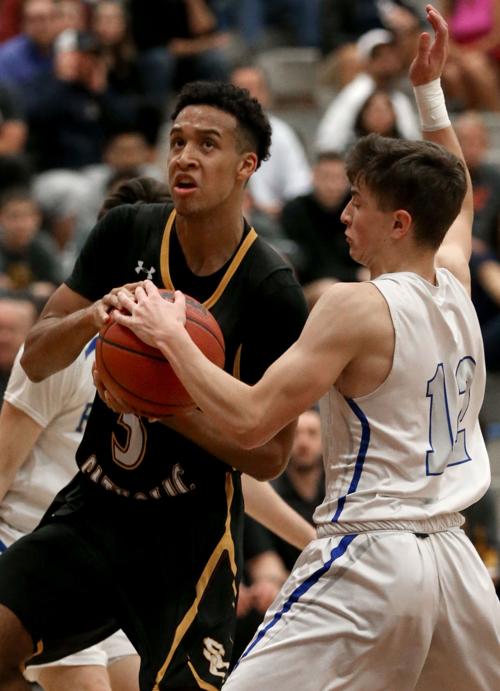 PHOENIX –Osasere Ighodaro may have mostly mid-major offers on his 247 bio, but it was easy to tell Saturday that the Arizona Wildcats are quite serious about him.
Not only did UA coach Sean Miller offer the Desert Vista forward a scholarship earlier this month, but he and two of his assistants showed up to watch Ighodaro on Saturday afternoon at Camelback High School, when Desert Vista beat Modesto Christian of California 58-54.
Another clue: Afterward, a small cluster of Arizona media showed up to talk to Ighodaro.
Ighodaro said he took an unofficial visit to Arizona earlier this month, and will probably return for an official visit at some point. He said he's also taking an official visit to Texas, with unofficial visits planned for Pitt and Penn in July, while Stanford and Vanderbilt are among the other schools he's interested in. He said he may look to make a decision before his school season begins.
Of his UA visit, Ighodaro said the coaching staff impressed him.
"Coach Miller's a really, really good coach and I've really liked the success they'e had in the past," Ighodaro said. "That stood out to me."
---
Salpointe moved to 2-0 while successfully matching up its smaller roster against a bigger team from St. John Bosco, winning 54-43 on Saturday afternoon. The Lancers are playing Riverside Poly this evening.
"Facing bigger teams like this one today, it's just tough on the boards as far as trying to get rebounds," Salpointe's Evan Nelson said. "But it just makes us have to engage more, box out. I actually think it works to our advantage because we get to run out, make reads and stuff that slower guys that we can't really guard, we can go by them."
Contact sports reporter Bruce Pascoe at 573-4146 or bpascoe@tucson.com. On Twitter @brucepascoe