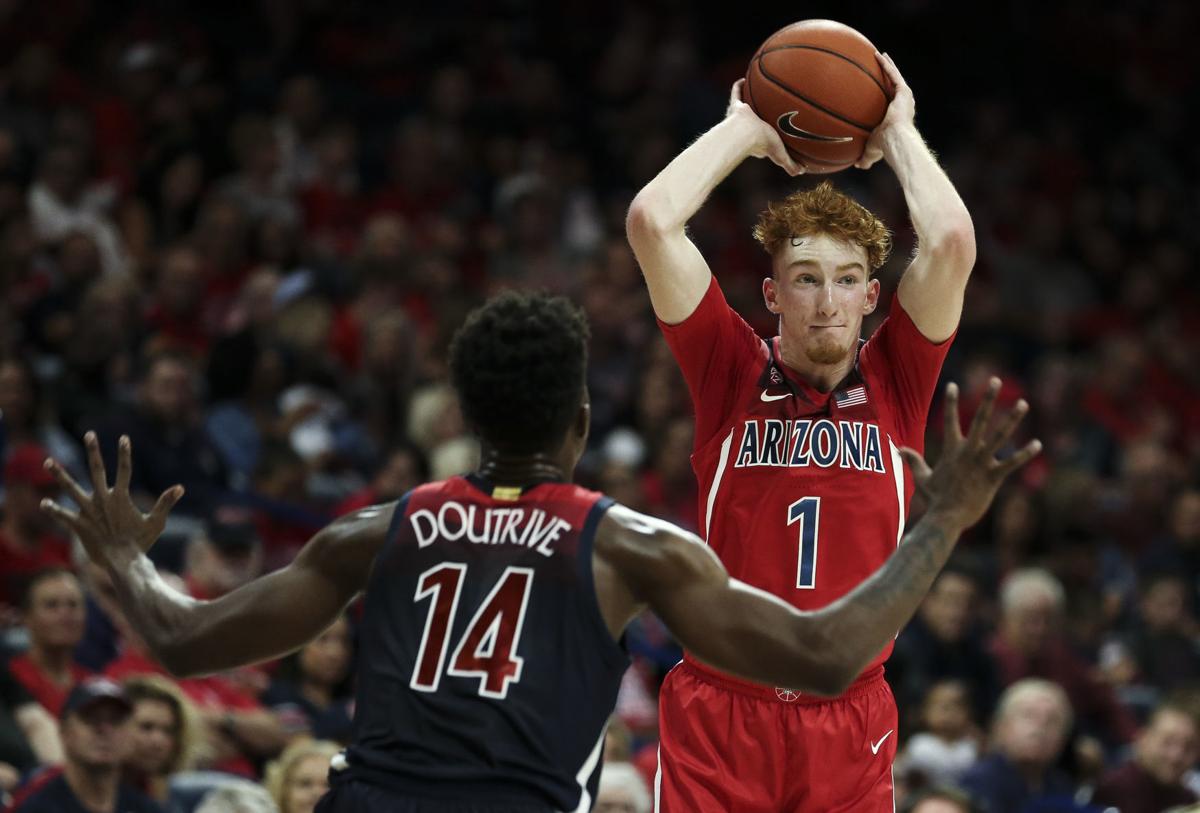 Pick out Nico Mannion on the court, and stare. It isn't hard.
Red hair, mad hops, vision, passing and shooting — all packaged in an Arizona Wildcats jersey labeled No. 1. Maybe it's all enough to lead the UA back into basketball relevancy after two-plus years of off-court investigations and forgettable on-court production last season, while an ensuing NCAA investigation continues behind the scenes.
Already, Mannion catalyzed the Wildcats' much-needed Top 5 recruiting class for 2019 and now that class is combining with a veteran core led by fifth-year center Chase Jeter to produce a team that is expected to challenge for the Pac-12 title and a long NCAA Tournament stay.
You know, the kinds of places the Wildcats are used to going.
Their new leader is just a freshman, yes. But age and size have never mattered much to Nico Mannion, born a preemie 18 years ago, declarable as a prodigy around third grade, collecting college scholarships starting in eighth grade and blitzing an elite trail through high school: Winning two Arizona state titles for Phoenix Pinnacle High School, playing for the Italian national team, and appearing in the prestigious McDonald's All-American and Hoop Summit games.
Blessed with considerable athletic gifts from both sides of the family tree, Mannion also has forged through it all with singular focus on the game and a comfort with the big stage.
So stare at him. It's nothing new.
"There's always expectations, but I mean, we really don't try to get into those expectations," Mannion says. "I try to stay away from those because I feel like those are canceled out when you prepare and work hard."
As a point guard, Mannion uses the word "we" more than "I," and he says the position he plays makes people look at him as a leader. But the attention is about more than that, and he knows it. He knew it as a high school freshman in 2016-17, when Sports Illustrated approached the Mannion family about spending time to report a high-profile, in-depth story that would considerably elevate his profile.
If it wasn't elevated already, that is.
"I talked to Nico before the article and we discussed, 'Do you want to do it?'" Nico's father, Pace, told the Star in 2018. "I said to him, 'If you do it, it just puts a bigger bull's-eye on your back.' He said, 'Dad, I'm a white kid with red hair. I've got a bull's-eye already. ... Everybody knows me. There's no hiding.'"
Pace said his son handled the extra attention well and in February 2017, a story entitled "A 15-year-old (sorta maybe) basketball prodigy" ran in Sports Illustrated, telling a detailed, personal story of how Mannion handled his athletic celebrity and adolescence while grounded by his two former professional athlete parents: Pace, an NBA role player who went on to star in Italy, and Gaia, a Rome-born former Italian volleyball player.
The way Nico tells it, both parents were of significant influence on and off the court. Maybe not in ways you'd expect.
While Pace gave Nico his steady approach and high IQ in basketball, it cannot be overlooked that his mother was a 5-foot-9-inch outside hitter in volleyball, elevating naturally to play a position that usually calls for a stature of at least 6 feet at the top levels of women's volleyball.
"She's obviously a great athlete," Nico says. "I mess with my dad when I say I got my bounce from my mom."
Nico said both parents have kept him grounded and taught him to stay humble, work hard and be himself.
Pace has been a constant around Nico during high school and club-playing days for West Coast Elite, while his mom's personality and life story helped instill a sense of resiliency.
"I don't know the details about it, but I know she started playing pro and moved out of the house when she was 15 years old," Nico says. "She's a very independent, strong woman. Played pro volleyball and kept playing until she had me, really. She's a big influence for me."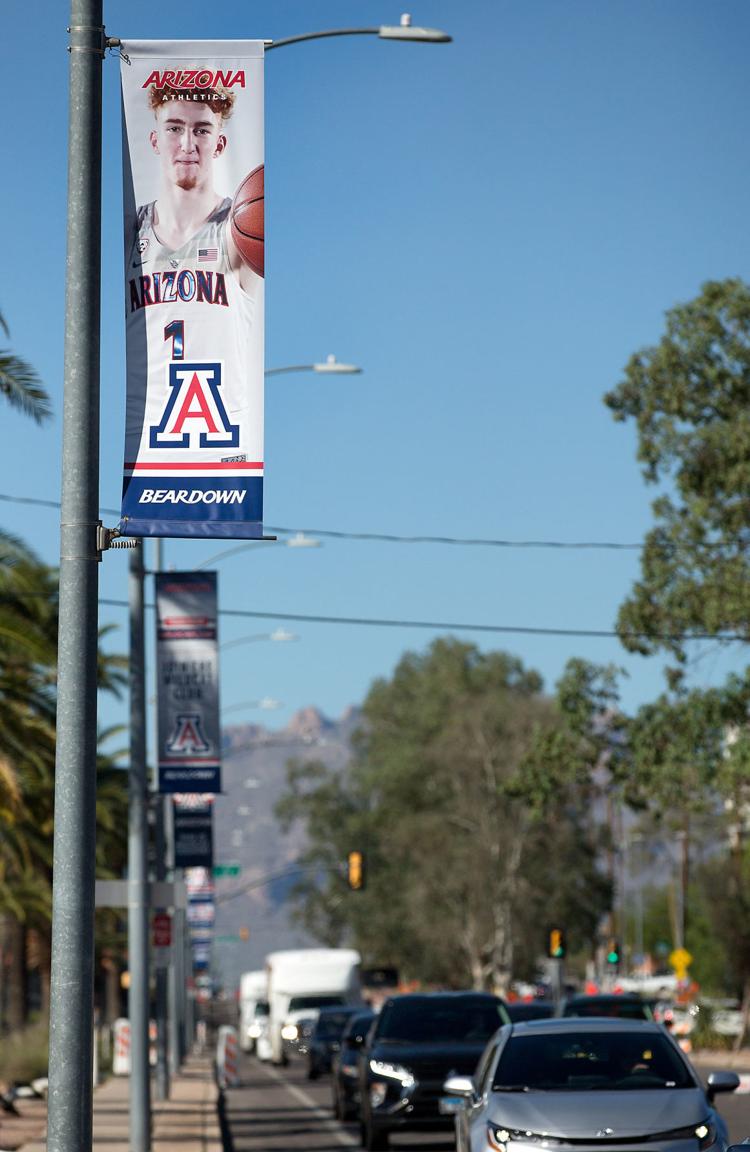 Gaia and Pace welcomed Nico into the world six weeks early in March 2001, less than a month before the UA's last Final Four appearance. He was born six weeks early and, some 14 years later, was still only 5-6 and 130 pounds, prompting Nico to repeat eighth grade.
"He's always been tiny," Pace said.
Three years later, in the summer of 2018, Nico and his family effectively reversed the decision to repeat a grade because, well, he was growing off the court and exponentially so on it.
One of the last players cut from USA Basketball's U16 team in 2017, Mannion instead opted to play U16 that summer with his birth country of Italy. He then led Pinnacle High School to the Arizona 6A title as a sophomore in 2017-18 and, in the summer of 2018, joined the Italian senior team for nearly a month.
Mannion was scheduled to return to Pinnacle as a junior in 2018-19 but, after he played a team-high 29 minutes for Italy while scoring nine points against the Netherlands in a FIBA World Cup qualifying game, two more seasons of high school just seemed a little less necessary.
"Once we saw that, we knew he could play at the college level," Pace said later that month. "The college game will never be as physical as what he went through over in Europe. They don't call moving screens and they let you hand check. It's much more physical."
Today, Nico still draws from the experience.
"When I came back, the game was kind of just a little bit slower for me," he said. "It sounds cliché, but going over there I was playing with pros every day on the men's team. These are guys that do this for a living. They're not in school anymore. All they're worried about is basketball.
"There's two practices every day and I got to match up with some of the best players in Italy. I mean everyone over there is smart. It's a little more athletic over here, but the details over there are just ... I was shocked."
Reclassifying meant Mannion skipped his junior season at Pinnacle, but he made the most of his remaining time there. The Pioneers repeated as 6A champs last February, with Mannion posting 34 points, eight rebounds, six assists and seven steals in an 83-64 win over Scottsdale Chaparral.
He had fun with it, too. During the Pioneers' postseason run, Mannion wore an black warmup shirt labeled "#overrated" to play along with the customary greeting he received from opposing students.
"That was just a little making fun of myself because everyone was saying that," Mannion said.
The funny thing is, Pinnacle coach Charlie Wilde says, sometimes the same fans who heckle Mannion also become his admirers. Mannion is just that kind of guy.
"People yelled at him and he would still take pictures with them after the game," Wilde said.
Not surprisingly, with the fans who support him, things can get crazy.
Wilde says Mannion was strongly influenced by once meeting a gracious Kobe Bryant outside a Salt Lake City arena — the superstar and the awestruck kid even exchanged a few words in Italian — and has since remained determined to pay it forward.
Sometimes this was a problem for the Pioneers. Wilde said it became a running joke that Pinnacle players would have to wait 10 to 15 minutes to ride a bus home because Mannion was always signing something or ducking into somebody's selfie.
"There was one time we did our 20 minutes on the court, then we were going out to the bus and one little kid didn't get a picture," Wilde said. "Nico said, 'Can we go back and take a picture with him?'"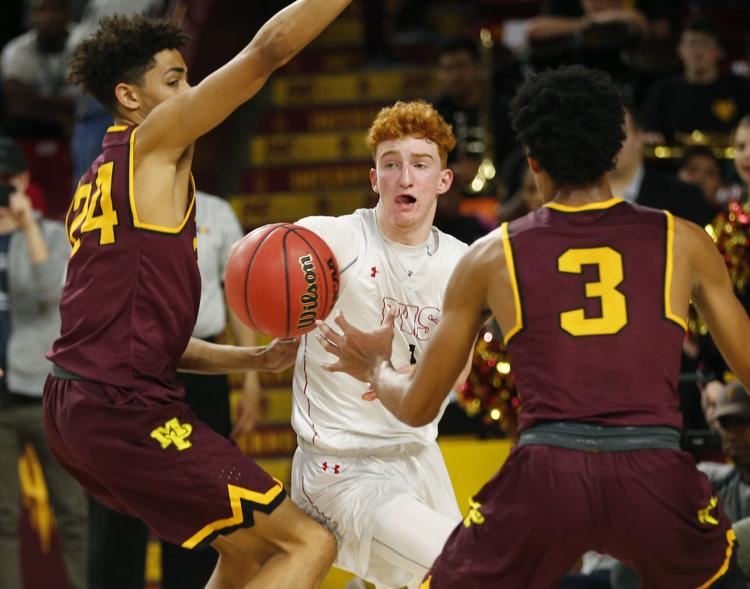 Of course they did. Then there was the time Wilde noticed Mannion wearing a worn pair of sneakers during a big tournament in Southern California — the sort of occasion that calls for one of many of Mannion's newer pairs — and tried to kid him about wearing the old ones.
"Nico says, 'Just wait,'" Wilde said.
Then, after the game, Mannion took off the shoes, signed each one and gave them to the twin children of a tourney staffer who had long taken care of the Pioneers' equipment at the event.
For players, too, Mannion has a Pied Piper quality about him that helped glue together the UA's Top 5 recruiting class.
Mannion committed to the Wildcats in September 2018 and was joined by five-star guard and good friend Josh Green less than a month later. Four-star forward Terry Armstrong and 7-foot Cameroonian Christian Koloko also signed last fall. Armstrong wound up opting for pro ball in Australia instead, but the UA received a spring signature from four-star Zeke Nnaji, who has been one of the Wildcats' best players in practices this fall.
Josh Gershon, a California-based 247Sports.com recruiting analyst who knows Mannion well, could see that effect coming.
"The perfect thing for (Arizona) is that Nico Mannion is that one guy that other high-level prospects want to play with," Gershon said in September 2018 after Mannion committed to the Wildcats. "It's an especially big deal in this class. And I say this with no disrespect to Nico, because he's a five-star player in any class, but it's historically a down year for point guards. He's probably the one guy in the class that other kids will want to play with.
"For Arizona, it's going to be something they can sell to other recruits. It's going to move the needle."
Now Mannion is expected to tie all that talent together on the floor, while working with UA veterans such as Jeter, senior wing Dylan Smith and grad transfers Max Hazzard and Stone Gettings.
To Green, Mannion is the exact sort of guy who can do it.
"He's true point guard," Green said. "There's not many of them any more, versatile guards playing in the point guard role. And he's a leader on the court and off the court as well."
The Wildcats have a chemistry-testing mix of four freshmen who are all attracting NBA attention and four fifth-year seniors, but Jeter didn't forecast any issues after getting to know the new guys in the summer.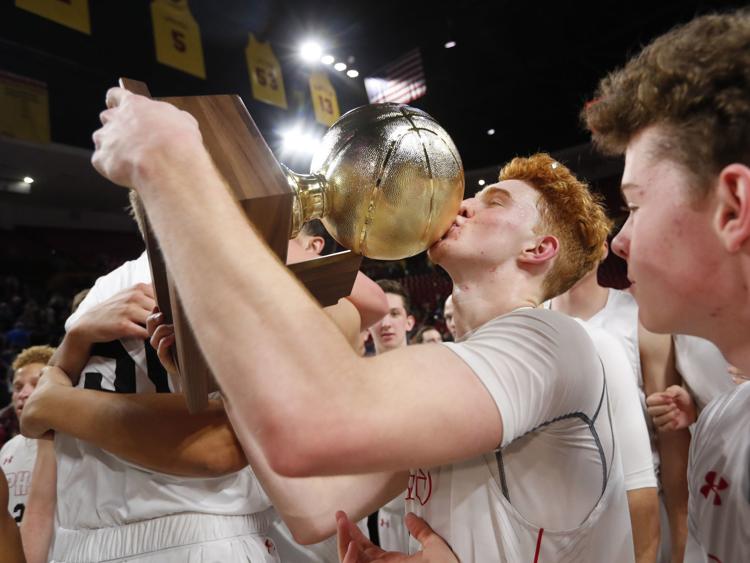 The Wildcats' starting center said Mannion and Green came in with "no egos at all," just with infectiously positive attitudes and strong work ethics.
Hazzard, who capped a three-season run at UC Irvine with an NCAA Tournament win last season, says his new team's disparity could also create a winning synergy, too, with older guys who can tap the considerable upsides of the younger ones.
"We have some guys that have done it before, and we have a lot of talented freshman who don't know what it's like," Hazzard said. "It's a good mesh of guys."
The Wildcats have a little bit of everything this season: A well-rounded point guard in Mannion; 3-point shooting from Hazzard, Dylan Smith and Gettings; the athleticism of Green and Devonaire Doutrive; plus a five-pronged post contingent that can hurt in different ways — Jeter's efficiency around the basket, Ira Lee's high motor, Nnaji's post skills, Koloko's shot-changing defense and Gettings' shooting.
"We're just a really well-rounded team," Mannion said. "We've got some new guys, some freshmen, but I think we mesh really well because everyone on the team is so versatile. We can play multiple positions, and guard multiple positions."
They just need somebody to help them tie it all together.
The Wildcats need Nico Mannion ... and, in a way, Nico Mannion needs them.
That's the equation that could determine how far Arizona ultimately goes this season.
"There's a lot of high expectations for him, and I have no doubt he'll meet those high expectations," UA coach Sean Miller said. "But he's still 18 years old and he's a small part of a big picture. He's going to need a lot of help. He's not going to be able to do it alone."