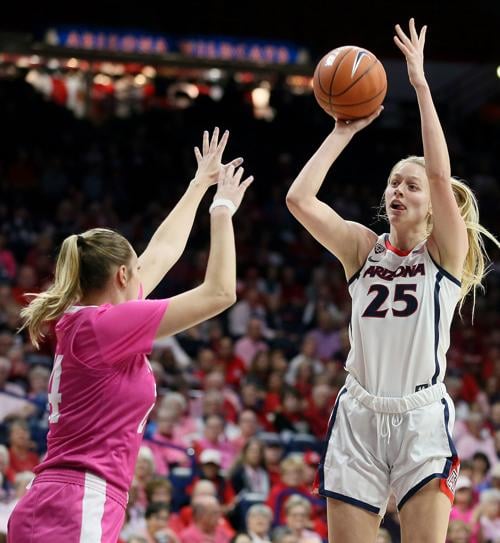 In the world of basketball, two seasons isn't that long.
However, for Arizona, the distance between the fall of 2018 and the fall of 2020 seems light years away. That's especially true for coach Adia Barnes' two highest rated recruits, Cate Reese and Lauren Ware.
When Reese was a freshman, the Wildcats were picked to finish 10th in the Pac-12. They hadn't been to the postseason in years. Then they surprised everyone by finishing the season as WNIT Champions.
This year, Ware's first as a Wildcat, is completely different. Arizona has been picked to finish second in the conference and is one of the top teams in the nation, sitting at No. 7 in the AP's preseason poll. The Wildcats are no longer surprising people.
That's quite a leap, meaning the freshman experience for Reese and Ware — two five-star post players — will be quite different.
"It helps Lauren tremendously that Cate laid the foundation," Barnes said.
"When Cate decided to choose Arizona, people thought we'd never be good, and she's grown with us. And now she's paved the way for players like Lauren.
"I think it's different for both of them. It's hard when no one thinks you can be successful. You get overlooked a lot. On the flip side, now there is more competition as better players have come in, so now you have to earn your playing time."
High expectations surrounded both players when they came to Arizona. The 6-foot-2-inch Reese was Arizona's first-ever McDonald's All-American, rated as the nation's fourth-best post player and 14th-best overall prospect by ESPN as a high school senior.
The Texas native already had offers from schools in her home state when she visited Arizona. Once Barnes shared what was trying to build and how Reese could be a part of that vision, the prospect was sold. Reese didn't take any other visits.
Reese started as a true freshman. While she had high expectations for herself, Reese said didn't feel any extra pressure.
"I knew wherever I was going to go, I wanted to be an impact player. I wanted to be able to come in and be who I was from the start and not be a role player — that was really big for me," Reese said. "I always thought (that) wherever I went, I would be able to help the team. And I definitely think coming to Arizona was a really good choice, because I helped the team immediately.
"Coming in as a five-star (recruit), you have so many expectations and it can be a little intimidating. I think Lauren's done a great job of coming in and handling all of that."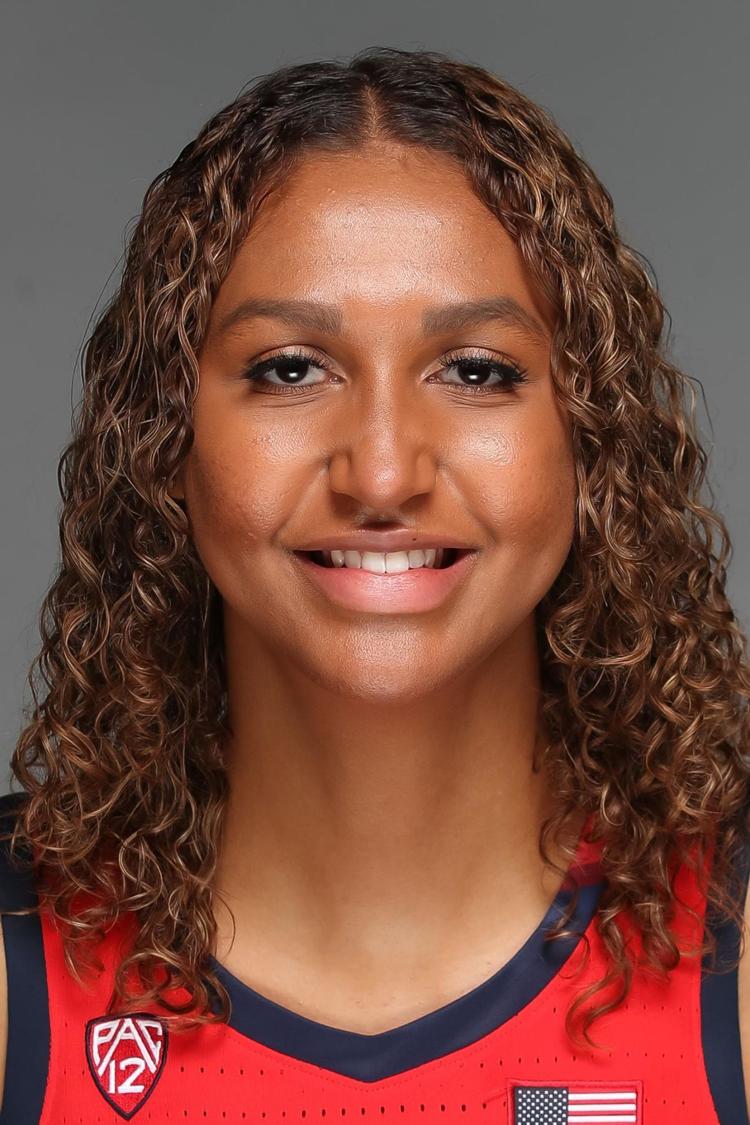 The 6-5 Ware was rated No. 3 among post players and No. 26 overall by ESPN as a high school senior. She was named North Dakota's Player of the Year twice. Had Ware not torn her ACL before her senior year started, she would have won three in a row and likely would have earned a McDonald's All-American nod. Ware was also rated a Top 50 recruit by Prep Volleyball; she expects to be playing both sports at UA starting next year.
Ware knows the focus this season won't be solely on her — not with the talent on Arizona's roster. She won't start right away, a reflection of how much the UA has improved in just two years.
Ware's learning curve will be steep. That's one of the reasons why she decided to play only basketball as a freshman. But Barnes said Ware has been a sponge, trying to take everything in and quickly apply it.
"Coming in as a freshman to a program that is ranked so highly, you think a lot of people would be intimidated or scared of making mistakes, but I was more eager to learn. It was something I was excited about — especially (learning) from Coach Adia and the players," Ware said. "I wasn't really scared when I came in because they were all so welcoming and I felt really close and connected to the team."
Ware is also getting help from Reese on everything from footwork and balance to reading defenders. She called Reese a "second coach on the floor and a role model."
"Competing against her every day in practice is something that is going to make me a better player. In games it's going to be easier for me, because I'm going up one of the best players in the Pac-12, possibly in the nation," Ware said.
"(Reese is) really good at reading the defender and making really quick moves. That's something she's helped me with. It's keeping my moves simple and having one go-to move … she basically has helped me out with everything."
Ware and Reese will surely find themselves in the same rotation at times during the season. Their pairing could give the Wildcats a long, athletic, intimidating look — something that seemed impossible just two years ago.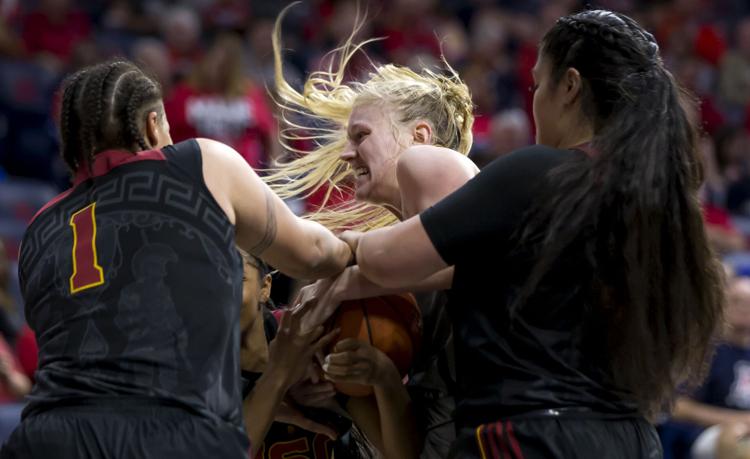 "Both are so talented," Barnes said. "Cate is really aggressive and has that wants-to-score mentality. You can't teach that. Lauren is bigger and plays inside more. She's a better shot blocker, has good hands and good timing. She also shoots better around the basket. What's impressed me with Lauren is she has such a soft touch. She's going to be really good.
"Cate is so competitive. … She wants to win every single day. I love that she wants it. She is a better defender and is shooting better with her right and left. It's fun to watch and I see the difference from last year. It's clearly evident. I knew Cate would be better, but I didn't expect her to improve so much — she has such a fire. I love it."