SCOTTSDALE — Spectators flocked to Chaparral High School gymnasium Friday night to watch the Hoophall West high school basketball showcase between Scottsdale's Bella Vista Prep and Ohio's Spire Institute.
It was the definition of hoopla.
The gymnasium was full before either team took the floor for warmups. Scottsdale police stopped allowing people inside a few moments before tipoff, meaning fans — some of whom paid $15 to get in — were forced to watch through a door.
Bella Vista's Terry Armstrong soaked it in. The future Wildcat wore a navy blue Arizona shirt during warmups, then scored 14 points in an 85-69 loss to Spire and its standout player, LaMelo Ball. Lavar Ball, LaMelo's father and basketball's biggest lightning rod, brought the whole family — except for Lakers guard Lonzo, that is — to the event. The Balls were followed by cameras for their Facebook reality show, "Ball in the Family."
"It was a big crowd," Armstrong said. "It could intimidate some kids, but I was ready for it. … Coming in, I knew it was going to be crazy because I watched the YouTube videos and I've seen (Ball) play for a long time so I knew it was going to be crazy."
Armstrong better get used to the large crowds. Starting next fall, Armstrong's home venue will hold 14,000-plus fans. The old arena could swell next season, when coach Sean Miller debuts a freshman class considered one of the best in the country. Armstrong is expected to join five-star Phoenix guard Nico Mannion and Aussie wing Josh Green in the backcourt. Christian Koloko gives the UA four signees; a fifth player, forward Zeke Nnaji, has verbally committed but cannot sign a letter-of-intent until the spring signing period.
"I think I fit in well," Armstrong said. "We're gonna go in and have a great year."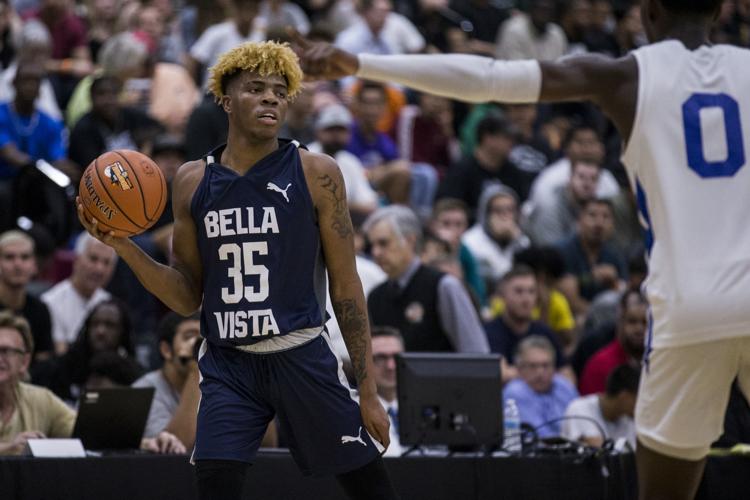 Originally from Michigan, Armstrong is a 6-foot-7-inch, 185-pound guard who can both drive to the basket and create his own shot. His length and aggressiveness are what made UA head coach Sean Miller want him for next season.
"It's not that he does one thing well; it's the versatility that jumps off the page when you watch him," Miller said. "The best has yet to come."
Kyle Weaver, Armstrong's current coach, can attest to that.
"They're getting a 6-7 athletic guard that is freaky," Weaver said. "He's a guy that can attack you down the lane, can hit a jumper and a guy that's a threat to throw lobs. He's a guy that contests every shot around the rim and runs on fast-breaks. He's like LeBron James where he can go up and pin a shot. They're getting a great kid and a great player."
Armstrong said he models his game after two-time defending NBA Finals MVP Kevin Durant. He wears No. 35, just like Durant, and will wear the number at Arizona. (Koloko also wears No. 35; Armstrong said the two settled the number dilemma over a group text.)
"Sometimes, I play like KD," he said.
While Armstrong doesn't compare to the 6-11 Durant in terms of height, he could have a similar role on the wing next season. Armstrong is listed as a shooting guard, but can play either wing spot. Green is in the same boat, but vice versa. He is being recruited as a small forward, but could get minutes a shooting guard.
"It doesn't really matter. We both play well on the wing," Armstrong said.
Armstrong and Green joins a crowded group of wings on Arizona's roster. Typically, a backcourt is made up of two guard. Arizona and Miller have so many options at guard that the small forward position has meshed into the backcourt. Brandon Randolph, Arizona's current small forward, was recruited to play shooting guard. So was Dylan Smith, who comes off the Wildcats' bench.
Randolph and Smith could both return next season. The backcourt rotation could include Mannion, Brandon Williams, Green, Randolph, Smith, Alex Barcello and Devonaire Doutrive.
Armstrong will fight for minutes, but he's not thinking about how much time he'll see as a freshman. He's got one task on his mind.
"I'm gonna come in and help the program win a national title," he said. "Me, Nico and Josh."