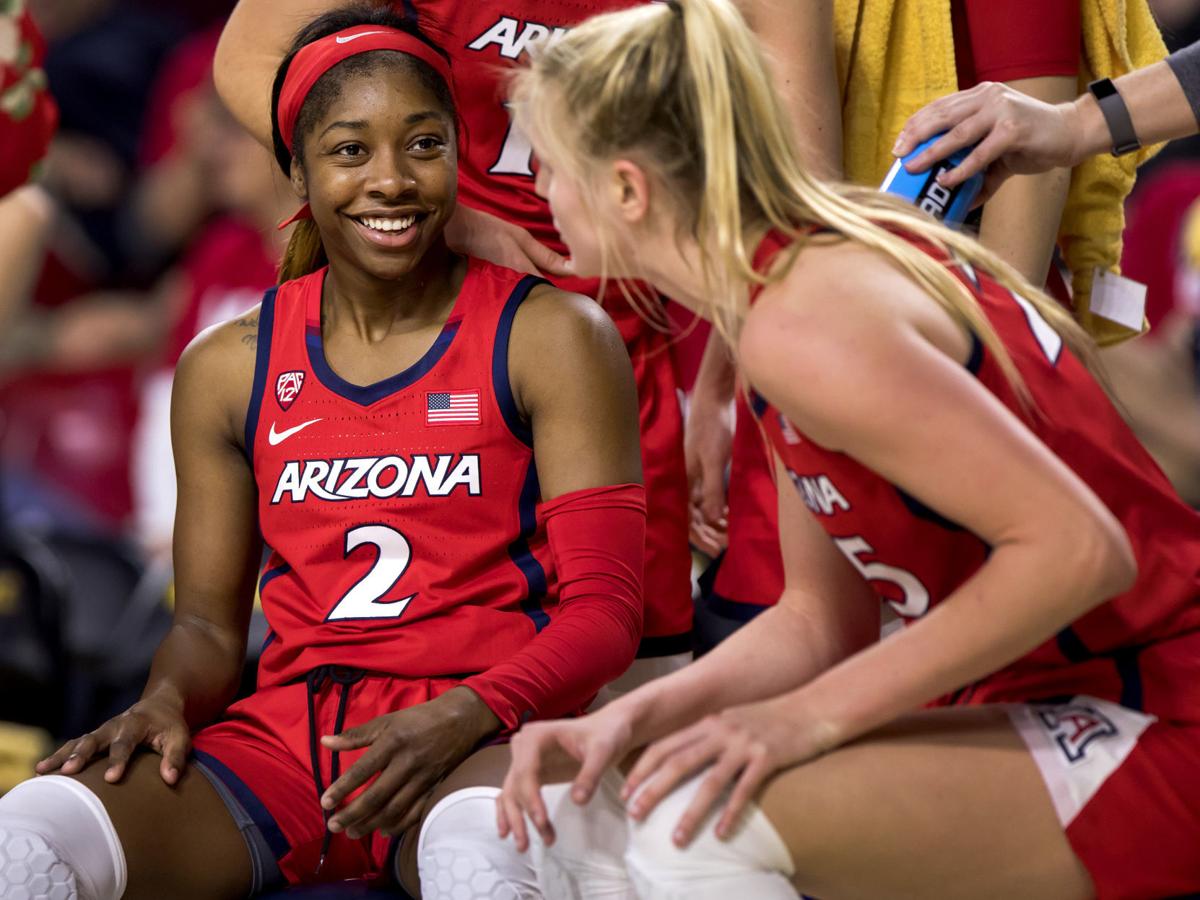 Arizona is in offseason mode — well, sort of.
In a regular offseason, the Wildcats would get their mandatory two weeks off, then it would be back to skill development. And, when they went home for a few weeks after school ended, they'd bring along a customized training schedule.
However, with the abrupt end to the season and gyms closed all over the world due to the coronavirus pandemic, the players are sitting at home without a formal plan.
That's not the only thing that seems a little different: The transfer portal is filling up by the day.
Bryce Nixon announced last week that she wasn't returning to Tucson for her junior year. She is just one of what seems like many in an uptick of players transferring. Auburn is losing five players, Nevada is losing four and Maryland, which finished No. 4 in the nation, is losing a pair.
UA coach Adia Barnes said that finishing ranked No. 12 in the nation makes "standards and expectations so much greater."
In a season of firsts there were no expectations, only hope. From here on out that all changes.
The biggest question for the Wildcats is will second-team All-American Aari McDonald stay?
She graduates in May and took part in the team's Senior Day festivities, yet she has one year of eligibility left. She can enter the WNBA draft, which is scheduled for April 17. The deadline to declare for the draft is April 7, although, those dates could change. Nothing is certain in the sports world anymore.
Before heading into the Pac-12 Tournament, McDonald said she would wait until after the Wildcats had stopped playing in the postseason to make her decision.
"I've got to weigh my pros and cons," she said, "but right now I'm just focused on the Pac-12 Tournament and the NCAA Tournament."
One of the biggest pros to McDonald staying is that she can finish what she came to Arizona to do — put the program back on the map on the national stage.
If she came back for 2020-21, she would be the most recognized face in the Pac-12 on a probable preseason top-10 team. And she would get a chance to play in the NCAA Tournament with UA for the first time.
With the star guard in the lineup the Wildcats are expected to make another big leap. In each of her two seasons at Arizona she has been dominant.
She set an Arizona scoring record (890 points) for both men and women in 2018-19 and she's become one of the top all-around players in the country on both ends of the court.
Mix in another elite guard in Oklahoma transfer Shaina Pellington, who sat out this season helping the Canadian national team qualify for the Olympics and was the 2018 Big 12 freshman of the year, and the Wildcats could be a force.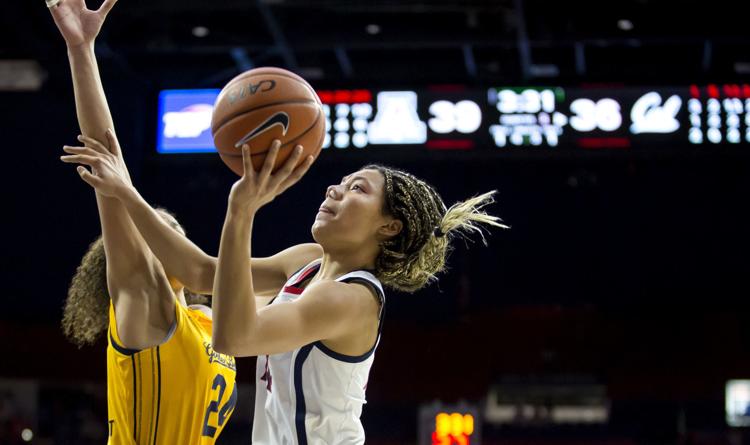 "Shaina will be one of the most competitive players on the floor; Aari is competitive and Shaina is definitely at the same level," Barnes said.
"She is a slasher to the basket, another ball handler and creates shots for herself and others. It's a huge advantage that she can create shots for Aari. No one can do that now. We will have one of the best backcourts in the country."
In two seasons at Oklahoma, Pellington averaged 13.1 points and 3.1 rebounds per game on 46% shooting in 25.5 minutes per game. During the qualifying event for the Olympics in February she averaged 6.7 points and 3.7 rebounds in three games.
Another addition to Arizona that fits the aggressive competitive style that Barnes likes is Indiana transfer Bendu Yeaney, who verbally committed last week.
The junior guard sat out much of this season with an Achilles injury, and played in only six games.
In her sophomore year with the Hoosiers she averaged 9.7 points, 4.1 rebounds, 1.5 steals and 2.4 assists and started 33 of 34 games for an NCAA Tournament team.
It won't be known for a while if she will play in 2020-21 and if she will get another year of eligibility. The NCAA was expecting to vote on a rule change that would allow letting transfers play right away the first time they move to another school — before the coronavirus hit.
Yeaney said that she would appeal for a waiver if this isn't changed. Like McDonald, she brings a relentless mentality on both ends of the court.
The Wildcats also have three commits coming in: post player Lauren Ware, who will play both basketball and volleyball; power forward Marte Garcia from Spain, who was a past teammate of current Wildcat Helena Pueyo; and Turkish guard Derin Erdogan.
Both Garcia and Erdogan have played for their national teams.
For the returnees, expect more of the same from Sam Thomas, who is as consistent as it gets.
Barnes said that Pueyo will make a big sophomore jump like her teammate, Cate Reese.
Reese will be even more of a presence inside as a junior. Semaj Smith should keep evolving into a powerful center.
With skill development being one of the UA coaching staff's strengths, this summer should bring growth in the play in this year's freshmen — Mara Mote, Sevaal Gul, Tara Manumaleuga and Birna Benonysdottir.
It's not all good news. UA will have to replace senior Dominique McBryde. McBryde did so much for the Wildcats and turned into the team's X-factor with her leadership and knowledge of the game.
It most likely will take a combination of players to replace her.
And if McDonald leaves, Arizona will need someone to take on point guard duties, not to mention everything else she does for the Wildcats.
With so much up in the air at the moment, one thing remains clear: Barnes keeps bringing in top talent and no matter what the lineup looks like, expectations will be high next season.
Be the first to know
Get local news delivered to your inbox!