Editor's note: This article is part of the Star's 2018-19 college basketball guide, which ran in Sunday's paper.
Sean Miller's message at Pac-12 Media Day was basically, "Well, I think it's the first time I've come to Pac-12 Media Day and not been favored or co-favored in some time, and most of the time, those predictions came true."
This time Arizona is predicted to finish No. 4. That's like Oklahoma being picked behind Texas Tech, Kansas State and TCU in Big 12 football.
"We're not ranked," Miller said. "We're not predicted to win anything. A lot of people don't think we're going to be very good."
Miller's job is to make sure those predictions don't come true, but let's be serious. If the UA's history and tradition weren't involved, the Wildcats would've been picked No. 7 or maybe lower.
Arizona's five returning rotation players — Dylan Smith, Alex Barcello, Emmanuel Akot, Brandon Randolph and Ira Lee — combined to play 23 minutes and score a mere seven points in Arizona's first-round NCAA Tournament bust against Buffalo.
Chase Jeter, the UA's presumptive starting center, last played in a college basketball game on Jan. 14, 2017. Jeter didn't make a field goal in his last 63 minutes as Duke's backup power forward.
Point guard Justin Coleman, already voted a captain by UA teammates, last played in a college game in the 2018 Southern Conference Tournament opener. Coleman started at point guard for 10-22 Samford, which lost to a 9-22 Tennessee-Chattanooga team.
Power forward Ryan Luther last appeared in a college game on Dec. 9, 2017. He injured a foot that day and missed the rest of the season. At the time of his injury, Luther and his Pitt teammates had already lost to Navy and Montana, and had beaten no team better than Lehigh and Duquesne.
New assistant coach Justin Gainey last coached a game for Santa Clara in the 2018 West Coast Conference Tournament. The Broncos, 11-20, lost to a 6-25 Pepperdine team that fired its coach a week later. Pepperdine hired UA assistant Lorenzo Romar, creating an opening on Miller's staff.
New assistant coach Danny Peters last coached in the first round of the Mid-American Conference Tournament, where his Ball State team lost to 15-16 Kent State before a crowd of 2,023.
That's not a lot to build upon.
It's not like introducing Deandre Ayton or Mike Bibby or a Final Four assistant coach like Jim Rosborough to the Pac-12.
Yet it's likely Arizona will average at least 13,000 fans for the home season — the UA hasn't dipped below that figure since 1987 — and no team in the league will arrive at McKale Center thinking the Wildcats "won't be very good."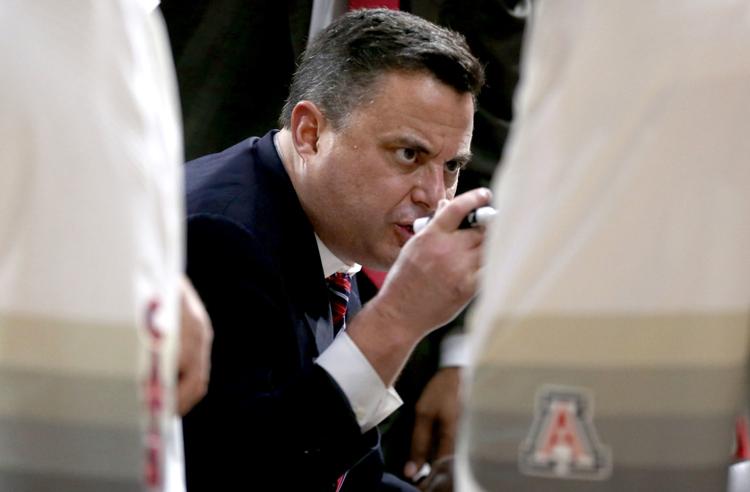 Much of it is obvious. Coleman, Luther, Jeter, Randolph and Akot project as serviceable Pac-12 players. Maybe they won't make the all-conference team, but they would be useful players on any campus in the country.
Freshman combo guard Brandon Williams appears to be a difference-maker. Maybe not in November, but someday soon. In his final high school game at Encino, California's Crespi Carmelite High School, Williams scored 43 points against Chino Hills. A few weeks earlier, he scored 52 against Mission Hills' Bishop Alemany.
Williams was asked to play at Kansas, Virginia, UCLA and Gonzaga, and he's not an undersized, win-with-grit guard. He was the 2017-18 Los Angeles player of the year.
So, no, this isn't like starting over the way Lute Olson did in 1983-84, or even the way Miller had to scramble in his first Arizona season, 2009-10. Miller built a team around veterans Nic Wise, Kyle Fogg and Jamelle Horne — none of them NBA timber — while wondering how long it would take freshmen Derrick Williams, Solomon Hill and MoMo Jones to become big-game worthy.
It took a full year. That team went 16-15 and somehow found a way to finish fourth in the Pac-10.
This team has more resources, and the Pac-12 of 2018-19 isn't anyone's idea of factory full of future NBA players. No team is ranked in the Kenpom.com Top 25, but the league is certainly more challenging than it was in Miller's first Tucson season.
The Pac-10 in 2010 was won by a 24-11 Cal team, which had the conference player of the year, Jerome Randle. Randle went undrafted and has never played in the NBA. Arizona State finished second that season, 22-11, and was not invited to the NCAA Tournament.
The league is better now but lacks a killer team. Winning on the road will be extremely difficult for Arizona and for everyone. Even a night at Oregon State's Gill Coliseum will be imposing because the Beavers have three players who could start for most teams.
Miller trotted out the old "I think we can play with a healthy chip on our shoulder" line at Pac-12 Media Day.
"If you see us become successful, it will be because we're a team, we play together, we play with great effort, that we have, like, no ego, and that we're a fun team to watch, a fun team to be around."
Those words — "if you see us become successful" — haven't been used at McKale Center since 1983.
This year, for the first time in decades, expectations for Arizona basketball are optional.
---