In the 20 years since Don Haskins retired, UTEP's once-grand basketball program has blown through six coaches, down-sized to the god-awful Conference USA — how would you like to play Old Dominion and Florida Atlantic instead of New Mexico and BYU? — and faded from public consciousness.
When Arizona sophomore Brandon Randolph scored 21 points in a 79-46 victory over UTEP on Wednesday, I truly wondered if Randolph's old high school team could've beaten the Miners, too.
In his senior year at Westtown High School in West Chester, Pennsylvania, Randolph was a teammate of 7-foot Mohamed Bamba, the No. 6 overall pick in last year's NBA Draft, and Cameron Reddish, now a Duke freshman projected as a June lottery selection.
If you reunite Randolph and his old Westtown Moose teammates with two guys named Joe, the Moose might give the Miners more of a battle that UTEP gave Arizona at McKale Center.
For 20 years, the much-anticipated UTEP-Arizona rivalry at Bear Down Gym and McKale Center had a can't-miss component. Haskins — "The Bear" — was viewed as Public Villain No. 1, a testament to the respect and fear UA fans had for the Miners and their Hall of Fame coach.
Don Haskins was one of the few in the coaching business who had the secret sauce.
Sean Miller never had the opportunity to play nor coach against Haskins, but he exhibits many of the characteristics that helped Haskins win 14 WAC championships and the 1966 NCAA title.
Miller is a tough son of a gun whose teams play defense first and ask questions later. As a game coach, Miller is thunder and lightning; his face turns red, he sweats through his shirt and you'd swear his eyes are going to burst from their sockets.
Similarly, Haskins was such a game-day competitor that he sometimes had to return to the locker room to calm down and get treatment for the pain in his gut.
That's the side of Miller that Arizona fans have seen for nine years. The Bear side. The pain-in-the-gut side.
But in recent days, the UA has lifted the veil and given its fans — the basketball program has more than 245,000 Twitter followers — a look at a different Sean Miller.
It released an 8-minute video of Miller and sophomore Emmanuel Akot alone in the locker room, breaking down Akot's good, bad and in-between.
It was a Sean Miller that most of us have never seen.
"What's the favorite thing in your mind about playing for Sean Miller?" the coach asks.
"Definitely the defensive end because of the energy," says Akot. "Everyone is engaged and having fun with it."
"They say I spit sometimes when I talk in the huddle," Miller says. "Is that true?"
"It depends on how angry you are," Akot says.
There is no anger in the locker room film session. Miller speaks in soft tones, always on point, reassuring rather than demeaning.
It's a tutorial on how to use positive reinforcement and I'm sure the UA plans to use the Akot film session — and an earlier one with Dylan Smith — as a recruiting tool. Every parent of a potential UA recruit will be impressed.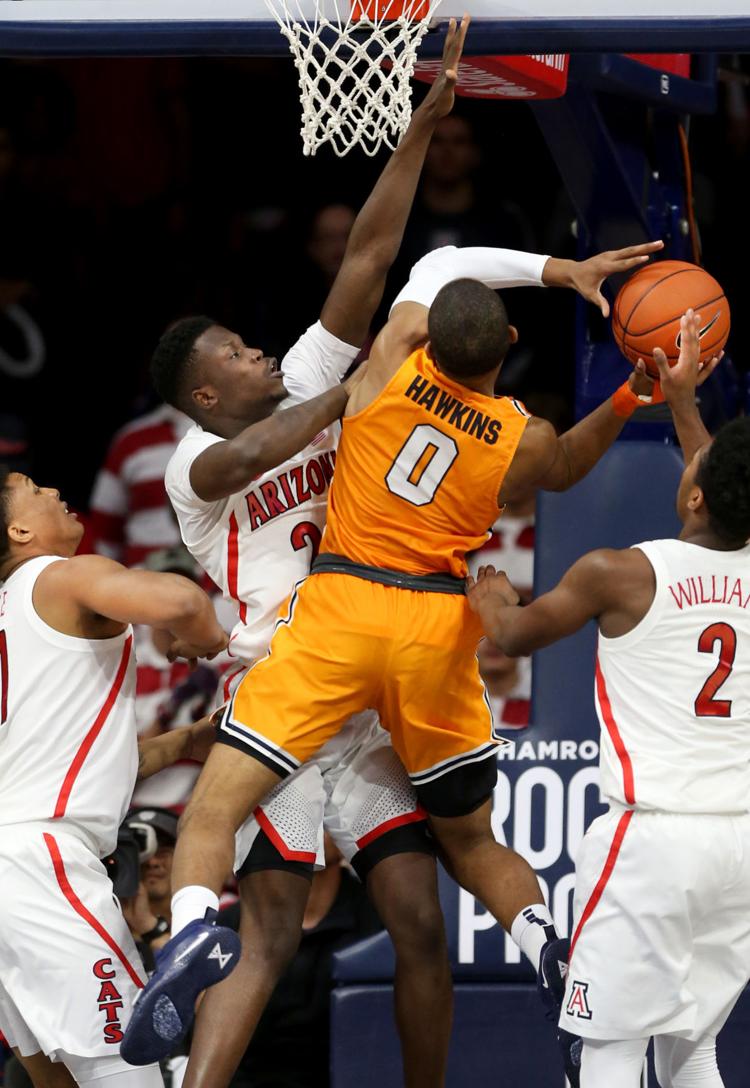 Akot and Smith, the first two Wildcats off the bench, are sometimes the two in Miller's rotation who don't always play with confidence. But in the video, Miller never says "you messed up big time here" or "what were you possibly thinking there?"
He finds a better way to teach.
"Today I want to show you a number a things I think you do really well, and a couple of things I think you can improve on right away, the next game," Miller says. "We value your ability as one of the best defenders on our team."
Akot nods. He's probably thinking: Maybe this won't be too painful.
Miller goes to a video in which Akot seems tentative on a fast-break situation and shoots a 17-foot jumper, which, in modern basketball, is verboten.
"Instead of shooting a 2 from there, I'd rather you shoot a 3 or go to the hoop," says Miller.
He forwards the video to plays in which former All-Pac-12 players Aaron Gordon and Rondae Hollis-Jefferson were faced with similar choices.
Both bolted aggressively to the hoop and scored.
"I think you can do more of that perimeter-to-post action," says Miller. "If you make one 3 out of three, that's a great deal for our team. Heck, I'd rather you go all the way to the basket; make one more pass. You make our team a lot better when you do that."
For Akot, it's like sitting in a dentist chair expecting a sting, but the dentist says "you're good; you should smile more."
Miller uses the same approach in his film session with Smith, who was coming off a 1-for-12 shooting performance in games against Chaminade and Houston Baptist. But Miller says nothing about forcing a shot, being selfish or sticking the offense.
Instead, Miller praises Smith for rebounding and defense. He shows Smith a video in which he sprints back on defense and draws a charge.
A few days later, Miller created a series of six awards that don't make the box score, including playmaking, hustling, defense and screening. Smith won four of the six awards.
Miller doesn't mention the 1-for-12 shooting.
Two days later, his confidence rebuilt, Smith swished four 3-pointers and grabbed seven rebounds in just 19 minutes against Houston Baptist.
The message got through. Miller surely scored big with thousands of Twitter followers who watched him shine — a Coaching 101 clinic in which he treated Akot and Smith the way you'd want him to treat your son.
In basketball, a bear does not always have to roar to be a winner.