A record crowd of 4,650 squeezed into Bear Down Gym in January 1951 to watch Arizona play No. 2 Long Island University, the first-ever ranked basketball team to play in Tucson.
The game was delayed 15 minutes to get everyone situated, although 21-year-old Charles H. "Chuck" Whitehill, a former cabana boy from Queens, New York, had been in his seat behind the LIU bench for an hour.
"Oh, boy did I give (LIU coach) Clair Bee a rough time," Whitehill says now. "I kept it clean, but, boy, I'll never forget that night."
Arizona stunned the Blackbirds 62-61.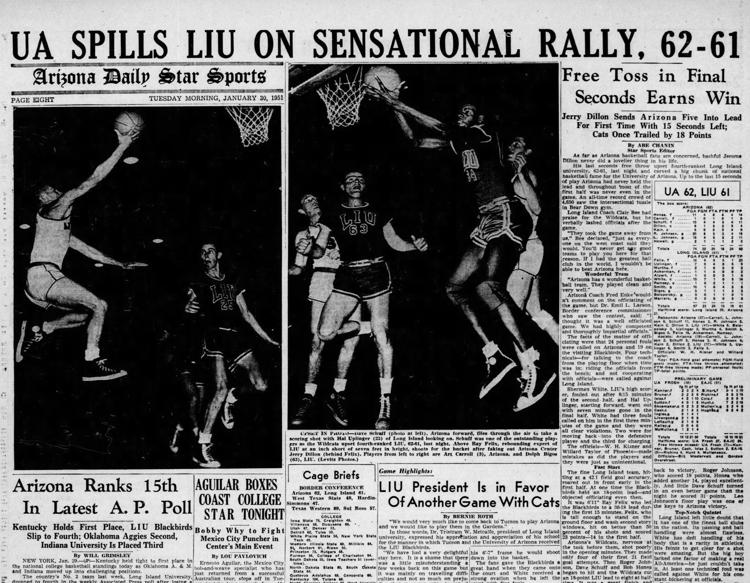 "The only trouble I had was banging my head on the overhanging bleachers when I jumped up to cheer," Whitehill remembers. "I bumped my head a lot that night."
Eleven months later, Chuck Whitehill was among 4,500 fans in attendance when Kansas State broke Arizona's 81-game winning streak at Bear Down Gym. Decades later, in 1992, he was among 13,965 witnesses when UCLA broke Arizona's 71-game winning streak at McKale Center.
He has been in his seat when Tark coached here and when Shaq played here. He was there when Ernie McCray scored a UA school-record 46 points in 1960, and he was there when the "Big E," Elvin Hayes, led No. 2 Houston to a riveting 81-76 victory at Bear Down Gym in 1967.
If Chuck Whitehill isn't Arizona's No. 1 basketball fan, who is?
"My dad used to take me to Madison Square Garden to watch Bob Cousy and George Mikan," he says. "I'm 88 years old, but I still have excellent recall of my years as a basketball fan."
Across the last 71 years, Whitehill, a retired Tucson attorney, says he has missed six home games. The math is precise; it means that Whitehill has been at 1,026 of the 1,032 games played at Bear Down Gym and McKale Center since the 1948-49 season.
"I missed the final six games of the 1993 season when my wife (Lorraine) was very sick and dying of cancer," he said while sitting in his Arizona Room earlier this week.
To Whitehill, an "Arizona Room" isn't a quasi-patio or a room with a nice view of a sunset. The Arizona Room at his midtown home has so many game balls and so much UA basketball memorabilia that it's almost claustrophobic. The signatures: everyone from Herman Harris to Steve Kerr to Rondae Hollis-Jefferson.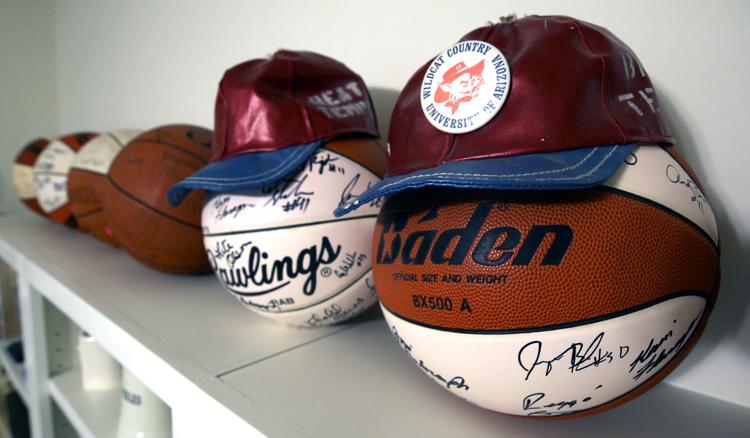 "I'd draw up a list of charities and ask Lute Olson to have a number of basketballs signed and give them to the charities," said Whitehill. "And then I'd buy them back at auction."
A conversation about UA basketball with Whitehill goes way back. He enjoyed watching Roger Johnson and Bill Kemmeries in the Border Conference era as much as he absorbed the Bob Elliott and Eric Money WAC days.
Before a 1969 UA trip to Albuquerque to watch an Arizona-New Mexico game in the new "Pit," Whitehill had a tailor make him a one-of-a-kind pair of pants that had "Go Cats Go!" sewn into the fabric a dozen times.
"My wife warned me that the Lobo fans wouldn't like it, but instead they loved it," he says.
"They asked me, 'How'd you get those made? We want to get some that say 'Go Lobos Go!' "
To many long-time UA basketball followers, George Kalil, owner of Kalil Bottling, is Tucson's most visible basketball fan. Khalil did not miss a UA road trip for more than 30 years, and until this season regularly sat in the first row immediately behind the UA bench.
But it was Whitehill who took Khalil on his first UA road trip, to Albuquerque, 45 years ago.
How did the son of a New York attorney from Russian Poland wind up as Arizona's most enduring basketball fan?
Whitehill grew up with serious asthmatic problems. After due research, his parents and family doctor decided that Arizona's climate could improve his quality of life. Sight unseen, Whitehill flew to Tucson before the 1948-49 school year, enrolled at the UA and earned an accounting degree, followed by a law degree, and kicked off 71 years of basketball devotion.
"I never curse, I'm never nasty," he says. But he was known to carry a small megaphone while leading cheers from the bleachers.
When Olson arrived at Arizona in 1983, Whitehill was part of the original group of 10 who formed the "Rebounders" club, initially paying $100 a year for the privilege of meeting with Olson before and after games and visiting with the coach at regular luncheons and year-end banquets.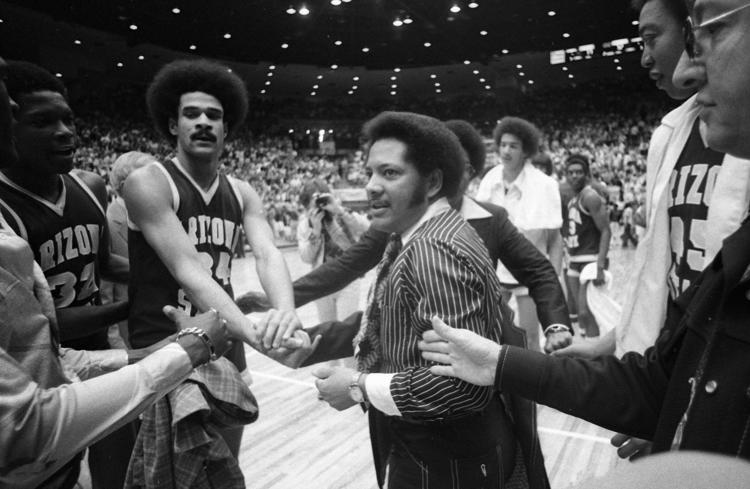 This wasn't an aw-shucks attraction. Whitehill often hosted Fred Snowden and his assistant coaches at his home after UA games in the 1970s, and regularly dined with Fred and his wife, Mae, at the Tucson Racquet Club.
"I'm not just a fan of winning," he says. "I stuck with Ben Lindsey's team through that 4-24 season. My streak of games isn't important. I go because I love basketball."
For the record: Whitehill attended 624 consecutive games, 1948-1993, before his wife became seriously ill. He has since attended 402 in succession, almost all with his second wife, Benita.
He beams when the conversation turns to his daughter, Judi Kessler, who, like her father, has one of the longest-tenured streaks in UA sports history. Kessler has been part of the athletic department for 35 years, working her way up to her current post as associate athletic director for major gifts.
"My brother, Jim, and I, used to go to games at Bear Down Gym," she says. "We went with my dad to track meets, baseball games and we sat in the Knot Hole Club for football games, so it's in my blood.
"My dad's memory is better than mine. What he says is legit."
Favorite player? "Oh, there are too many," Whitehill says. "But I sure thought Al Fleming was a good young man."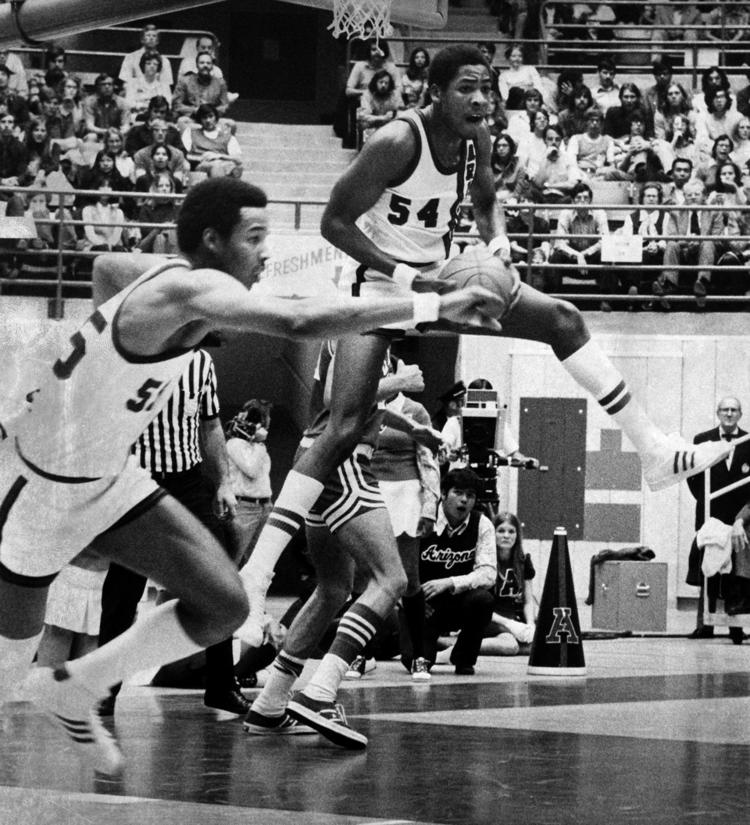 Favorite coach? "You might expect me to say Lute Olson, but I was also close to (football coach) Jim Young, and I represented (football coach) Larry Smith. I liked them all. John Mackovic wasn't all warm and fuzzy, but I got through it OK. I've stopped going to football games because my knees couldn't take it, walking up all the stairs."
His thoughts on Sean Miller's tenure? "Sean isn't as outgoing as Lute, but that's OK. That's not who he is."
Whitehill will be in his familiar seat — Section 14, Row 8, Seat 16 — for Saturday's UA-ASU game. It will be the 73rd UA-ASU game he's attended in Tucson. The Wildcats have won 50 of those games, including, Whitehill adds, a rare two-game home series in 1976-77.
"Don't tell anybody this," he says, lowering his voice, "but I root for ASU when the outcome doesn't affect us."
Us? In the case of Chuck Whitehill and UA basketball, it has been that way for 71 years.