Like an old light bulb, flickering and almost powerless, Arizona closed its regular season Saturday with a 17-14 record.
"We had a lot of bad games," said UA senior guard Justin Coleman.
The Wildcats plumbed a depth — finishing a three-way tie for eighth place, earning the No. 9 seed in the Pac-12 Tournament — not seen at Arizona for 36 years.
To give the moment proper focus and meaning, Arizona State coach Bobby Hurley said that beating the Wildcats was "pretty special. … I just have so much appreciation for the success and tradition at Arizona."
The Sun Devils won 72-64 and let's be serious: Arizona State is no one's idea of a powerhouse. The Devils aren't ranked, they may get stiffed on Selection Sunday, and other than dynamic point guard Remy Martin, they probably don't have a player who would've started at Arizona from 1988-2018.
Yet the unhappy events of Senior Day all but moved Sean Miller to tears.
Rather than the oft-angry, oft-defiant coach who has broken the unofficial NCAA record for "no comment" in Q&A sessions in a single season, Miller did his best to apologize to the 14,291 fans who sat and suffered through Saturday's loss at McKale Center.
"They're used to seeing the best of the best and today didn't represent the best of the best," Miller said quietly. "Their loyalty is one thing that is unforgettable. Coaching at McKale is a responsibility; you don't want to let them down because of what they bring to the table. Seeing them like this at Senior Night makes it even worse."
For one day, feeling worse might not be possible. At precisely the time the Wildcats produced a conference season that tied their worst mark since 1983, the Sun Devils equaled their best conference season since 1981.
It's one thing to run aground. It's another to have ASU leave you lifeless and have Hurley throw some shade.
"I never go into a game thinking my life won't be complete if I don't win here," he said outside the Sun Devils locker room, a rare scene in which 15 or 20 media people from Phoenix surrounded the coach as he talked about "all the great wins we've had this year."
All the great wins? In this league? That's a story for another day.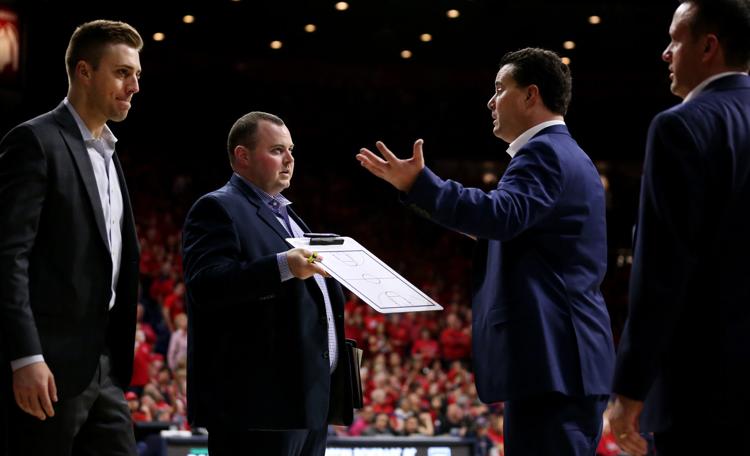 But usually, the media contingent following ASU to McKale Center can be counted on one hand, or maybe seven or eight fingers. But this isn't a normal season. Given the improvements by Cal and Washington State the last six weeks, one could argue that if the Pac-12 season started over today, Arizona would finish 12th.
Miller quickly defused any speculation that Arizona would pursue or appreciate a berth in the NIT.
"Arizona doesn't go to the NIT," he said. "And I don't think we'd get an invitation."
It wasn't that the Wildcats weren't willful or lacked a working man's approach to Saturday's game. It's just that they aren't good enough to beat more than a handful of Power 5 conference teams, even at home.
The lack of rim protection, inside scoring, size and strength, outside shooting, a go-to guy, a defensive stopper and the UA's worst overall shooting percentage (.427) since 1972 — yes, 1972! — has become manifest.
This is what happened in one particularly damaging segment of the second half:
Alex Barcello dribbled the ball off his calf, leading to a break away dunk by ASU's Lu Dort.
The UA was whistled for a 5-second call, failing to in-bounds the ball properly, even though the Sun Devils offered no real defensive pressure.
Dylan Smith dribbled into a crowd, penetrating too deeply, and ultimately dribbled the ball out of bounds.
Unforced errors, all. Good teams don't do those things.
"It is what it is," said Miller. "We're not going to beat any team (with 17 turnovers) because we have too many other problems."
But there is a possible consolation that has helped UA fans get through a difficult season. Sitting near the UA bench Saturday were mega-recruits Nico Mannion and Josh Green, who are scheduled to be part of Arizona's 2019 recruiting class.
If you put Mannion and Green with any Pac-12 team, now or next year, you're probably not talking about losing on Senior Day.
Miller tried to put it in perspective, saying "it's easy to roll out there on Senior Day, watching your team cut down the nets and see the great pageantry of McKale when things are going well.
"But when things aren't going well, I think the definition of coaching is to balance things, and see them for what they really are," he added. "Most of the time it's not nearly as good as it appears, and, now, given the situation we are currently in, there's a lot of truth in that it's not as bad as it really appears."
Bad isn't losing to ASU in a historically bad season, or being slotted for a play-in game at the Pac-12 Tournament. Bad is losing to Buffalo in the NCAA Tournament when you've got Deandre Ayton and Allonzo Trier in the lineup.
Arizona has known far worse than losing to ASU.