For the first 37 minutes 11 seconds Thursday night, Arizona shot worse than it had across the last 39 years at McKale Center, covering more than 600 games. You can look it up.
With exactly 2:49 remaining, the Wildcats were shooting 31.9 percent, trailing the Oregon Ducks 47-43.
It seemed like something out of Hoosiers in 1952.
"It was a rock fight," Oregon coach Dana Altman said.
Indeed, Arizona shot rock upon rock.
The only time Arizona has shot worse at McKale was on Jan. 12, 1980. It shot precisely 32 percent that night, losing to long-ago Oregon Ducks, 90-73.
That not-so-sought-after record remains safe. Arizona made four late baskets against the Ducks on Thursday, finishing with a 36.5 percentage, but those four shots were like getting to the bar too late for last call.
The Ducks won 59-54 and UA coach Sean Miller needed just seven words to sum up his team's situation.
"We're not a high-powered offensive team," he said.
It surely gets more difficult from here.
Arizona's next five games are against Oregon State, UCLA, USC, Arizona State and Washington. As inconceivable as it sounds, the Wildcats could lose them all. They could go on a 0-6 streak.
How many of those games will Arizona be favored to win?
As incomprehensible as that seems, you don't have to use much imagination to picture this season-of-transition scarred by a six-game losing streak.
The last time that happened? In the winter of 1983-84, when Arizona opened 0-14 in the Pac-10 and coach Ben Lindsey was fired after one season.
This UA team would beat Ben Lindsey's team by 20 points, but there's no denying the immediate schedule is imposing for a team that at one point Thursday — trailing 39-26 with 12:11 remaining — was shooting 23.1 percent from the field.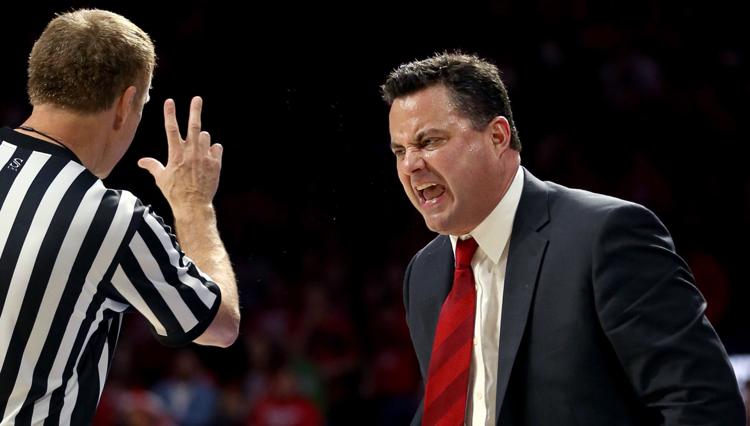 Arizona sophomore Brandon Randolph is his club's most feared scorer; earlier Thursday, ESPN's NBA draft people ranked him as the 81st-best prospect for the 2019 draft , which in itself if a tipoff to the difficulty Arizona faces this season.
When was the last time Arizona didn't have a potential draftee better than 81?
But on Thursday at McKale, Randolph scored five points. And maybe it wasn't because he was just off his game, or that his teammates didn't find him in the flow of the offense.
"Once in a while, you have to credit the other team," Miller said. "Oregon was able to take him out of it. It made for a tough night."
This isn't a vintage Oregon team, either, but the Ducks are longer and more athletic than Arizona — and a considerably more effective defensive club.
Altman never took a seat on Thursday; he stood, knelt and paced in front of the Oregon bench alternating between fussy, uptight, fitful, ruffled and overwrought. That's his style. He worries. But in the end, Altman figured out Arizona's offense and his team shut it down.
It's something becoming all too familiar at McKale.
Altman's Ducks are 3-5 at McKale, equaling UCLA's 3-5 in the same period. That's not just good, it's superior. In the same time, all other Arizona opponents are 9-137 at McKale.
"We didn't want the tempo too fast," Altman said. "I thought we contained them. We didn't let (point guard Justin) Coleman get that running start he likes."
Said Oregon sophomore Victor Bailey Jr., who scored 13 points, more than any Arizona player: "We wanted them to react to us, not us to them."
The plan worked. Arizona was not able to make the Ducks play from behind in the final 27 minutes.
It didn't hurt that the Ducks played the first 16 minutes of the game without a turnover. At that point, they had forced Arizona into eight turnovers. The tone was set. This would not be your typical, talent-on-display UO-UA game.
For the past five years, as Oregon and Arizona ruled the Pac-12, they engaged in entertaining games of 98-93, 95-89, 90-83 and 83-80, but those highly-anticipated skirmishes are on hiatus as both Altman and Miller await their coveted freshman classes of 2019.
For the final two months of this season, Arizona will be in survival mode. None of the stats, rankings, draft projections matter this season. Margins of victory? One point will do. KenPom analytics? Meaningless.
Just find a way to beat Oregon State on Saturday and avoid further talk of a potential six-game losing streak. Do whatever possible to avoid the Pac-12 Tournament Wednesday play-in games in Las Vegas.
Every UA victory the rest of the season should be embraced and appreciated.
At halftime Thursday, a young man named Tyler Scheuer, performing as "Tyler's Amazing Balancing Act," climbed a very tall ladder and, once at the top, balanced another ladder on his upturned face.
Scheuer's next scheduled performance in the Pac-12 is March 2 at Oregon's Matthew Knight Arena. That's the day of the Arizona-Oregon rematch.
Until then, Arizona's ability to keep its balance will determine if Thursday's game was just a bad night at the office or the first in a series of painful rock fights.