The FBI's investigation into basketball corruption has neither smudged nor stained the University of Arizona's reputation.
It has divided the fans, the university and the city. It's a sick mess.
It's almost a reprise of UNLV's tumultuous 1992 confrontation with basketball coach Jerry Tarkanian, when school President Robert Maxson said the nation was "watching to see if we're going to be a serious academic institution or a basketball team with a university attached."
By 1994, both Tarkanian and Maxson had left the school.
Some say this is the biggest crisis of UA President Robert C. Robbins' career. But that's going a bit too far. In his position as chairman of the department of cardiothoracic surgery at Stanford's School of Medicine, Robbins would perform as many as 40 heart transplants a year.
That's a crisis. Deciding whether to change basketball coaches is a problem — albeit a significant one given Tucson's adoration for college hoops.
Robbins must now act in an entirely new role. He must play the role of insurance investigator, and try to determine if the UA basketball program is totaled or if it can be rebuilt with some new fenders and a paint job.
It's Robbins, not coach Sean Miller, who must now become the face of Arizona basketball and exert his influence and leadership as the most powerful man on campus.
If Miller is to stay, Robbins needs to talk to UA fans like they are adults and explain why he is steadfast in retaining his coach. For 19 months, attorney-driven corporate lingo has been cover for "I know this looks bad, but that's all we're going to say for now and hope this all goes away."
The UA has conceded little, admitted less, confessed nothing and denied what seems undeniable. That's an old Tarkanian line, but if you blow the dust off, it fits the culture of Arizona basketball.
Arizona's basketball program and academic institution is taking a coast-to-coast beating that makes a first-round NCAA Tournament loss to Buffalo come off as a game of hopscotch.
On Wednesday, I got a message from Atlanta's Chris Dunlap, a UA fan and email friend who wrote "Coach Miller was the lead sports story on all the Atlanta TV stations today." Yet the UA says it continues to hold its athletic department to the highest standards of integrity and excellence. None of it lines up any more.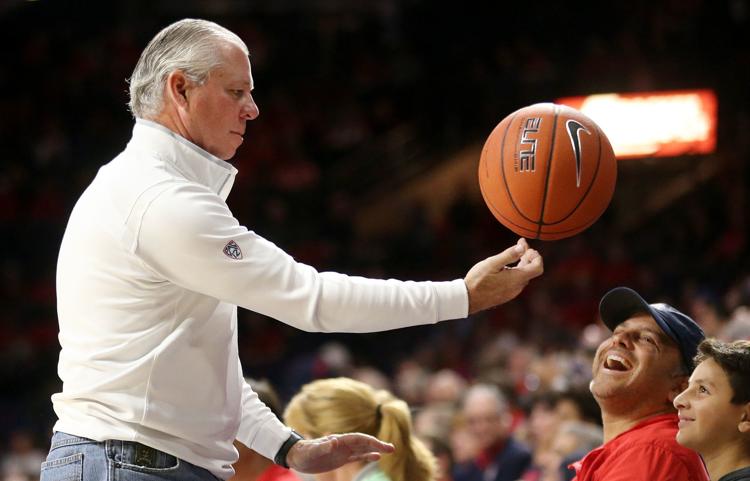 It's difficult to draw a comparison to any previous legal issues in college basketball because there have been so few of this magnitude. On Wednesday, ESPN basketball analyst Jay Bilas — often a voice of reason in a sea of unreasonable voices — asked "what more do you need?" in a condemning editorial about both Miller and LSU coach Will Wade.
How do you even begin to rebut all of the negative images of Arizona basketball as portrayed for the last two weeks in a New York City courtroom?
To some, the immediacy of keeping Arizona's ballyhooed recruiting class of 2019 intact holds greater weight than the welter of litigation involving Miller and former assistant coach Book Richardson. That's understandable. You'd get that at any Top 25 basketball school.
Fans of winning are impatient. They are certain Miller has been framed or conned or undermined. At a time Arizona's football and baseball programs are struggling, the No. 1 reason for hope in the UA's athletic department is Nico Mannion and his freshman pals.
But even if that recruiting class enrolls at Arizona, it's likely to be a temporary fix. The NCAA investigators aren't blind enough to give the UA just a hand-slap. It's in the best interest of Robbins and the school to take affirmative steps — self-punitive measures — before the NCAA piles on.
Robbins is only 61. He has time to watch Arizona's basketball program grow, no matter what happens next year or in 2021. When he was hired in 2017, Robbins told a UA periodical that the college experience was "not about four years, but the next 40 to 60 years."
Isn't that what should be a priority? The school needs to make sure its integrity and reputation has priority over the class of 2019.
After Tarkanian's long fight against the NCAA and his own administration, he suddenly backed off, undefeated and ranked No. 1 in 1991, the defending national champion. He had everything to lose — and he lost it.
Tark didn't set the record straight then, but he did release this statement: "I love this university, and do not want to cause it any harm. In addition, although I have been toughened over the years by the pressures of these battles, the pain I now see in my children's eyes makes me realize none of this is fun for anyone."
At the UA, any smile now is a thin disguise.