With scissors in hand, Adia Barnes severed the last strand of a basketball net, twirled it above her head, tossed it into a mix of her joyous ballplayers and carefully retreated down the ladder.
This detonated one final thunderous sound of approval from 14,664 fans at McKale Center, although Barnes had forgotten something — the scissors. Arizona senior associate athletic director Suzy Mason climbed the ladder and retrieved the scissors in the most symbolic moment of Arizona's euphoric six-game surge to the WNIT championship.
Barnes and her basketball team might need those scissors in the years to come.
"This is a pretty good story," said Barnes, in her third season as Arizona's women's basketball coach. "It's a story I like."
The Wildcats smothered visiting Northwestern Saturday afternoon, winning 56-42 , never taking their foot from the accelerator, fast and physical, limiting the Big Ten team to just 13 baskets, fewer than one every three minutes.
"In games like this," said Barnes, "it's about who wants it more."
As the confetti flew at McKale, it wasn't clear who wanted it more — Arizona's basketball team or Arizona's basketball fans. In some ways, it was a co-championship. Tucsonans bought 45,622 tickets across six games and 17 days, an unprecedented show of support for a basketball program that barely averaged 2,000 fans per game in the regular season.
"We could never have predicted all of this attention and a sellout crowd," said freshman Cate Reese. "It was so exciting."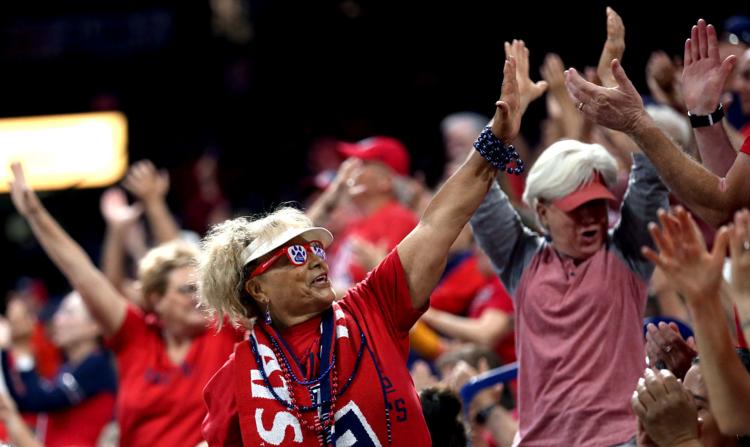 It reminded me of one of the most memorable days in Tucson sports history — Feb. 27, 1998 — when the Arizona Diamondbacks played their first-ever game at brand new Tucson Electric Park. There were 11,298 people at TEP that night, baseball dignitaries from all over the map, and I was certain Tucson had become the center of the baseball world.
On Saturday, Tucson felt like the center of the women's basketball world. Even the losing coach, Northwestern's Joe McKeown, understood the significance of the day.
"To have that many people care about our sport — I thought it was a great experience for us," McKeown said.
Even though gates didn't open until 10:30 a.m. Saturday, fans began forming at entrances to McKale Center at 8:30. By then, many of the enduring names in UA sports — Tedy Bruschi, Jennie Finch, Andre Iguodala, Jason Terry and Kenny Lofton, among others — had jumped on the bandwagon, punching up social media videos to announce their support.
By tipoff at noon, it was as if a dam of basketball energy burst, flowing downstream, overwhelming Northwestern and, frankly, many UA fans who cried happy tears as point guard Aari McDonald — Aari-Zona, anyone? — scored 19 points on the way to WNIT MVP honors.
"Today's the start of it," said Barnes. "Hopefully, we're just at the beginning."
Arizona returns all five starters for the 2019-20 season, which is about the minimum necessary to contend for the NCAA Tournament and the Pac-12 championship, possibly the most difficult league in women's college hoops.
No one's going to kick back for long and spend time polishing the WNIT championship trophy.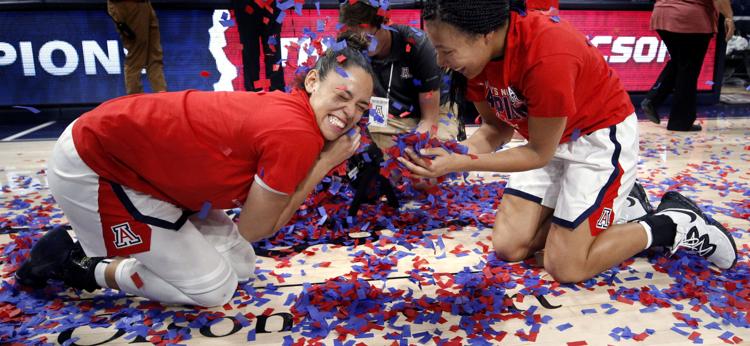 Oregon, which reached the Final Four, expects four starters back in '19-20. Stanford, which reached the Elite Eight, returns four starters and brings in the nation's No. 1 recruiting class. Oregon State, which spent most of the year in the top 10, returns all five starters.
Barnes aptly referred to a 6-0 WNIT run against Idaho State, Pacific, Idaho, Wyoming, TCU and Northwestern as "a taste of success." And that's just it. It's just a taste.
When the NCAA Women's Tournament broadcast its selection show on March 18, Barnes and the Wildcats sat together in their locker room, hoping against hope that their name would be one of those called for the Big Dance.
"It was a little bittersweet," said Barnes. "But next year will be different; we'll be the ones sitting in a full arena, waiting for our names to be called."
The Wildcats need to improve between now and next March the way they improved from last year's six-win team to this year's 24-win team. That's how challenging the Pac-12 has been and will continue to be.
If anyone in Tucson says they saw this coming, don't buy it. This 6-0 run that included alive-and-buzzing crowds of 14,664, 10,135, 7,717 and 6,307 fell into the laps of the UA athletic department.
Money from basketball heaven.
It's likely Arizona will realize a net profit of more than $100,000 from the WNIT. They should give that money to Barnes and her assistant coaches, bonuses for turning the school's least productive sport — and at times embarrassingly uncompetitive sport — into champions.
With 45,622 Tucsonans as witnesses, they earned every cent of it.