As recently as two weeks ago, if someone had conducted a Q&A about the WNIT or women's basketball, my answers would've been brief:
A: A radio station in Iowa.
How would you describe a typical women's basketball crowd at McKale Center?
What statistic best defines UA women's basketball?
A: They won six games last year.
So, yes, this WNIT stuff — this earsplitting, baseline-to-baseline joy — has been an education.
Arizona coach Adia Barnes, she of the XXL personality, described the 30,958 Tucsonans who have attended five WNIT victories as "freaking amazing."
Amazing? Someone from the south side's Miller Elementary School posted a photograph on social media of 21 teachers and administrators dressed in UA gear, counting down the time to tipoff.
It's like Tucson's own version of Hoosiers — so new, so fun, so out of nowhere.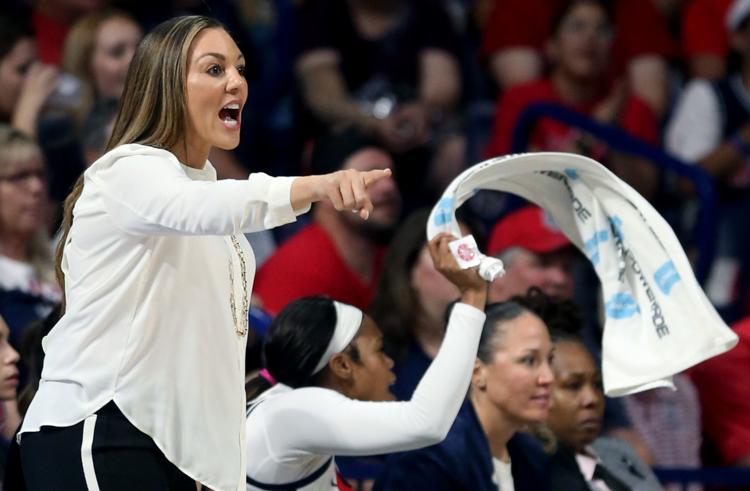 I'm not a big Twitter guy, but for the last two weeks I've checked Barnes' Twitter feed about every 20 minutes. If you don't, you feel like you're missing out on something.
"Let's go!! 6,600 tickets sold. We are killing it!"
"Let's go!! 7,000 by 5 p.m.!"
"Almost to 10,000! The curtain is up!!!"
"We are about to blow this attendance record away!!"
Barnes leads the nation in exclamation points.
"Marketing is my side job," she said with a laugh. Barnes even offered to chaperone a date with her husband, UA assistant coach Salvo Coppa, if someone would buy 1,000 tickets.
"He didn't think it was so funny," she said.
Three years ago this week, the UA hired Barnes and asked her to do something about the school's dreadful 14-76 Pac-12 record of the previous five seasons. It seems ironic now, but during the search for a coach, former Arizona athletic director Greg Byrne had his head turned by, of all things, the WNIT.
Byrne's research led him not just to Barnes, then an assistant coach on Washington's Final Four team, but to Karl Smesko, head coach at Florida Gulf Coast University.
Smesko's team had routinely been hanging up seasons of 34-1, 33-6, 31-3, 29-3 and 28-4, as part of the Atlantic Sun Conference. During Byrne's search in the spring of 2016, FGCU went on a WNIT roll, beating Bethune-Cookman, Wake Forest, Tulane, Hofstra and even mighty Michigan to reach the WNIT final.
Between games of the WNIT, Byrne and Smesko met at an airport in North Carolina to discuss the Arizona opening. It was surely tempting for both; beyond the WNIT, Smesko has coached Florida Gulf Coast to six NCAA Tournaments since 2012, and this year climbed to No. 13 in the AP poll.
Not that Byrne was off track; a year later, USC offered Smesko $400,000 to be its women's basketball coach. He declined.
It's just that Smesko or no Smesko, Barnes has been the better hire for Arizona.
A few weeks before Barnes returned to her alma mater, Arizona not only scored a mere 39 points in a McKale Center loss to UCLA, it drew just 845 fans. There were no exclamation points then.
That was the depth of what had become of the UA's women's basketball program. Now the coach is talking about a sellout — 14,000 fans — for Saturday's WNIT championship game against Northwestern.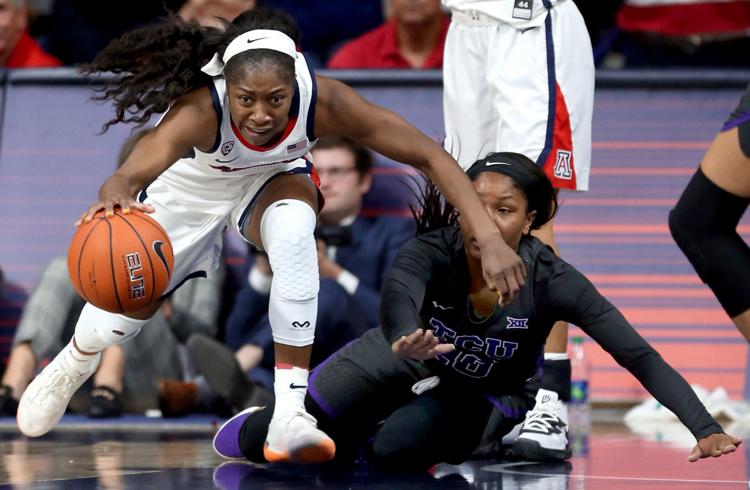 This unexpected burst to the WNIT final and record-setting crowds did not come without complications.
When Barnes and her husband arrived in Tucson, their son, Matteo, was 8 months old. Now he's almost 4. Adding the weight of rebuilding Arizona's women's basketball program was new turf for all of them.
USA Today recently reported that 70 percent of mothers with children under 18 work full-time, but coaching Division I basketball is full-time plus full-time, if that makes any sense. Barnes spends close to 100 nights a year on the road. It's not a job for everyone, but it is a job for Adia Barnes.
"You can be a mom, you can be a coach, you can be kick-ass at everything you do," she said after Wednesday's win over TCU. "You can do it all and you can do it well."
A year ago at this time, coming off a 6-24 season, Barnes refused to sit back. She spent time recruiting during the WNIT and NCAA Tournament. She said she made about 20 in-home visits to potential recruits while other coaches, like Indiana's Teri Moren, went on a 6-0 run to win the WNIT.
The Hoosiers of 2018 did what the Arizona Wildcats are doing now. Indiana played six home games, drew 37,624 in those WNIT victories and rebooted a program that had slumped to 7-25 in the previous two Big Ten seasons combined.
Given that momentum, Indiana went to the NCAA Tournament this year, beating No. 23 Texas, putting recruiting on hold for a bit.
Sometimes, as Barnes has discovered the last two weeks, not being available to recruit is the best problem a college basketball coach can have.